April 29, 2014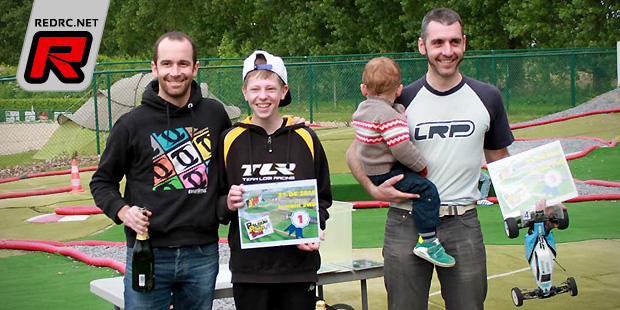 Last weekend the 2nd round of the combined Belgium and Dutch electric off-road nationals took place at the redesigned astro turf track of Metchtem in Belgium. The qualification in the 2WD class was a close affair between Wouter Wijnen and Wesley von Helmond with both winning one of the first two qualifiers. The final round would decide and at the end it was Wesley who put his TLR on pole in front of Wouter Wijnen and Nik Weyers.

The first and second A-final then saw again a close fight between Wesley and Wouter who where always in a distance of about 2 meters. At the end Wesley came out as the overall winner of round two by wrapping up A1 and A2. Wouter and Bruno Heremans then battled it out in A3 with the better end for Wouter who grabbed the runner-up spot from Bruno.
2WD top 3 result
1. Wesley van Helmond – TLR
2. Wouter Wijnen – Yokomo
3. Bruno Heremans – X Factory
The 4WD class also had some close racing to offer with David Pauwels beating Jean-Yves Konings and Erik Michiels in qualifying. At the end it was Jean-Yves who grabbed the overall win, virtually with a photo finish from his competitors David Pauwels and Erik Michiels.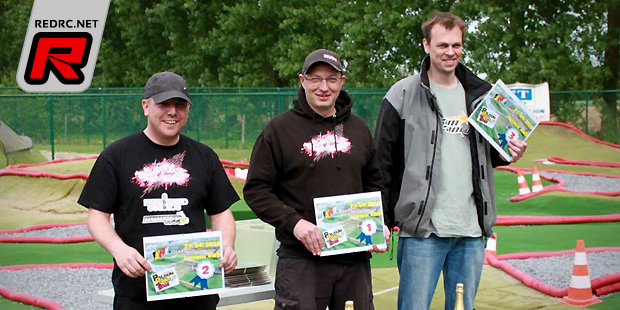 4WD top 3 result
1. Jean-Yves Konings – Xray
2. David Pauwels – Xray
3. Erik Michiels – Team Durango
Thanks to Joey van Helmond for sending the report.
---