May 5, 2014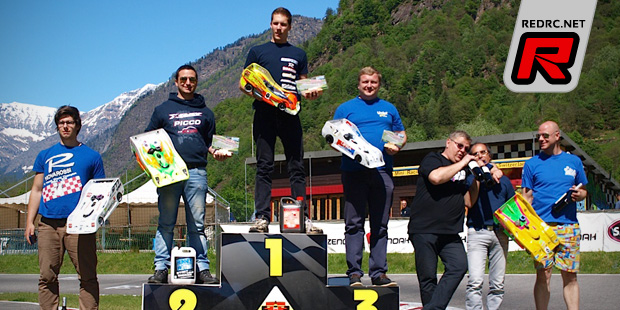 The famous Lostallo track played host for an EFRA nitro on-road GP. Free practice got underway on Friday afternoon after rain brought the proceeding to a halt during the morning. The event saw only a small number of entries but the quality of the field was very high with drivers of the like of Simon Kurzbuch, Merlin Depta and Toni Gruber. After the qualifying rounds Mattia Pesenti (Xray) took TQ from his Xray team mate Claudio Pasquin with both scoring 15 lap runs. Simon Kurzbuch, Merlin Depta and Toni Gruber completed the top 5.
Qualifiying 1/8:
1. Mattia Pesenti – Xray
2. Claudio Pasquin – Xray
3. Simon Kurzbuch – Shepherd
4. Merlin Depta – Serpent
5. Toni Gruber – Serpent
In the 1/10th class qualifying Swiss Champion Michael Schaefer (Xray) was in a fight with Toni Gruber (Serpent) with the latter taking the TQ for the finals. Alexander Naumov (Xray) completed the top 3.
In the first semifinal of the 1/8th class Merlin Depta took the win from Claudio Pasquin. The second semifinal had Mattia Pesenti fighting with Simon Kurzbuch for the first 10 minutes but Kurzbuch then ran into trouble allowing Pesenti to take the win from Toni Gruber. The final then had Pesenti starting from pole position and he started out leading the field from Kurzbuch. Pesenti tried to built a gap on Kurzbuch as the was planning for two tyre stops. At the end his strategy did not pay out and Mattia came in 2nd behind Simon Kurzbuch. Igor Toropchenkov (Mugen) rounded out the podium in 3rd place. Emil Kostadinov (Mugen) and Toni Gruber (Serpent) completed the top 5 result.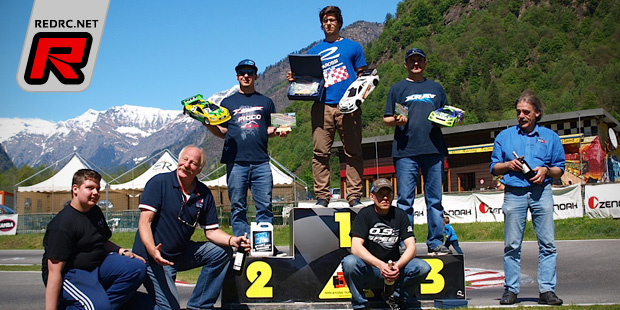 The 1/10th class final saw Toni Gruver taking an easy win with the battle for the runner-up spot being quite amazing. Schaefer and Naumov fought for 45 minutes and it was Michael Schaefer who passed the Russian driver with only 2 laps to go to take the 2nd place only 0.2 seconds ahead of Alexander.
Thanks to Mattia Pesenti for sending the report.
---