May 28, 2014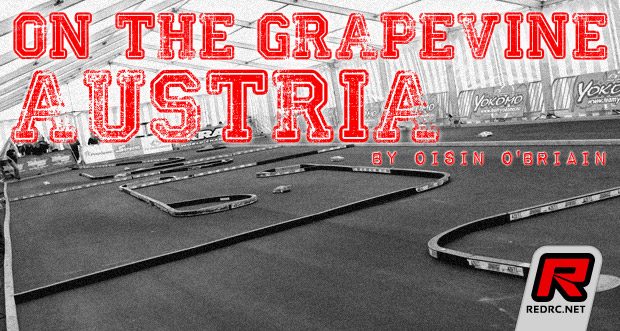 Over the last month my work commute became a bit regular, well regular in terms of the destination country as I made three consecutive trips to Austria. The first of these was for the season finale of the Euro Offroad Series which thanks to a change to the weekend schedule would turn out to be the first time in the championships' 11 races that on a Sunday evening as I did my final wrap up that I made the comment 'I enjoyed that'. From there it was ETS action that brought me back to Austria, this time to a small town called Mattsee. In my time as Events Editor of Red RC I have got to meet many great people around the world but on that weekend I would get to meet someone who a few years ago as a huge motoring fan I would never have expected to meet let alone be invited to have dinner with. While appreciative of its picturesque countryside and enjoying every second of driving on its twisty mountain roads my Austrian 'tour' would unfortunately end on a very damp note as the rain did everything in its power to try and prevent the running of the second round of the new Euro Nitro Series.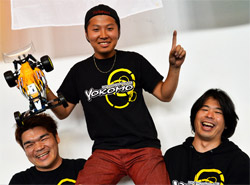 Of all the championships I cover on a regular basis I have to admit I always least enjoyed the EOS. The reason for this was that the weekends always seem super rushed leaving little time for much other than racing. Sure thats what a race event should be about, lots of racing, but switching back and forth between 2WD & 4WD meant drivers were constantly under pressure to get cars and tyres ready for both cars. The knock on effect of this was that getting ready for their next run drivers were pre-occupied resulting in some rapid and often vague answers to the questions I needed to make up reports. Try asking a driver how their run went while they are rooting through their hauler bag or searching through their screw box!!! Thankfully a change was made on the championship debut at Austria's largest hobby show 'Modelbau Wels' and what a difference it would make. With Saturday dedicated to 2WD and Sunday 4WD, the whole atmosphere was transformed. For me that easing of pressure on the drivers between run made for a lot more chat leaving Ricky pleasantly surprised by my 'I actually enjoyed that' statement on Sunday night rather than my previous statements that celebrated the end of the event in a phrase thats best not published. The atmosphere of the weekend was also helped by the fact that a number of driver had a shot at the 2WD buggy title and 4WD was also not a foregone conclusion. In the end Naoto Matsukura became the first driver to beat Joern Neumann to an EOS title doing so in 2WD. A driver I first dealt with as he started his run of 1:12 World Championship titles in Thailand in 2008 aged 15, his success has usually been a headache for me because of his 'yes' and 'no' answers but in Wels if I didn't know any better I would have though Yokomo had just sent him on a media training course in preparation for this electric onroad World Championship year. To be fair to Naoto I have probably had more dealings with him this year than any other so maybe part of the elaboration on answers is that he can now better interrupt my Irish accent rapid questions!! It was great to see Schumacher getting behind their new US signing Carson Wernimont bringing him across the Atlantic for the EOS finale. A driver who many feel is an under rated talent, the race was Carson's first ever trip to Europe and on the carpet surface track he acquitted himself very well making the A-Main of 4WD Buggy. A driver I have always found ultra professional to deal with I hope Schumacher can pair him up again with long time EOS supporter Tom Cockerill for a a few more encounters next season. I can actually now say I am looking forward to Season #4 of the Euro Offroad Series.
******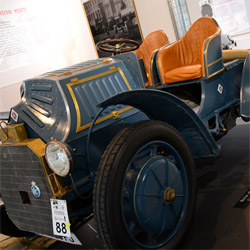 From a very young age I could name all the different makes of cars as they passed by before I could string together a complete sentence. During my school summer holidays I used to get my grand father to drive me around to all the car distributors to update my collection of sales brochures, while I am a little less of a motoring anorak these days I still have an interest in anything motoring related. When Uwe Rheinard first told me that the ETS had been invited to race at new motoring museum in Austria, I first thought cool that will be something interesting to go check out when I have a bit of down time over the weekend. The significance of the museum and its owner didn't exactly hit me until after I arrived in Mattsee. Arriving late on Thursday, having waited at Munich airport to give our good Japanese friend Terutaka Hanaumi a ride to the track, I have to say on entering the tent that housed the track for the race my reaction was 'are you kidding', although I may have used a little french in that comment at the time. One of the first racers I spoke to started the conversation with ' you don't come to ETS expecting to race in a car park' and thats what it looked like. Originally set to be an outdoor race, with the weather forecast for heavy rain the race's host decided that it would be covered by a huge marquee tent. While on initial viewing this may not have presented drivers with the level of venue ETS racers had to come to expect, the hanging of the championship sponsors' banners, the flags of the nations represented by the drivers transformed it into a proper race track that would up end up providing some great racing. The marque tent that made for the unfamiliar settings would turn out to be the saving of the event as had it not been there the heavy rain falls over the weekend would have put an end to proceedings.

The man to make the call to cover the track and able to ensure it happened to be Ernst Piech, the grandson of motoring legend Ferdinand Porsche. Mr. Piech was the reason we were all in Mattsee beside the freshly constructed fahr(T)raum Museum that housed a collection of cars he started in the late 1980s to mark some of the innovative design work his grand father had done before the creation of Porsche cars most notably the Beetle. With my better half the very proud owner of a 1964 Beetle, and my long time friend having a collection that includes both a classic Beetle and Porsche, I would have been quite happy to just get to shake Mr. Piech's hand and hopefully get a photo with him. My first meeting with Mr. Piech would turn out much better than that with him inviting a small group of us to dinner, an occasion that will go down as one of the highlights of my world travels. Despite his status, talking to Mr. Piech would turn out to be no different to being in the company of my own late grand father. A super interesting guy full of great stories with no iPhones or iPads interrupting the amazingly casual conversation. As if his motoring roots didn't make him interesting enough I also really enjoyed his insight into his wine making, his recommendations of local foods and his knowledge of environment issues. There was actually very little talk of r/c over dinner but when the topic did come up the most important aspect of the weekend for Mr. Piech was that everyone, not just the pros, were having fun and enjoying their time in Mattsee. A very influential figure, the greater world of rc racing has gained a great potential ally in Mr. Piech and his draw was no more evident then at the prize giving. After the handing out of all the trophies, itself not a very entertaining affair for onlookers, when Mr. Piech started to talk afterwards everyone moved closer gathering around him something I have never seen at an r/c or any motorsport event before. I think Mr. Piech has bigger plans for when the ETS returns next year. I am already very much looking forward to returning to Mattsee next year when I will be arriving a day earlier to take up Mr. Piech offer to join him on a drive around the lakes in one of the great cars from his collection.
******

Still buzzing from being in the company of Mr. Piech and the world class racing he got to witness in the second & third legs of the A-Main, it was onto Aigen for my favourite class but in my, and I'm sure 99% of racers, least favourite conditions. After the high of a dry opening round to the ENS in Melzo, Italy, it would have been hard to have arranged much worse weather conditions for Round 2. Even the best organised and executed non r/c events in the world can do little to combat the atmosphere sapping effect rain and cold can have. Thankfully drivers did get to enjoy some dry running in free practice on Thursday but it went downhill from there. My own nitro racing exploit were brought to a premature end in large part due to the Irish weather, mother nature seemingly saving all the rain for the same weekend's on which rounds of our national championship were scheduled. Thankfully some breaks in the weather did allow a much reduced qualifying and finals to declare a result for Round 2 but videoing the very wet 45-minute finals it is best to describe it as painful viewing as most engines struggled to keep the water out. Still the racing produced worthy winners in Serpent's Dominic Greiner in 1:10 and Xray's John Ermen in 1:8. One positive of the rain, if there can be such a thing, is it gave me the opportunity to spend some time chatting with American racer Loran Whiting and her father Jeff.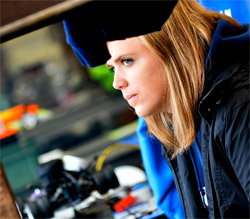 I think its fair to call the Whiting's a true racing family as back in the US in addition to Loran racing so does her dad (he started off nitro racing with an Associated RC300), her younger sister and her little brother – Jeff's obviously a very patient man!! Unfortunately for Loran, who also attended the season opener, it was a long way to travel to stand around in the rain but hopefully if she makes it over for Round 3 in Hockenheim next month, she will see Europe in the summer sunshine! Finding the weekend a bit frustrating due to the weather which seems to have followed me back to Ireland one other positive was that for my two weeks off thanks to a visit to a very conveniently located religious order owned brewery, (it was less than 5-minutes from the track), I have a good supply of beer for my break from travelling – cheers!
Have an opinion on the topics discussed? Leave them in the comments below.
Oisin O'Briain is Red RC's Event Editor. Traveling the world reporting on some of the biggest races in the sport he regularly chats with top drivers and key industry figures and in his new column 'On the Grapevine' he will try to bring readers an insight into the latest talk that is doing the rounds in the paddock along with the odd bit of trivia information that comes to light.
The views and opinions expressed in this column are those of the author.
---