June 2, 2014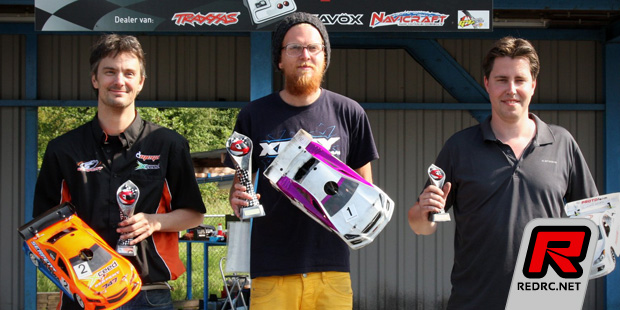 Under perfect weather conditions the 3rd round of the Dutch 1/10 IC on-road  nationals was held at the RACO track in Utrecht in the centre of the Netherlands. The track was constructed in the early 1980's out of a line flying circle and therefore the main straight is in fact a shallow bend to the left. As the majority of corners is also going left this requires a special car setup in order to get an even tyre wear during the finals. As the track also features a tight infield hairpin to the right, which is hard on brakes, this tricky track requires driving skills as well as set up skills to be successful.

Typically the racing in the NK class is really close with all drivers running the same stock Novarossi engine, the first 4 direct qualifiers would finish within less than 1 second after 3 timed laps. Pedro Rombouts took the TQ position followed by Julius Kolff, Daan Stuiver and Roy Bakker. The rest of the 10 driver final would be filled from the 2 semifinals.
Following some early scrimmage right after the start of the 30 minute final Pedro managed to pull away as Julius suffered a flame out on his first pit stop. Pedro looked to cruise to his third consecutive victory as Daan had to retire due to mechanical problems and Julius suffered another flame out. However at the end of the final things got tense again as Pedro lost his second gear and Julius closed in very quickly on Pedro but he just managed to stay ahead of Julius taking the hat-trick in the Dutch Nationals NK Class
Final result NK class:
1. Pedro Rombouts – Xray – 107Laps
2. Julius Kolff – Serpent – 107L
3. Roy Bakker – Capricorn – 105L
4. Pieter Bottema – Xray – 103L
5. Gaston van Kleef – Kyosho – 101L
6. Ricardo Hofmeijer – Capricorn – 98L
7. Iwan Biesot – Serpent – 98L
8. Raymond Tempelaars – Xray – 95L
9. Milan Holthuis – Serpent – 94L
10.Daan Stuiver – Capricorn – 80L
In the Kyosho World Cup Class it was Mathieu van der Hoeven who took the win in front of Arjan Versteeg and Hans Westerveld, who grabbed the final place on the podium.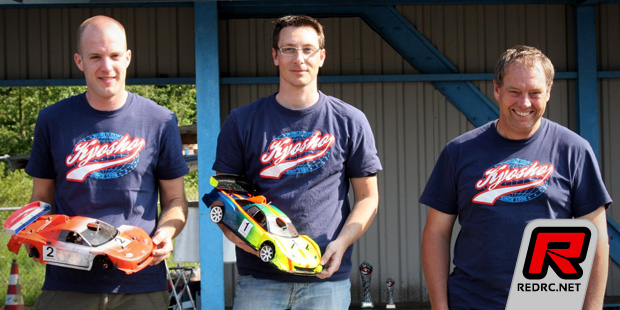 Final result KWC class:
1. Mathieu van der Hoeven – 94 Laps
2. Arjan Versteeg – 93L
3. Hans Westerveld – 92L
4. John Weytboer – 91L
5. Mats van Kleef – 90L
6. Gerlof Hoving – 77L
7. Jos Remmerde – 53L
8. Jan Timmer – 25L
Thanks to Gaston van Kleef for the report.
---