July 29, 2014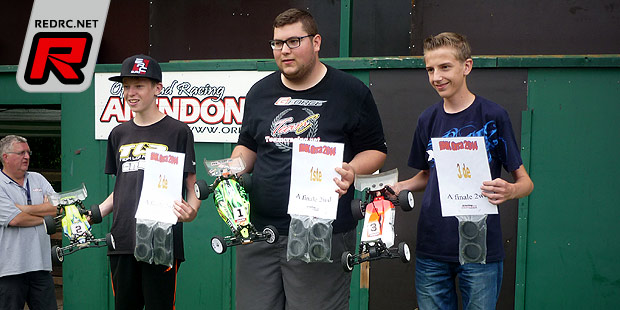 The 5th round of the combined Belgian and Netherlands 1/10th off-road championship was held at the astro turf track of Arendonck in Belgium. The sunny weekend made for a record outcome of 53 2WD and 40 4WD entries. Nicolas Risser (Team C) took 3 qualification rounds in front of Wesley Van Helmond (TLR) with Bryan Van Rijnberk (Xray) coming in 3rd. The triple looked like they would battle for the win as they already opened quite a gap to the following drivers. In the 2WD finals Nicolas was challenged by Wesley but at the end Nico took the overall win.

In the 4WD class David Pauwels (Xray) TQ'd in front of Steve Lambrechts (Xray) and Matthias Meynaerds. Top racer erik Michiels (Team Durango) suffered from too many mistakes and current championship leader Jean-Yves Konings (Xray) had electrical problems in Q1 and Q2 which caused DNFs but he won Q3 so both started from the end of the grid. In the finals David Pauwels dominated but the experienced racers made a comeback, with runner-up Konings, coming from 7th on the grid, and Michiels, coming from 10th, finishing  2nd and 3rd overall respectively.
Thanks to Jean-Michel for sending the report.
---