July 1, 2014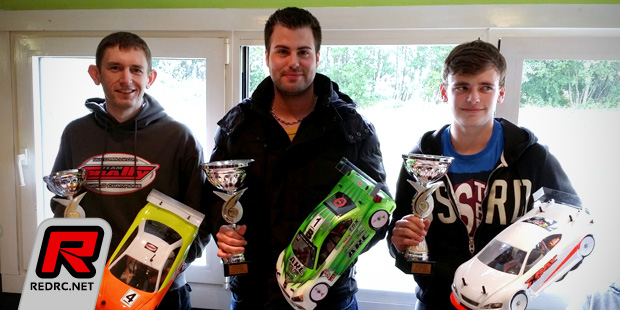 During the 3rd round of the Belgium electric on-road championship Geoffrey Vekemans took the pole position from Athan De Witte in 2nd, Dylan Senaeve in 3rd and Emmanuel Van Ackere in 4th. Geoffrey had a good start in the first final, but made a mistake while Olivier, coming from 5th on the grid, stormed into the lead. Geoffrey soon came back and put the pressure on Olivier with the result of both having a coming together on the straight sending Olivier into the off. With great sportsmanship Geoffrey waited until Olivier recovered. Dylan took advantage of the situation and crossed the finish line in 1st place followed by Olivier and Geoffrey.

In the 2nd A-final Athan De Witte again had bad luck while Geoffrey went away and Dylan tried to follow. Geoffrey had a clean race and took the win as Dylan came in 2nd and Emmanuel finished in 3rd. For the decisive final the battle for the win was on between Geoffrey and Dylan. Geoffrey again took off and never looked back right from the start. Dylan was battling with Emmanuel with the better end for Emmanuel Van Ackere (Corally) who secured the 2nd spot in A3 handing him the 3rd place overall. Dylan Senaeve (Xray) though was able to secure the overall runner-up spot while Geoffrey Vekemans (ARC) grabbed the overall win.
Thanks for Danny Vekemans for sending the report.
---