July 3, 2014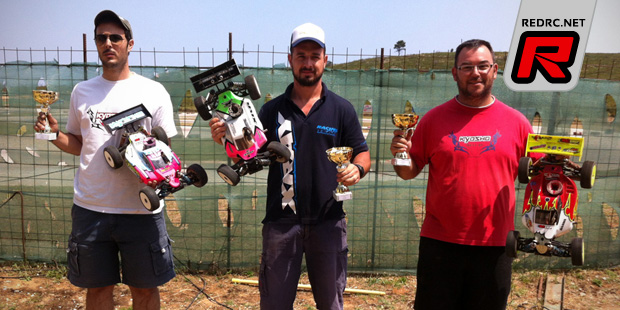 The final round of Attiko championship took place after some rainy months at the FRT track in Athens. The race was postponed more than 5 times because of the weather conditions and it marked the highlight of the season as it was to decide the championship and the following 3 places. The top 4 drivers where close together in the championship and in qualifying it was last year's champion Papanikolaou who showed great speed with the only 10 laps run. The 2nd place after qualifying went to Koudouris with Zagorisos sitting in 3rd place.
Qualification top 10 result
1. Papanikolaou
2. Koudouris
3. Zagorisos
4. Delbederis
5. Strigaris
6. Vasiliades G.
7. Liaskos M.
8. Vasiliades N.
9. Liaskos G.
10.Takas
The 30 minute final had Zagorisos and Papanikolaou taking off with now problems. Both showed a fast pace and around the 5 minute mark Zagorisos managed to take lead following a small incident of Papanikolaou with slower drivers. Zagorisos though lead the race until the end and he took the day's win to also seal the overall championship.
Final result
1. Zagorisos
2. Koudouris
3. Papanikolaou
4. Delbederisü
5. Strigaris
6. Vasiliades N.
7. Vasiliades G.
8. Liaskos G.
9. Takas
10. Liaskos M.
11. Grigoriou
Source: Xray [teamxray.com]
---