August 28, 2014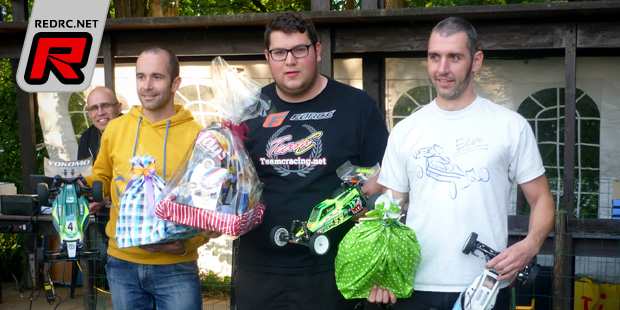 The 6th round this year's BNK 1/10th off-road championship took place in Kampenhout, Belgium with some 80 drivers in attendance. Following a rainy practice on Saturday the drivers were greeted by sunny weather on Sunday. In the 2WD class young Brent Ausloos (Schumacher) took the TQ spot from Nicolas Risser (Team C) while TLR driver Wesley Van Helmond completed the top 3 after the qualifiers.

The first A-final saw Nicolas Risser suffering from a crash in the very first corner that put him dead last. With a tremendous drive Nico was able to recover and to snatch the runner-up spot while pole-sitter Brent faced a transmission failure causing a DNF. Up front another young gun, Bryan Van Rijnberk took the surprise win in the opening A-main. The second A-final was a clear affair for Nicolas who took the win in front of Wouter Wijnen (Yokomo). The 3rd and decisive final again saw Nicolas taking the leg win for the overall victory. Bruno Heremans (Team Associated/X Factory) and Wouter Wijnen completed the top 3.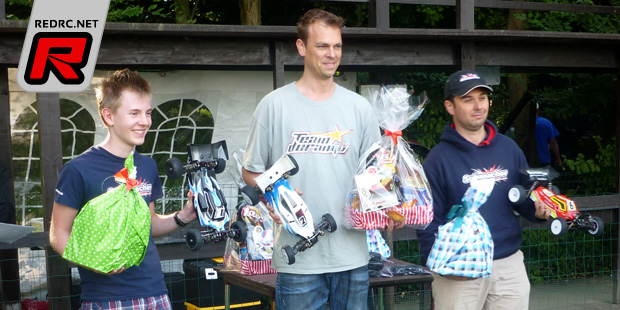 In the 4WD class Brent Ausloos made the double in qualifying by taking the second TQ of the day in front of Erik Michiels (Team Durango) and Jean-Yves Konings (Xray). The 4WD finals saw a lot of crashes and nervous drivers and at the end it was experienced Erik Michiels who took the overall win from Brent Ausloos and French guest driver Olivier De Montfumat (Schumacher).
Thanks to Jean-Michel for sending the report.
---