August 28, 2014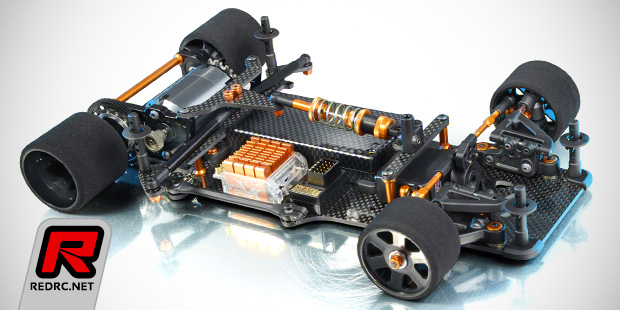 Xray introduce the latest incarnation of their EFRA Euros winning X12 1/12th pan car platform, the X12'15. Not being a totally new car but a subtle refinement, the kit features several performance enhancing details beside orange coloured aluminium parts to match the company's current colour scheme. The car builds on a redesigned carbon fibre chassis that is 3mm narrower while smaller cut-outs in the front optimise the steering characteristics. Along with the new chassis design goes a narrower rear pod and a new centre shock assembly that allows to run a long shock, using an adapter tube or short shock for better bump track handling and on-power traction or improved steering response and quicker direction changes. Part of the suspension package is also a new 1-hole piston for improved on-power steering and new orange anodised aluminium parts.

Up front new steering blocks with less play improve the steering response while included bump steering shims make the car easier to drive in high-traction conditions. Also new are upper arm shims for the inner suspension brackets to adjust the upper arm length and thus camber gain characteristics. The centre of the '15 kit sports composite battery stops that eliminate excessive battery movement while allowing to position the pack in a longitudinal or transversal position to optimise the weight distribution depending on the track conditions.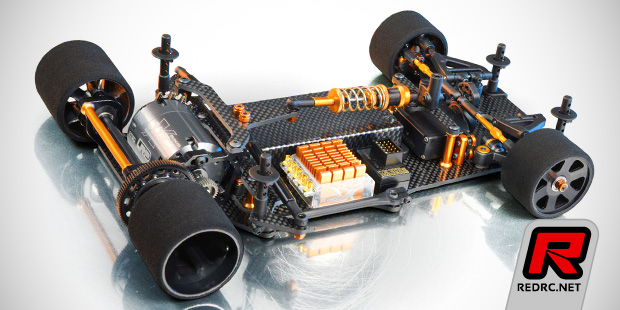 In the rear Xray uses a redesigned pivot ball brace that lowers the roll centre by 0.5mm for increased rear traction and improved stability. A smaller pod pivot ball with internal thread saves weight and also allows for greater side movement angles. On the rear pod a new upper plate lets the driver use the standard dual side tube dampers or an optional mono shock, again to adapt the car to a variety of track conditions. Other features such as the width adjustable reactive caster front end, lightweight turnbuckles, adjustable Ackermann values and the heavy duty ball differential were taken over from the previous model. The kit will hit the stores very soon.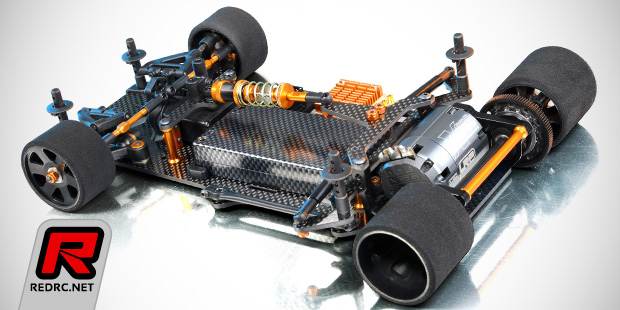 New features:
– New chassis
– New narrower design
– New narrow rear pod
– New weight balance
– New centre shock position adjustment
– New 1-hole piston
– New steering block
– New bump steer shims
– New upper arm position adjustment shims
– New composite lower and upper pivot brace
– New pod pivot ball
– New rear link pod upper plate
– New shock adaptor
– New rear link brace
– New composite battery backstops
– New orange aluminium parts
Source: Xray [teamxray.com]
---