September 11, 2014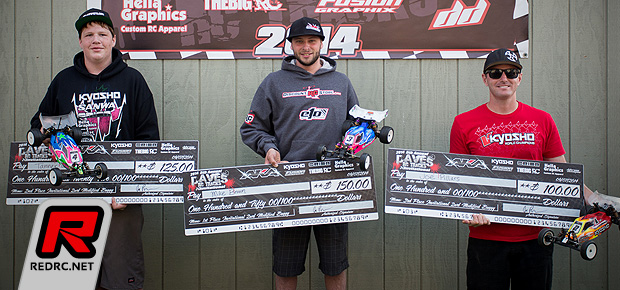 Dave's RC Track in Hubbard, Oregon hosted the 5th Annual NW Invitational race on a glorious weekend of outdoor fun in the blazing sun. Previously, the great NW Invitationals were held at a tight, indoor clay track, but due to track closures and changes  race organizer and Kyosho/Orion team manager Joe Pillars, decided to host this year's event on an huge outdoor, loamy "dirt" dirt track. Originally, Ryan Cavalieri was scheduled for attendance, but due to 1/8th Worlds in a few weeks, unfortunately he was busy testing and perfecting his prototype RC8.

What makes this race unique from other's – besides the Reedy of course – is that it allows racers to experience the Reedy race format without the additional travel expenses, lottery wait list, and taking the extended vacation days off from work. This year the "Invite Class" was stacked with 31 of the region's top 2WD Mod drivers in a best 6 out of 8 race. Every racer gets to drop their lowest 2 scores and in the end the top 3 drivers get a cash payout. This is something the Reedy doesn't do. Heats were setup randomly, but one thing that made it more challenging was putting the faster drivers in the back of the grid to make it harder for them. Meanwhile, the less experienced drivers started in the front giving them a better chance to succeed.
The rest of the classes ran the normal race format with 4 rounds of qualifying and qual order decided by qual points taking the best 2 of 4 rounds. All A-mains also got triple A-main treatment for exciting summer outdoor racing.
The premier class of the weekend, 2WD Mod Invite, had over 30 drivers in the field from all over the Pacific NW on hand to battle for the Invitational Championship and a $150 cash price. Most racers were split between mid motor and rear motor in practice, but ultimately the rear motor cars were easier to drive and proved to be more consistent on the loamy, low grip track. Every heat of the invite class is treated like an A-main event taking best 6 of 8 rounds. In the end, it was Schumacher's Mikey Brown showing supreme composure in all his heats and proved to be the fastest driver by remaining undefeated all weekend and finishing 1st in all 8 rounds. He was on a mission. Most impressive drive of the weekend would have to go to Kyosho's Tanner Day in round 7 where he battle from last place to take a win and force a final showdown in round 8. Even though Mikey had a perfect weekend, Tanner Day had 5 wins going into round 8 and if he was able to win in the final round  it would go to the tie-breaker giving Tanner the win. However, it wasn't in the cards as Tanner would finish 4th in the last round which gave the overall win to Mikey Brown. 3rd spot was none other than Kyosho/Orion's team manager, Joe Pillars, who showed tremendous pace for only racing a few times a year.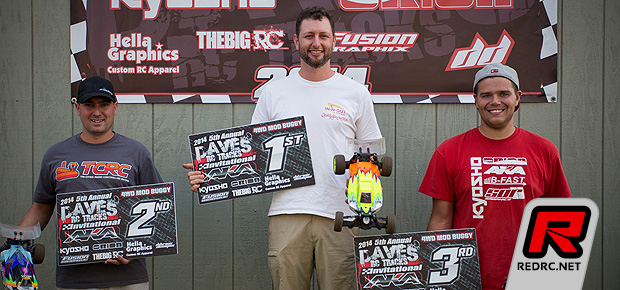 4wd Mod qualifying was dominated by Kyosho's Roger Seim who had the fastest car on Saturday. As they say in F1, Sunday is when it counts. Rising up to challenge the super speed of Roger Seim was Derek Rasheed and his HB 413. Having qualified 2nd right behind Roger, Derek was able to apply pressure from the sound of the tone and force Roger into a few mistakes. Once he took over the lead, Rasheed never looked back. Congratulations to Derek Rasheed on an awesome drive for 1st place. Pasco, WA own Joe Cathy would impress all weekend long and take 2nd overall. Having borrowed his cousin's ZX6, Kyosho's Brian Munn would take the final spot on the podium.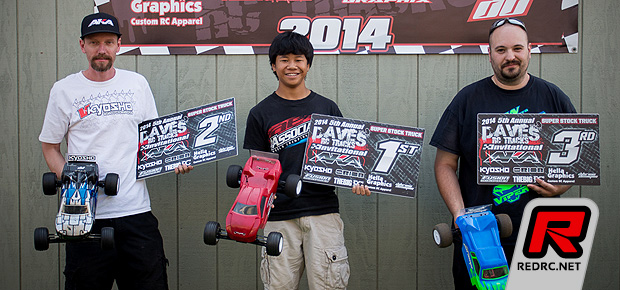 Best news of all was coming to a race and seeing a full field of Super Stock Trucks. Having broke out in his 1st qualifier, Team Associated's Harley Yoshii would show great composure and regroup to pilot his T4.2 with perfection and TQ the last 3 rounds to earn overall TQ. The young star would continue his dominance on the field and win super stock truck in just 2 mains and watch the 3rd main from the sidelines. Hella Graphics owner and Kyosho team driver, Mo Hillie, would display his masterful skills and earn himself 2nd on the podium. Rounding out the top 3, Team Durango's Keith Whetsell would jump from qualifying 6th on the grid to finishing 3rd overall.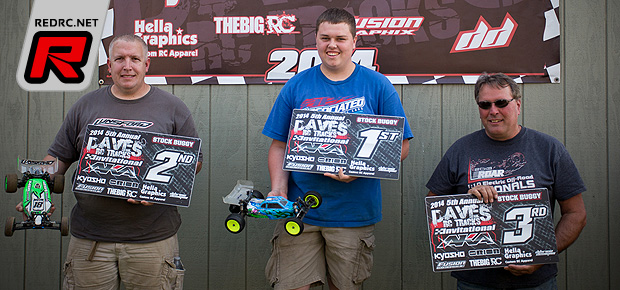 The ultra competitive 2WD Stock class saw drivers fight from a full C-main all the way to the A. With 2 bumps, every main counted as racers pushed maximum to try and bump and make the show. Shining from the field, Olympia's privateer, Tyler Miller running his B5R outclassed the field by taking TQ and winning in only 2 mains. It was also his first time running outdoor and also his first time running at Dave's RC Track! Putting up a great fight was Terry Schultz qualifying 2nd and finishing 2nd and taking the final spot on the podium would be Phil Vitale from Albany.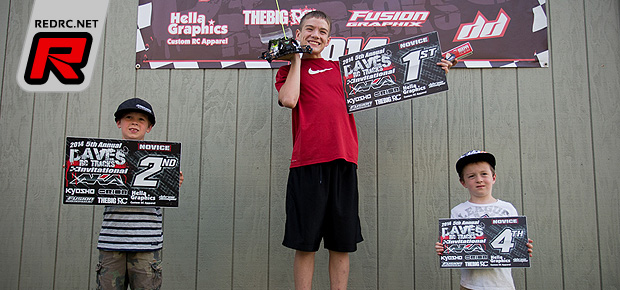 Novice is where it all begins. It's great to see the new blood of this sport race bigger events even though it may be more intimidating for them to do. The future of this hobby is not with you or us, but with the ones that have yet to pick up a controller or the ones that are still learning. Someday they are going to be the next Cav or Maifield. Congratulations to the novice drivers as they got their first glimpse of a bigger race format with Joey Mendoza Jr. taking 1st, Ryder Sturgell 2nd, Tim Siddal 3rd and Jeremy Dunlap 4th.
Source: 2wdMod [2wdmod.com]
---