September 17, 2014
The 24th German Pro10 national championships were held at the MBC Bamberg track in Southern Germany. The track was open for practice from Wednesday on with the event would officially start on Saturday morning with timed practice runs. A total of 49 driver from the Netherlands, the Czech Republic, Switzerland and Germany attended in the three classes of Pro10 Modified, Pro10 Stock 10.5T non-boost and 2WD Fun. In the premier class of Pro10 Modified a battle for the TQ arose between four drivers with 2013 vice-champion Tobias Weist taking the pole position for the finals in front of local hero Alexander Graßer and Sven Stoffels. On his way to the TQ Tobias clocked a new Pro10 lap record of 14.773s – only 174/1000th of a second lower than the 1/8th nitro on-road lap record.
Pro10 Modified top10 qualifying result:
1. Tobias Weist
2. Alexander Graßer
3. Sven Stoffels
4. Reinder Wilms
5. Christian Seiler
6. Kai Altmann
7. Thomas Krause
8. Werner Bergbauer
9. Maxi Vief
10.Joachim Behnken
Reigning German Pro10 champion Tim Altmann was struck by bad luck in the qualifiers and ended in the B-final. In the Pro10 Stock class Robert Klier won three qualifying rounds to take the TQ in the 10.5T class in front of Alexander Wild and Timo Schad. Sascha Feldt, Matthias Feldt, Andreas Kofler, Marlon Beuershausen, Christoph Ströble, Reiner Schad and Heinz Rosenberger completed the A-final line-up.
The Modified class A-mains saw a tight battle for the top positions between three drivers with Tobias Weist ultimately taking the wins in the first two legs to take the German championship title early. Alexander Graßer grabbed the vice-championship in front of Sven Stoffels who rounded out the podium. Old dude Werner Bergbauer on 7th position claimed the 40+ title as he did in 2013 while Maxi Vief in 10th took the youth title. 18th placed Alexander Steinkau was the best junior.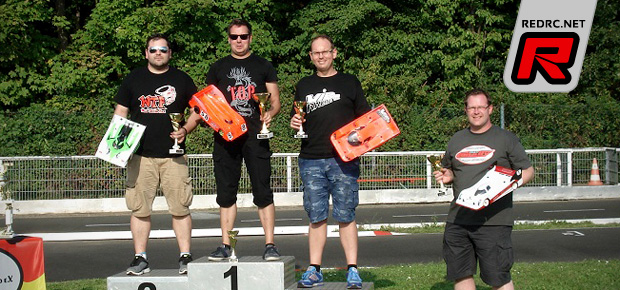 The Stock class had TQ Robert Klier claiming the win in A1 and A2 to take the 2014 title. Sascha Feldt took the runner-up spot, Alexander Wild completed the podium in 3rd. The supporting Mini 2WD class had Max Minges taking the win from Matthias Feldt and Jan Dietmar.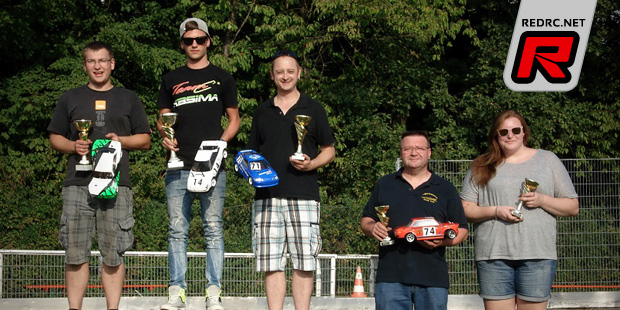 Thanks to Tobiast Weist for the report. | Images: Roman Krejci
---