September 4, 2014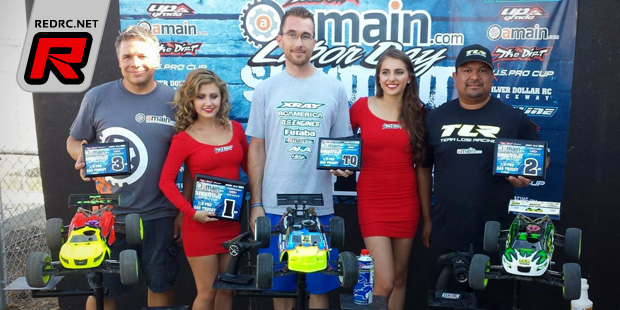 This past weekend in Chico, CA A-Main Hobbies and The Dirt Racing put on the Labor Day Shootout and the last round of the US Pro Cup. For the US Pro Cup it came down to Ryan Lutz and Josh Wheeler to compete for the title and a $5,000 price. Qualifying started Saturday morning with great weather and the track looking good. In the Truggy class Josh ended up 3rd the first round with Ryan Lutz getting the TQ and Phillip Atondo with 2nd. The second and third round had Wheeler getting the TQ in both rounds which gave him the overall TQ for the Truggy class.

Buggy qualifying had Austin Blair getting the TQ in round one with Wheeler in 2nd close behind. The second round of Buggy had Ryan Lutz got the TQ and Wheeler again finished 2nd, really close behind. The third round would determine the TQ and Josh Wheeler was able to take the win and also the overall TQ.
Sunday was main day and again the drivers were fortunate with good weather. The 30 minute Truggy main was up first. Early in the main Lutz had a problem and it would leave Phillip Atondo and Josh Wheeler in a really tight battle. Wheeler had the lead at the beginning but after a small mistake and a tangle up with lap traffic he found myself a couple seconds behind Phillip and both were running very similar pace with no mistakes. Josh followed Phillip for 23 laps and was finally able to capitalize on a small mistake with 2 laps to go. Wheeler would then go on to the overall win with Phillip Atondo 2nd.
The Buggy main would decide the winner of $5,000 and bragging rights for the US Pro Cup. The race started with Josh Wheeler in 1st and Ryan Lutz right behind, unfortunately Ryan had problems early and put him out of the race. Wheeler was able to get out front and it looked like clear sailing until the first tire came unglued. Josh came in for a tire change and was put back to 3rd or 4th, and he came back to 2nd when another tire then came loose. Wheeler then had to make two more stops to change tires so he could make it until the end. After a tough battle he was able to get back to the 1st spot with a few minutes left to take the win and the US Pro title.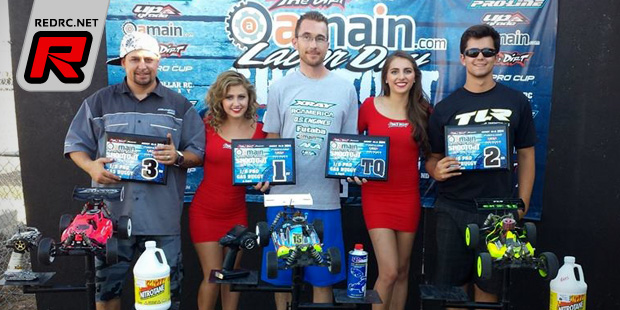 Source: Xray [teamxray.com]
---