September 17, 2014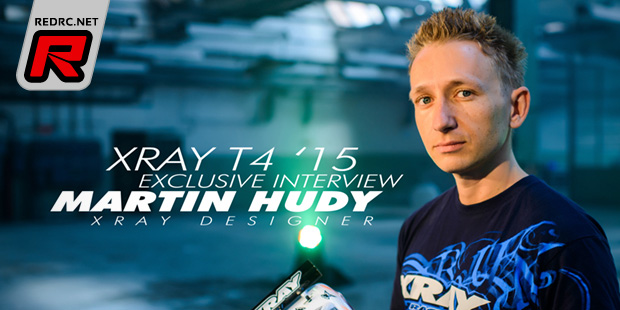 As announced yesterday, today we are publishing the first of a series of features ahead of the forthcoming release of Xray's all-new T4 2015 electric touring car. First up we have this exclusive interview with Xray designer Martin Hudy about the development of the T4'15 and the electric touring car market in general. Tomorrow we will also have an exclusive write-up available with more in-depth information on what racers can expect from Xray's new touring car.

Red RC: Since the new car is still called the T4, should we expect more of an evolution than a revolution in design?
Martin Hudy: Not really. The product names have always been a tricky thing to handle. In the past when we changed the product name to a new one – for example, from T3 to T4 – we had half of our customers being disappointed that the current car has been on the market only for a little while and we were releasing a new platform again. On the other hand, if we did not change the name of the car, the other half of the customers would be frustrated that the car is still the same. So it seems whatever you do, there will always be customers who are not happy with the decision.
To streamline and unify our product line branding, we decided to stick with the car names a few years ago and to just add a year version. Keeping the same car name helps to build a strong reputation and recognition of the brand, while adding the year version gives assurance that Xray has been constantly developing the entire portfolio. Currently our racing line-up includes the T4, NT1, RX8, X12, X10, XB4, XB8 and XB8E – simple and clear. The new T4'15 is not a revolution, but the changes to the car for 2015 are major.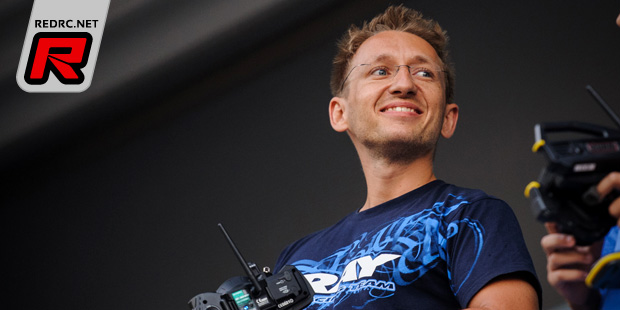 Red RC: So the T4'15 is the follow-up to the very successful T4'14 and the 3rd incarnation of the T4 since it was introduced in late 2012. Can you tell us about the focus in development for this new car?
Martin Hudy: One of the main reasons Xray cars continue to enjoy their successes is that our R&D team races what we develop, and what we developed turns into what we produce for our customers. Unlike some other teams who have special, customised team cars far from production kits, we at Xray race the exact same cars than anyone can buy and race. As such, during the season we are in constant interaction with customers and team drivers at local, regional, and national level and we see, hear, and listen to everyone and everything, both positive and negative. All the feedback is collected and experienced by ourselves to give us an exact idea where to focus development. Usually after the release of a new car, it takes us several months to collect feedback and new ideas and suggestions which we then start to turn into new prototypes. Afterwards, our R&D team tests again and again until the next year's car is finished. This year was no different.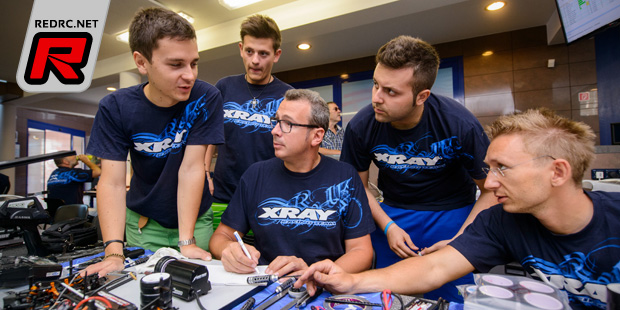 As 2014 did not bring any major changes in rules, and also there were no major evolutions in electronics, we did not have to spend much time in development in those areas and instead we could focus our efforts to fine-tune and improve upon many other areas such as performance or reliability.
We spent a lot of time on the development and integration of the ARS (Active Rear Suspension) which was for sure one of the most significant performance improvements within the last few years. We tested and worked out all the details of the ARS system for nearly half a year. The main benefit of ARS is that rear toe-in changes throughout the corner and this helps to increase cornering speed or traction depending on the setting. In the end, the handling of the car is much more predictable. It is definitely a huge performance improvement that everyone will enjoy.
As for reliability improvements we worked on were to remove unwanted tweak from the motor mount, to reinforce the servo mount, to remove all wobble from the anti-roll bars, improve the motor mount flex, increase the solid axle outdrives durability, minimise the breakage of the front of the chassis in serious crashes, and to give greater choices for roll centre adjustment. There are literally dozens of other small details we worked on and integrated into the new design, all with the intention to improve the car for everyone racing at any level.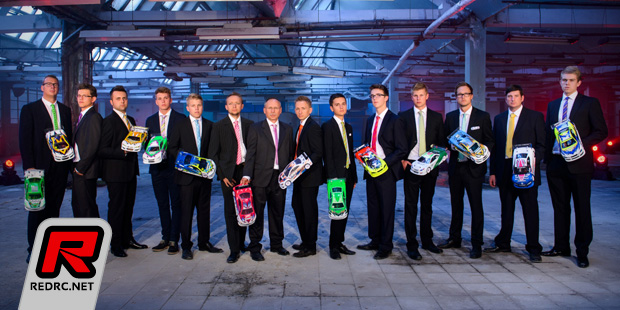 Red RC: The T4 – and indeed its predecessor – has always been both a good Modified and Stock class car, while some other manufacturer's cars at times seem to struggle to be competitive in both classes. Is this a focus when designing the car or do other factors come into play?
Martin Hudy: The success has been the result of the ongoing development. Year by the year we continue to improve the cars and of course every year we learn a lot and turn our experiences and hard work of the team into new refinements. This is what we have been doing since the very first T1 which was designed back in 1999. So already for 15 years we have been trying to achieve perfection which of course can not be achieved but we never give up to try.
With Stock class being one of the most popular to the public, but also with Modified class being the high competition racing class, we have to focus on both categories and so development is always oriented for both classes and for both carpet and asphalt track conditions.
I am very happy that we have the best Stock team in the World, including drivers like Marek Cerny, Jan Ratheisky, Francesco Martini, Mike Gosvig, Eric Anderson, Tobias Vogel, Valentin Hettrich, and many others. The team has been for sure a huge help in the development of the platform for the Stock class. The tricky part of developing for two classes at the same time is the extra time it takes. We need to make prototypes for R&D drivers in both classes and sometimes the feedback is mixed. Then we need to look for possible design changes so the part works for both Stock and Modified classes. So in the end it means more time, more work, more challenges, and more resources expended. However, since both classes are important to us, compromises are really not an option.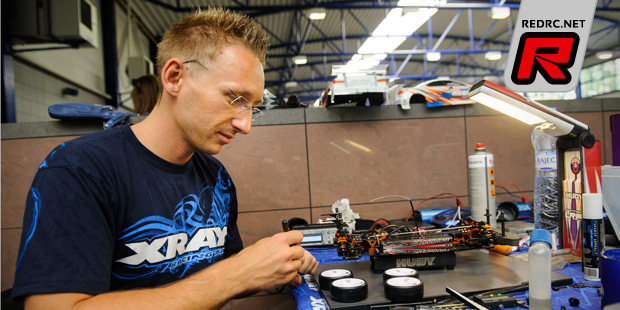 Red RC: With the current crop of touring cars, it seems that evolution in design is the key with cars now looking very similar in design and being very similar in geometry. While a final 'perfect' car may never be achieved, do you think that development in this class gets to a stage where updates will become less frequent?
Martin Hudy: It is very hard to know what will happen, as the rules do not stay the same and certainly there will always be improvements and changes in other areas. During the last few years there have been major developments as the result of rule changes, and significant shifts in electronics development such as brushless motors, LiPo batteries, smaller and lighter electronics, and also the fade of foam-tire racing. So we may not know what changes in the future will force car designers to update their designs. However, the last few years have been fairly constant and as such we did not see major changes from any major brands. This 'calm period' allowed the newcomers to pick up on current proven designs, and therefore nowadays you see the majority of cars looking the same at first glance.
Of course, what matters in high-competition racing are the smallest details which only very few companies and people in the World know about. Every year when a new car is finished, there is a short period when we have no idea what to do next with development, but that changes immediately once we or the customers start to race and we start to collect new feedback and ideas. I cannot speak for others, but we at Xray will not rest and will push the development forward to give our customers the best possible products they expect and deserve – the same work we have been doing for the last 15 years.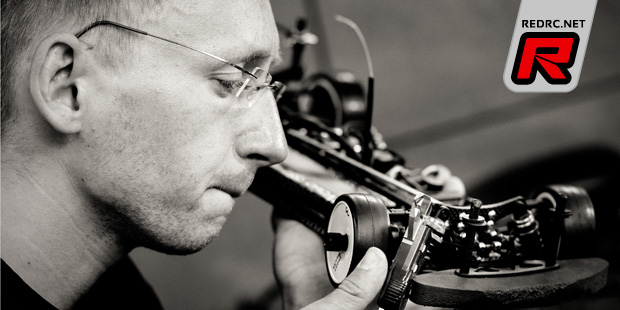 Red RC: Seemingly only days after a new Xray car is announced, the option parts from 3rd party manufacturers hit the market. For you is this flattering or frustrating?
Martin Hudy: For me it is simply logical. If I would design and produce aftermarket option parts, I would start with the most popular and most successful cars as well. On the other hand, I never suggest any customers to use aftermarket options for Xray cars. We are one of the very few companies that seriously develops and tests all its products. We spend thousands of hours on tracks around the world testing the new car and every single part of it.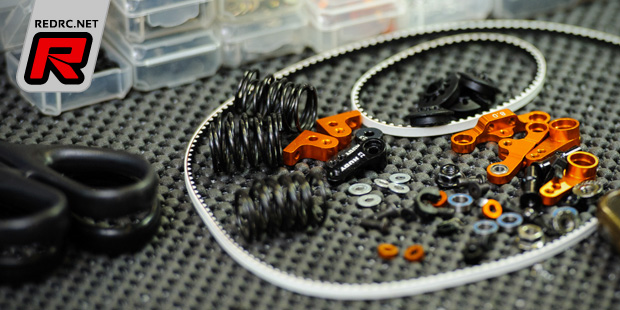 From all the new prototype parts, we test only a very small amount and perhaps only 10 percent make it to the final production stage. This of course means that 90 percent of new parts and ideas we test are rejected no matter how much time or resources we have spent on them. Those non-approved prototypes are rejected because there is really not tangible improvement to the car's handling, performance, or reliability. This is something that a regular customer will never know or recognise, because the final kit that he buys and builds has only the best, finest and most tested parts included. In high-competition car design, every smallest detail has a definite impact on performance and handling.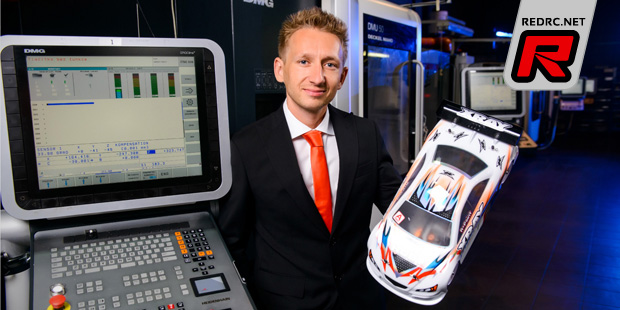 Now, imagine a 3rd party company that just draws a part from a desktop, produces it and sells it to the World. They have usually done no testing and therefore take no responsibility for the effect of the part on the car. Changing material hardness by a few percent or just adding/removing one screw may influence the flex of the car and make its handling completely different, not to mention that adding a completely different 3rd party option part may change the performance and handling completely – usually not in a good way.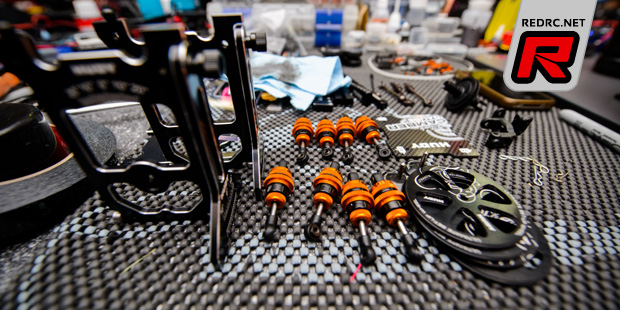 We consider all smallest details during development and testing, and we fully stand behind the final design and specs. That is why you will see everyone on Team Xray using only the original car out of the box, with no 3rd party option parts.
Many times at races, regular customers come to me with some weird handling problem and when I look at their car I see them using some 3rd party option part. In this case, neither myself nor anyone else on the team is able to help because we cannot determine the effects of using those 3rd party option parts. In that situation, we could only recommend that the customer rebuilds the car to out-of-box specifications and after that we can help solve the problem because we will know exactly what we are dealing with then. That is how well we know our products, and how they all work together.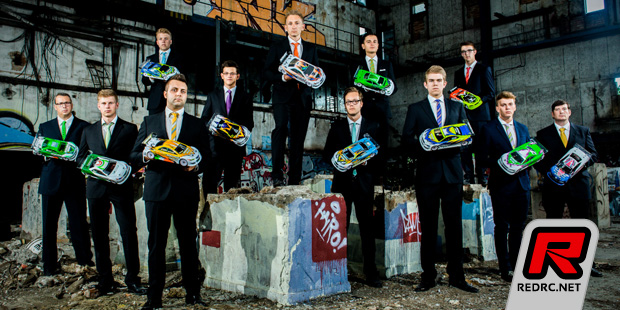 Red RC: The World Championships are only a few weeks away and Xray will be racing the new T4'2015 there. What are your thoughts on the extensive private testing that is going in Florida and your competitors seemingly crafting special cars for that specific track? Should testing be further limited?
Martin Hudy: Well, we are in the high-competition racing world and all we do, all the development we make, and all our energy and efforts are spent making the cars better, faster, more reliable, and being able to win races regardless if they are local, regional, national, or even the World Championships. As in every sport, you can play in the background to have fun, and then there are the 'major leagues' and major events which help set the benchmark and test how good you really are. In high-competition RC car racing, it is the World Championships that sets the benchmark and is the real challenge for every manufacturer. The World Championships is a test of how well and thoroughly you did your homework in the last two years, whether or not you learned the tyre 'tricks' and also shows if luck is with you that week or not.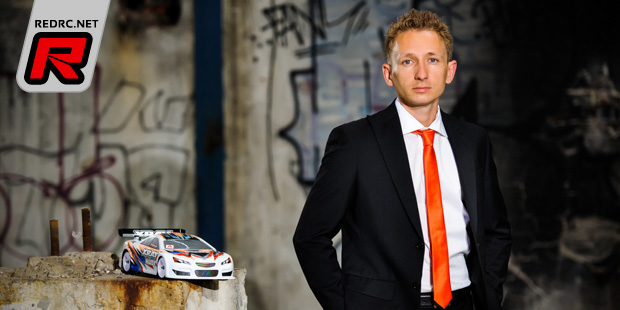 The European Championships and even more so the World Championships are no longer races for 'regular' customers and drivers like it used to be some time ago. These two events are essentially a competition amongst brands. For sure these races are drain on resources, but still they are very important races and you will see all teams spending crazy amounts of time and resources for these races. I expect we will continue to see fewer and fewer drivers at the Euros and Worlds, as it gets extremely expensive for everyone.
Limiting practice for the Worlds (or not) is a very difficult question for which I myself have no perfect answer. Realistically it is almost impossible to ban practice as the on-road tracks used are just permanent tracks and during the year anyone can go there to test. Maybe in off-road, if a purpose-built track is built, this might work but to build a track just for one event is extremely expensive and nobody could afford that. As such I do not see it being feasible to ban people from practicing at a permanent track.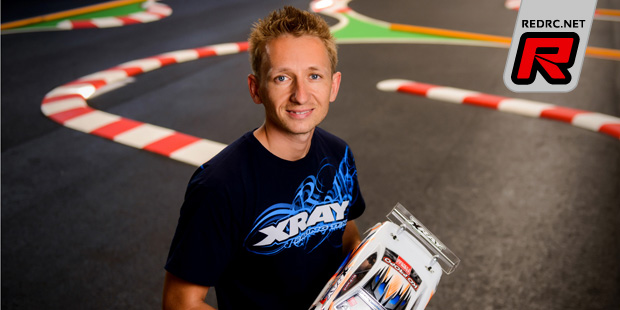 This year we tried to save on resources and skipped the 1/10th nitro touring and 1/10th off-road Euros warm-ups. At the European Championships we were at a clear disadvantage, as on the first day we had to learn the track and find what we thought would work in terms of set-up and tyres. Meanwhile, other teams already had this knowledge from the warm-up races. In the few runs we had per day, it was impossible for us to catch up on the knowledge that the competition already had from the warm-up. So this negative experience taught us that if there is a possibility to practice for a Euros or Worlds and other teams are present at the warm-ups, we needed to go as well or there was no reason to go to the actual race.
With such high expenses, it is then logical to predict that regular customers cannot afford to go to Euros or Worlds, and therefore those races become for brands only. I have no idea how long the companies will be able to afford this, but the costs we go through is certainly significant. But then I return to my first sentence – we are in the high-competition racing world, and we want and do all that is possible to achieve the best possible results. As such I am just packing my stuff and I will shortly be on my way to Florida, USA to practice for the Worlds, along with Alexander Hagberg, Paul Lemieux, and Ralph Burch. Wish us all the best luck.
---