September 19, 2014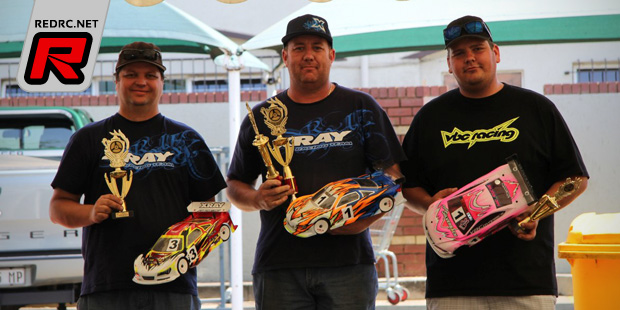 Round 4 of the South African electric on-road championships was held at the Meyersdal Model Car Racing Club just south of Johannesburg, drawing 121 entries from all over the country. Track temperatures in the high 50's all weekend added and very windy conditions that brought dust from a nearby construction site made for tricky conditions. In the Touring Car Modified class Jason Hillcoat was the man to beat by winning the first three qualifiers to take the overall TQ early.

In the first main Jason had a challenge from team mate Shaun Schutte who put up a great battle, but after 3 minutes of racing Shaun made a small error which meant Jason had 3 second gap which he maintained till the end. The second main was more to the plan and Jason made a good gap from the start, but after maintaining a 3-4 sec gap to second place with about a minute to go he had some speedo issues and the controller went into blinky, losing all boost. Just after that 2nd and 3rd place had an accident which now left Jason with about a 4-5 second gap to the new 2nd place man Shaun who was now hunting Hillcoat was closing at 3-4 tenths per lap, but Jason was saved by the tone to win the second A-main also which handed him the day's win with one main to go. The win also wrapped up the back-to-back National Modified Championship title for him. 2nd in the race was Shaun Schutte in front of Hein Kotze in 3rd place.
Modified top 10 result:
1. Jason Hillcoat
2. Shaun Schutte
3. Hein Kotze
4. Wouter Ferreira
5. Deon Gove
6. Antonio Caroli
7. Willie Du Plooy
8. Anderton Smith
9. Henri Kotze
10.Marc Van Der Zon
In 13.5T touring an intense battle for TQ honours and later on the race win developed between Shaun Schutte and Hein Kotze. The opening A-main went to Shaun but a timing error made it necessary to re-run A1 and now Hein made no mistakes, handing him the win in the first A-main from Shaun. A2 was a 5 minute long battle between the two front runners and Shaun was stuck to the leader's rear bumper until his car got loose in the sweeper which gave the Hein a 1 second gap which he held to the end of the race to take the day's win. Shaun Schutte finished on the runner-up spot while Ashley Hurley completed the top3 result.
13.5T Stock top 10 result:
1. Hein Kotze
2. Shaun Schutte
3. Ashley Hurley
4. Deon Gove
5. Anderton Smith
6. Wouter Ferreira
7. Kallin Kolmel
8. Dillon Du Plooy
9. Pedro de Gouveia
10.Willem Janse Van Rensburg
1/12th qualifying saw a fierce battle develop over 3 of the 4 qualifying rounds between Shaun Schutte and team mate Andre Greeff who kept the pressure on him for the full 8 minutes in the first 3 qualifiers, in Q1 an exciting battle went on over 8 minutes as lapped traffic would play a part in the result with Shaun just having the edge by just over 3 seconds from Andre in 2nd place after 30 laps. Q2 was a much cleaner run with backmarkers not getting involved in incidents with the leaders, Schutte would take the win in Q2 by just over 5 seconds from Andre again in 2nd place with better track conditions Q2 was a 31 lap run. Q3 went smoothly for Shaun again and he would take the win again with a 31 lap run which secured him the overall class TQ with Andre a further 7 seconds back. Having taken TQ Shaun sat out the 4th round of qualifying and this would allow Andre to take the win in Q4 and secure 2nd on the grid with 3rd place taken by Willie Du Plooy. In the first main Shaun had a good start and created some space between him and Andre in 2nd as he made an error in the technical section and dropped back into the pack which took some pressure off Schutte and from there he could control the race to the end. The first main would end with Neville Menezes 1 lap back in 2nd. In the second main Shaun Schutte had a clean start and would have a tone to tone win which secured him the overall win for the event followed home by Willie Du Plooy in 8 seconds back in 2nd and Andre Greeff in 3rd. The third main went very much the same way for Shaun and he would take the win this time with Andre 8 seconds back in 2nd place and Willie Du Plooy 1 lap back in 3rd.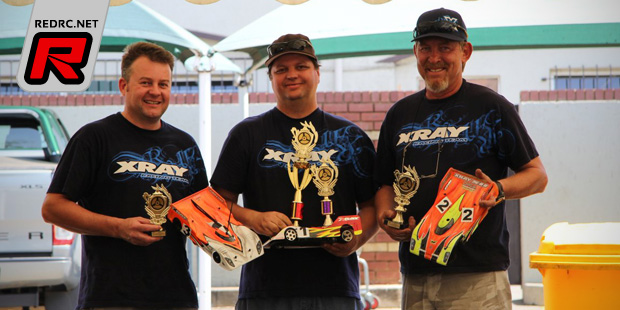 1/12th top 10 result:
1. Shaun Schutte
2. Andre Greeff
3. Willie Du Plooy
4. Neville Menezes
5. Marc Van Der Zon
6. Morne De Noon
7. Fanie Viljoen jnr
8. Peter Plint
9. Paul Van Der Westhuizen
Source: Xray [teamxray.com]
---