October 15, 2014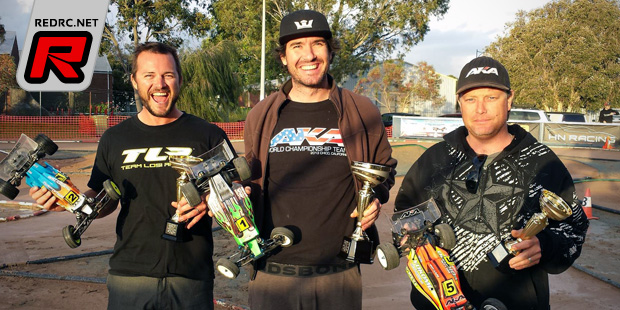 The 2014 AARCMCC WA EP10 Off-Road State Titles were held at West Coast Model RC in Bayswater, Western Australia. With a few interstate drivers travelling to the event including one international entrant, the stages were set for an exciting weekend after 2 days of practice. Saturday was set for the 2WD classes, qualifying was run over 4 rounds in the morning, with finals to be run in the afternoon. In 2WD Modified it was Josh Pain who took TQ honours over Craig Laughton and Darren Johnston. 2WD Stock saw Gabriel Mikhail take TQ over Kerren Nottle and Jarrod Smith.

2WD Stadium Truck TQ was Kerren Nottle over Daniel Robins and Grahame Gauder. 2WD SCT TQ was Kyle Francis over Timothy Jansen and Matt Green. In the finals everybody saw some incredible racing, with Josh Pain taking convincing wins in all 3 finals to clean up the title in 2WD Modified over Craig Laughton and Steve Smith.
2WD Stock saw Gabriel Mikhail take a clean sweep from the front, taking the win in A1 and holding on by a mere 0.77s in A2 over Christopher Mitchell to take the title, leaving Jarrod Smith and Christopher Mitchell to come home 2nd and 3rd place respectively after the 3rd round. In 2WD SCT Kyle Francis took wins in A1 and A2 to clean up the title ahead of Tim Jansen and Matt Green. 2WD Stadium Truck saw Daniel Robins storm to a win in A1 over Kerren Nottle and Grahame Gauder, however in A2 Nottle showed a return to form as he broke through to even the score and force the 3rd round decider, ultimately taking the title in A3 as Robins struggled, leaving Robins and Gauder to take the remaining podium positions.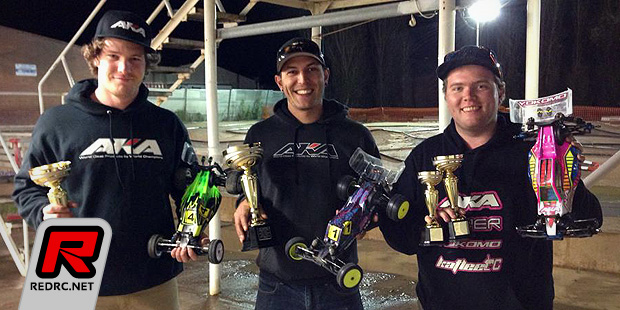 On Sunday the drivers were due to run all 4WD Classes, however the weather had other plans, thanks to persistent light rain all throughout the evening, the track was too wet to race on in the morning, with more rain forecast to arrive in patches during the day – the outlook was grim at best. The club and track crew worked tirelessly throughout the day, doing all they could to recover the track and allow the racers to run. By 3:30pm the track was ready for racing. Unfortunately after just 3 rounds of qualifying the rain set in heavily again as the racing had gone under lights, and the event was concluded with enough qualifying rounds completed to achieve a result based on qualifying results. In 4WD Modified Josh Pain took the win from Mat Primmer in 2nd and Steve Smith in 3rd. 4WD Stock had Gabriel Mikhail taking the win from Kerren Nottle and Jarrod Smith while in 4WD SCT Kyle Francis came out successful from Fabio Silvi in 2nd and Tim Jansen in 3rd.
Thanks to Christopher Mitchell for sending the report.
---