October 7, 2014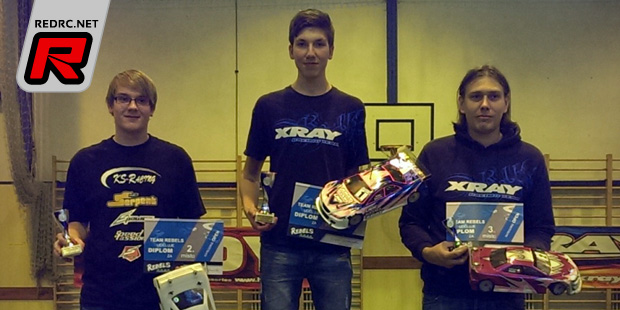 The first Rebels Race carpet race of the Winter season 2014/15 was held in Trutnov, in the North of the Czech Republic. The series boasts of a high organisation level, great competition and friendly environment and it is run in the four classes of Touring Car Open, Touring Car Stock, Formula and Hobby. In the Open class Kuba Simurda started out strong into the season by taking the TQ and the overall win. The race for the runner-up spot was on between Vita Hola and Michal Blahovsky and at the end Michal came out successful while Vita grabbed himself the last remaining podium spot. Jirka Janousek, having a comeback to RC car racing, finished in 4th with the top 5 being rounded out by Polish driver Wojciech Rozwadovski.
Touring Car Open Top10 result:
1. Kuba Simurda
2. Michal Blahovsky
3. Vitezslav Hola
4. Jiri Janousek
5. Wojciech Rozwadovski
6. Marcel Dostal
7. Petr Grof
8. Jaroslav Kopecky
9. Kája Dolezal
10.Lukas Gombik
Racing in the Stock class could be described as "just close". At the end Ales Pelikan brought home the win coming from that all important pole position. Michal Kneys snatched the runner-up spot and Standa Nemecek completed the top 3. The unfortunate 4th position went to Milan Wolf, who did his best, however it was not enough to reach the podium. Pavel Svec then completed the top 5.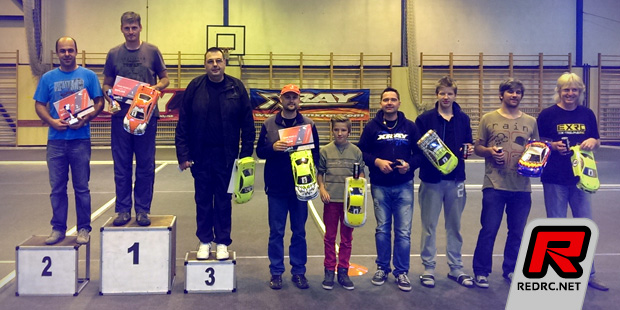 Touring Car Stock Top10 result:
1. Aleš Pelikan
2. Michal Kneys
3. Standa Nemecek
4. Milan Wolf
5. Pavel Svec
6. Dominik Mach
7. Zdenek Sokol
8. Milan Ptacek
9. Jirka Svoboda
10. Milan Krecek
In the Formula category Vitezslav Hola was by far the fastest driver and he easily took the win from Lukas Gombik and Zdenda Benes who ended up 3rd. Finally the Beginners class was controlled by Milan Maxymov, who did not lose his pace until he hit the finish line. Very young and talented Ondra Kohoutek finished in 2nd while the 3rd place was taken by Jaroslav Kopecky Sr.
Source: Xray [teamxray.com]
---