November 20, 2014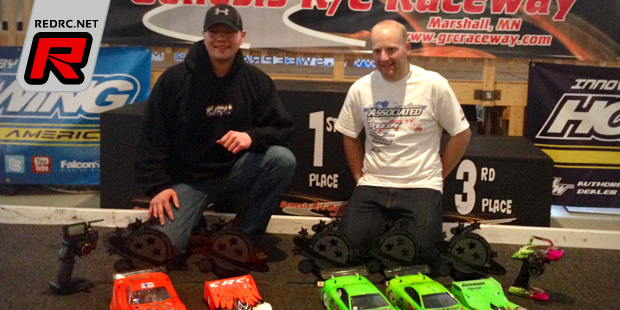 For the 4th consecutive year, Genesis RC raceway in Marshall, Minnesota held serve to the ever growing Midwest Indoor Championship. With the flat pool table like subfloor, CRC carpet and perfect climate controlled facility, Participants from 9 states and Canada converged on Marshall for the weekend. The competitors quickly realized the level had grown to nothing short of national level.

Associated pilot Mike Hanes took TQs in 17.5T Touring, 13.5T Touring, and  1/12th 13.5T. But, on main day he would have a target on his back and would be greatly challenged in all 3. In both Touring Car mains Billy Sydor, would run Haynes wire to wire keeping him honest. Eventually, Hanes would be able to hold on with Billy finishing just tenths behind in both 13.5T and 17.5T Touring Car. Haynes would also have a flawless run in 1/12th 13.5T and take the bell to whistle win with John peck finishing a close second behind him.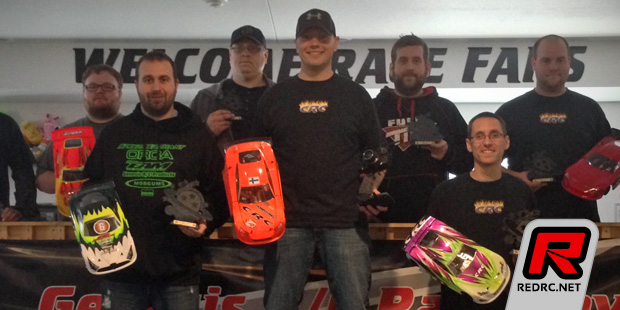 In the 13.5T WGT class top qualifier John Wiita and 2nd qualifier Tony Block put a display of incredible driving banging doors for the entire five minute race. John was able to guide his CRC SE to the win with Tony finishing on his spur gear at the line and Tyler Lynn rounding out the podium just a couple seconds back. Wiita would also take the wire to wire win in biggest class of the weekend, 1/12th 17.5T. Kevin Van Ert and Dan Hamman would take a close 2nd and 3rd.
With the increased interest in USGT and F1 regionally, there was great racing in both classes all weekend. The USGT podium would stack up with Fabio Evangelista taking the TQ and wire to wire win. Andrew Mowery and Brian post would finish just behind for second and third. F1 would see Adam balk and his CRC WTF take the overall win with Picnic swift and Jason lochthowe taking the other two steps on the podium.
Finally, Jason Lochthowe would take the overall win in USVTA with Jeff Samuel coming from over a lap down to claim 2nd and Taylor Mogard taking 3rd
Thanks to John Wiita for the report.
---