December 16, 2014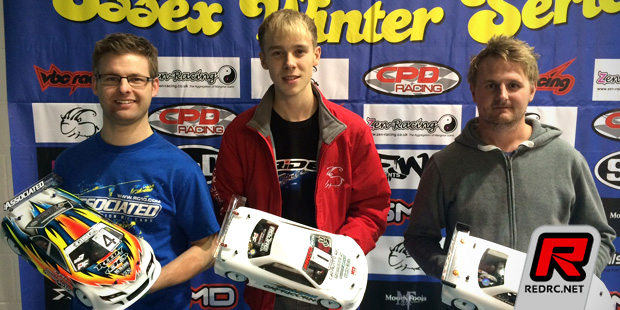 The third round of the popular Essex Winter Series championship took place this weekend in the South-East of the UK. With the weekend marking the last of major race events of 2014, everyone wanted to finish out the year on a high. In the Modified class, Kyle Branson was back in the field after missing Round 2 due to the 1/10th IC Worlds in Thailand. Previous winners Andy Moore and Olly Jefferies were absent due to other commitments, whilst defending champion Elliott Harper was also unable to race, having yet to secure a new race deal following his departure last month from Team Durango. However, this didn't detract much from the strength of the field, with Branson going up against multi-time UK National Champion Chris Grainger, multi-time EWS Podium finisher Matthew White, and a whole host of regular A-finalists.

However, Kyle stamped his authority on the meeting with his prototype Capricorn, topping every one of the four rounds of qualifying. This made it look like it would be a battle for the runner-up position, with Team Associated's Alan Bickerstaff, who again had made the long trip over from Northern Ireland, taking second in the opening qualifier from the Capricorn of Phil Chambers and the Schumacher of Matthew White. The second qualifying round had Matthew finishing second best, ahead of privateer Ashley Wiffen and former EWS Champion Paul Pinkney. The third round saw a big mistake from Kyle, allowing Matthew to take the lead, only for Kyle to demonstrate his speed and not only make up the deficit, but again set the best time. Matthew again took second, with Phil in third and Max Guerola a strong fourth. The final round saw a brilliant run from Nathan Winyard to take second, Chris Grainger left it all to do in the last round and snatched third to get himself into the A Final, with Ashley taking fourth. This left Kyle to line up on pole, ahead of Matthew, Phil, Alan and Ashley.
Everyone expected Kyle's domination to continue in the A Final, however, a slow start saw Matthew immediately challenging for the lead on the opening lap. Both drivers went for the same piece of carpet which immediately dropped them down the field, and let Alan through to lead lap one. Kyle then got his head down and started to battle back through the field, racing against team-mate Phil and a fast starting Ashley. Watching Kyle carve his way through the pack as fantastic to watch, and by lap four he was remarkably back in the lead having sneaked past Alan. This left the crowd to watch the new battle for second between Alan and Ashley – which continued for the remaining three minutes and saw the two cars finish just two tenths apart.
Zen Racing Modified A-final result
1. Kyle Branson – Capricorn/Reedy – 19/309.86
2. Alan Bickerstaff – Associated/Reedy – 19/313.41
3. Ashley Wiffen – Yokomo/ORCA – 19/313.69
4. Chris Grainger – Schumacher/Hobbywing – 18/300.81
5. Phil Chambers – Capricorn/Reedy – 18/301.82
6. Nathan Winyard – Xray/ORCA – 18/305.18
7. Dean Gibbs – Yokomo/LRP – 18/308.44
8. James Hart – VBC/ORCA – 18/315.52
9. Max Guerola – ARC/Reedy – 18/315.73
10.Matthew White – Schumacher/Hobbywing – DNF
In the Super Stock class former champion Zak Finlay returned to the series. However, it was the previous round winner, Tony Broad, who topped the opening qualifying round ahead of Zak, with top Junior Will Vertigan third and Jimmy Maddison fourth. Zak then took the second round ahead of Tony, with Jon Seals in third, before Zak also took the third round, again ahead of Tony and Will notching up another third. The final qualifier saw Zak once again fastest, Jimmy Maddison rebounding to second, ahead of Tony and Will. This meant Zak secured pole for the A Final, in front of Tony, Jimmy, Will and Jon.
Tony immediately pressured Zak on the opening lap of the A Final, leading to Zak making an uncharacteristic mistake and gifting Tony the lead. In the first lap melee, Jon moved up to second and Will held down third. The race long battle was between Jon and Will, with the two cars racing no more than few car-lengths apart, until Will finally made a pass about three and a half minutes in. Meanwhile, Zak had staged a brilliant come back, battling through from last until he made a pass on Jon on the final lap to secure the third step of the podium.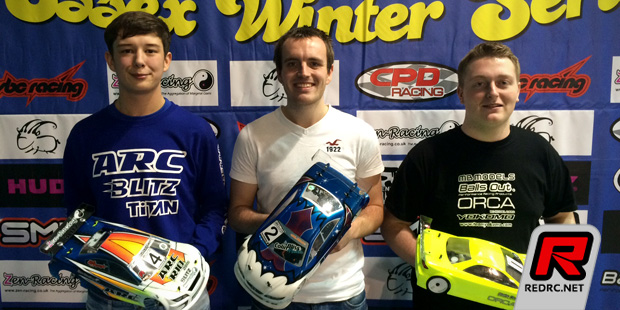 VBC Racing Super Stock A-final result
1. Tony Broad – Xray/ORCA – 18/305.67
2. Will Vertigan – ARC/Trinity – 18/307.52
3. Zak Finlay – Yokomo/ORCA – 18/309.09
4. Jon Seals – Xray/Vampire – 18/311.73
5. Jack Ioannou – ARC/ORCA – 18/315.63
6. Matthew Worton – ARC/RevTech – 17/303.15
7. Nathan Morgan – Xray/Hobbywing – 17/304.17
8. Jimmy Maddison – VBC/ORCA – 17/305.93
9. Colin Gardiner – Xray/Trinity – 17/310.55
10.James Baker – Schumacher/LRP – DNF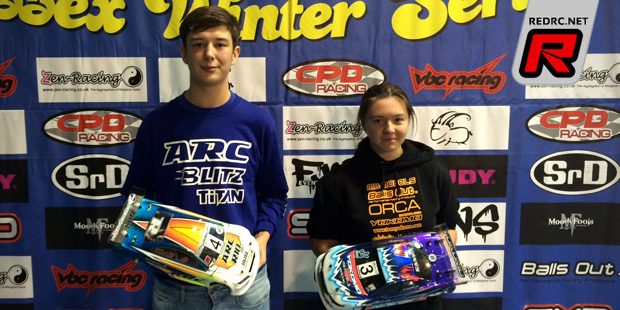 Once again, Harley Eldridge was the top junior in the Modified class and Will Vertigan in the Super Stock class, lifting them clear of their competitors in the Capricorn-supported Junior league. The Essex Winter Series continues in January as the Championships in both classes hot up during the cold winter months.
Thanks to Oli Meggitt for the report.
---