December 10, 2014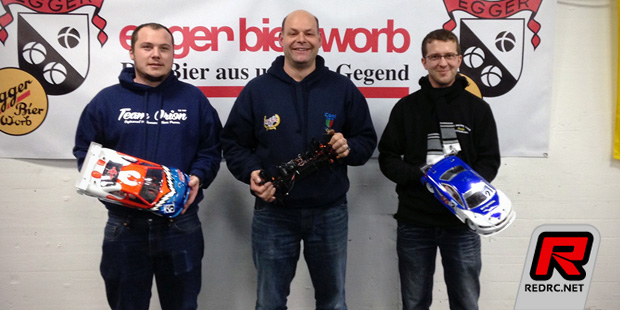 The 2nd round of the ART Racing Team Cup was held on the small and technical high-grip indoor track in Münsingen. The Touring Car class had Heim Marc taking the win on his home track from Andre Krebs. Marco Stettler rounded out the podium in 3rd.

The 1/12th class had Maurice Lüscher grabbing the TQ spot from Stefan Wüthrich and Manfred Ebener. The final legs then proved to be very close,  with local hero Stefan Wüthrich being very fast in the opening A-final. Maurice tried a new type of tyres which worked very well for the first laps but after a minute he got in trouble because the tyres started to separate from the rim. It was possible for him to hold the position for the next 7 Minutes but Stefan Wüthrich passed by to finish 1st, followed by Maurice Lüscher and Michael Schäfer.
In the second A-final Maurice used another set of tyres, and again a very close fight between him and Stefan Wüthrich arose. Both swapped positions and after a lucky situation when passing a slower car, Maurice was able to get back in front by tacking the closer line. Stefan lost a little bit of time and Maurice was able to win the second final, followed by Stefan Wüthrich and Michael Schäfer.
The start of the decisive third final went flawless for Maurice. Stefan Wüthrich's car touched sideways with the car of Manfred Ebener in the opening stages, leaving Stefan with a damaged car, allowing Maurice to take a second win without pressure. Michael Schäfer finished 2nd in the final leg followed by Manfred Ebener. In the overall results Maurice Lüscher took the win from Stefan Wüthrich and Michael Schäfer.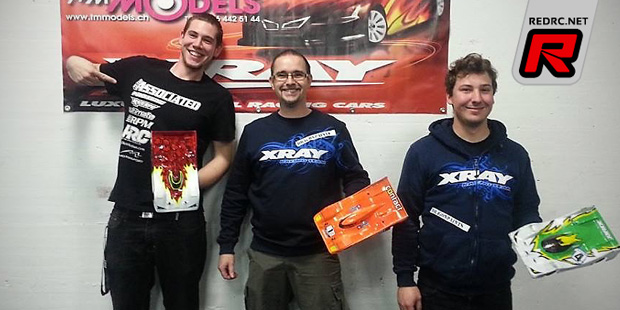 Source: Xray [teamxray.com]
---