February 10, 2015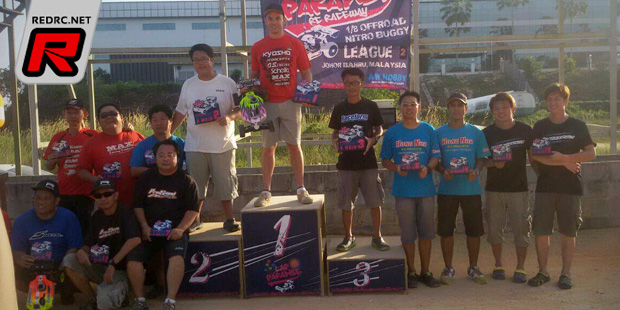 Round 2 of the Lap Paradise 1/8th Offroad League in Johor Bahru, Malaysia was held on a newly installed layout over the weekend. A new back section imitated the famed C-Netic track in Indonesia and it challenged the field as it was a lot tighter than the Indonesian version. With a good watering overnight by the track crew the first half of the day was run on a grooved track. Four rounds of qualifying split the drivers in to Christmas tree finals. By the time the finals came around the track had dried out, the groove was still there but the line was very tight and it was loose and dusty everywhere else with ruts forming.

In Semi B Ben Panic (Kyosho/O.S.) took the win to lock in his final spot.  In Semi A Eric Lim (Mugen/Maxima) would take the win after driving down from KL for the race. With a short twenty minute break before the final the drivers were scrambling in the pits to make setup changes and look for ways to find grip for the final. At 5pm the final got underway, as expected the four tight doubles in the back section of the track caused chaos on the loose surface. The marshals worked overtime to clear the cars. Up front Ben and CK Lee (Mugen/O.S.) had great a great start and put a huge gap on the field. Youyi (HB/O.S.) and Melvin Tan (Sworkz/Nova) managed to get through the back section and begin the chase. Ben put in a solid drive and cleared out, the fight for 2nd was a great race with CK being chased by Youyi, Ricky Teoh (SWorkz) and Andrew Tow (Mugen/O.S.). These guys battled hard and were on the same lap for the whole race. As they clicked off lap forty there buzzer sounded, it was a race to the line between Ricky, Youyi and Andrew. As they crossed Youyi edged out Andrew by two seconds and secured the 2nd spot on the podium.
Top 3 result:
1. Ben Panic – Kyohso/O.S.
2.  Youyi – HB/O.S.
3.  Andrew Tow – Mugen/O.S.
Thanks to Ben Panic for sending the report.
---