February 2, 2015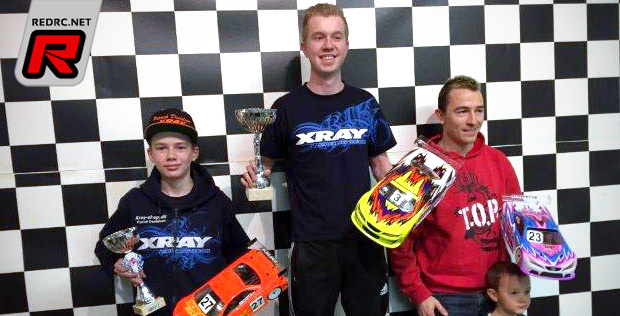 The 4th round of the Danish DMSU nationals was held at the Broendy Racing Club near Copenhagen, on a technical yet flowing track. Following a strong performance in practice Mike Gosvig took TQ's in every of the three qualifiers and he was the only driver to manage 29 lap runs in the Touring Car class. Up and coming talent Patrick Danielsen put himself on the 2nd spot on the grid thanks to two 2nd place finishes in qualifying.
Touring Car qualifying top 8 result:
1. Mike Gosvig
2. Patrick Danielsen
3. Soren Boy Holst
4. Stefan Finnich
5. Jack Holger
6. Casper Morgen
7. Pelle Culmsee
8. Gustav Pind
The finals were a pretty easy affair for Mike who scored the overall win by coming in 1st in the first and second A-final. Patrick Danielsen made some good runs from 2nd on the grid and would grab the runner up spot with two 2nd place finishes and a win in the final A-main. Stefan Finnich rounded out the podium in 3rd after some good fights with Soren Boy Holst.
Touring Car top 8 result:
1. Mike Gosvig
2. Patrick Danielsen
3. Stefan Finnich
4. Soren Boy Holst
5. Jack Holger
6. Casper Morgen
7. Pelle Culmsee
8. Gustav Pind
Source: Xray [teamxray.com]
---