February 18, 2015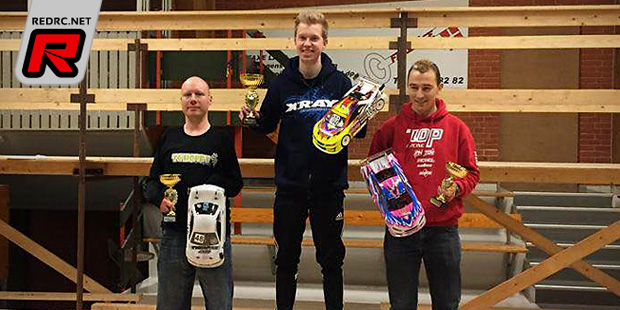 The 5th round of Danish DSMU nationals was held in Faxe on a large track with technical corners, chicanes and a good flow was okay. The traction changed quite a lot because of the additive from the foam tyre race. During practice it soon became clear that Mike Gosvig would be the driver to beat and come qualifying Mike scored round wins in all three qualifiers to take the overall TQ in front of Soren Boy Holst and Casper Morgen.
Touring Car qualifying result:
1. Mike Gosvig
2. Soren Boy Holst
3. Casper Morgen
4. Patrick Danielsen
5. Jack Holger Sorensen
6. Kevin Nielsen
7. Daniel Bjerg
8. Jeppe Svendsen
In the opening A-final Mike could open an early gap on Soren in 2nd while Jack Holger made a perfect start to go from 5th to 3rd, and he could hold his position to the finish line. Up front Mike was able to manage the gap on Soren with the final four laps being a bit critical due to traffic but at the end Mike secured the win from Soren.
At the start of the second leg Mike was again able to open a small gap on Soren, but soon after he clipped a curb out to the straight which allowed Soren to close up. A couple of laps later Soren touched the back of Mike's car which caused the body to stuck and in good sportsmanship Soren waited for Mike to recover but in the meantime several other drivers got past the two. Up front Casper Morgen took the lead and with an impressive drive Jack Holger took the 2nd spot behind Casper who came in 1st in A2.
In the decisive third final and from the sound of the tone Soren tried everything he could to overtake Mike but he tried too hard and spun out after both collided following Soren's try to get past Mike. This allowed the latter to pull a gap on Casper who wanted to just cruise to the end in order to secure the runner-up spot. Behind Casper Patrick Danielsen, who had two disastrous opening mains, tried to score a good result and he ultimately found a way past Casper. Further down the field Jack Holger tried to recover after he got hit by Soren following his tangle-up with Mike and he ultimately was able to finish the main in 4th place. Up front Mike cruised to the win with a 5.5 seconds margin on Casper and Patrick. The overall result saw Mike Gosvig taking the win from Casper Morgen and Soren Boy Holst who was tie on points with Jack Holger.
Overall result:
1. Mike Gosvig
2. Casper Morgen
3. Soren Boy Holst
4. Jack Holger Sorensen
5. Patrick Danielsen
6. Daniel Bjerg
7. Kevin Nielsen
8. Jeppe Svendsen
Source: Xray [teamxray.com]
---