March 12, 2015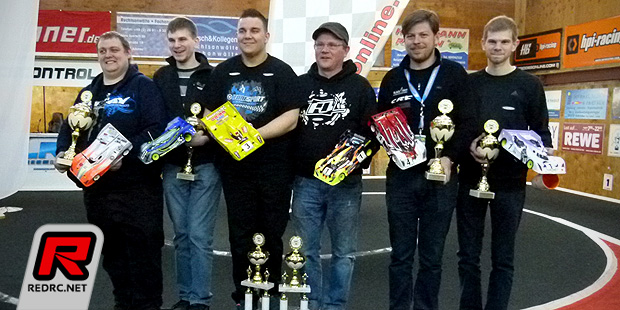 Markus Mobers and Jan Rettke have captured the 2015 German 1/12th scale titles. The international German Championships were held at the "Eifel-Ring", the indoor track of the hosting MAC Adenau club, very close to the Nuerburgring. Like the famous "Nordschleife", the 111 metre long "Eifel-Ring" is well-known for its interesting and challenging layout where driving ability is more important than the material used. Record-breaking 70 entries were received for the open championship which often attracted only some 40 entries over the past years. Among these entries were also racers from France, Luxembourg, the Netherlands and Poland.

The event started with six rounds of unofficial practice on Friday, followed by one round of free practice and two rounds of controlled practice on Saturday morning as well as five rounds of qualifying before the finals.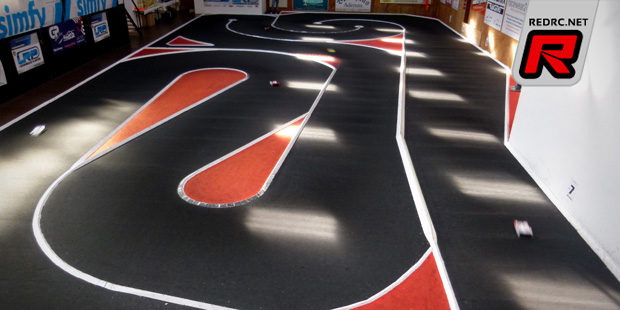 The focus was on the Modified Expert class and the battle between reigning champion Markus Mobers and the 2014 vice-champion Daniel Sieber. Both had prepared themselves in a two-day test session prior the event with hundreds of laps. Mobers achieved a fastest lap of 9.043 seconds, Sieber was a bit faster with 9.022s but managed also one rocket lap during testing below the nine seconds mark which wasn't recorded because of the lock time. After Mobers had led the free practice sessions on Friday and Saturday morning, Sieber was able to turn the tables in controlled practice. But once qualifying started, the On-Point driver Markus Mobers was in control of things by winning all five rounds to catch a superior pole position. Yokomo racer Daniel Sieber made it to second while Tim Altmann brought his KATI called self-designed car onto third place.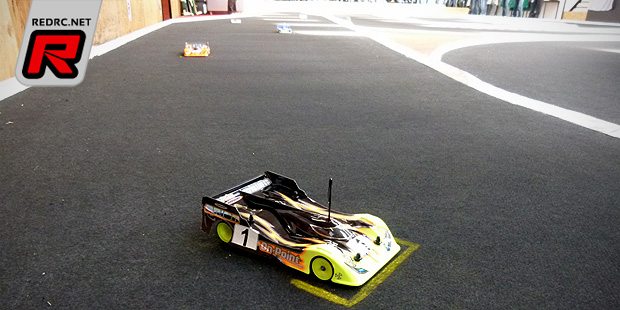 Team Orion team driver Markus Mobers was in a class of his own and won all three A mains with a minimum of a one-lap advantage. It was an impressive demonstration of "Mr. one-twelve" who brought home his 20th German title and in the progress also the 21st by winning the 40+ trophy. Mobers, of course on his own MobGums tires, had no real resistance from Sieber who was hampered by technical issues in all three mains, mainly because of his pre-production differential. The vice-championship went to Tim Altmann who finished in second in every heat with Martin Wilfinger (BlackArt-CRC) completing the podium. The official lap record was set by Mobers who did a 9.077 second lap during the third A main and nobody was able to rupture the nine-second barrier over this three-day event.
Expert class top 5 result:
1. Markus Mobers – On-Point
2. Tim Altmann – KATI
3. Martin Wilfinger – Blackart-CRC
4. Robert Klier – T.O.P.
5. Daniel Sieber – Yokomo
A total of 55 drivers competed in the Standard class which is run with 10.5T motors and blinky controllers. Following intensive testing of numerous drivers there was no real favourite to emerge. The two local heroes Jan Rettke and Jens Schaefer led the pack on Friday's practice, Rettke driving the older Xray X11 of Schaefer and Schaefer driving the new Serpent LTR of Marc Fischer. Third was Jens Ginnuttis with his On-Point. Before qualifying Rettke was leading the practice runs again in front of Kai Altmann, Sascha Freitag (Xray), Schaefer and the 2014 vice-champion Sven Stoffels (Associated). The pole position then didn't went to Rettke but to Kai Altmann with his self-designed chassis. Also Jacques Libar brought his Xray in front of Rettke who took third spot in the ranking ahead of Dutch Joey Sorber (On-Point) and Sascha Freitag.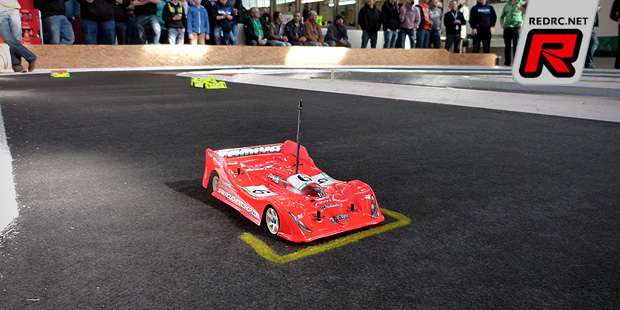 Things didn't look good for Rettke in the first A main when he was involved in a jumble in the chicane right after the start which dropped him to the last position. But with his Team Orion powered Xray X11 he fought his way back through the field to finish fourth. The win in the first A-final went to Kai Altmann with Freitag in second and Libar in third. But in the second A-main Jan Rettke was able to storm to victory to leave Sorber and Libar behind while Altmann had to retire. The nerves of the competitors and the huge crowd were all on edge when the third and deciding final was started. Altmann took the early lead right from the tone but dropped back to fourth following a driving error on lap 17. Libar who had won the 1/12 title in the Tonisport Winter Cup series at the "Eifel-Ring" over the winter period, was the new leader but felt the intense pressure of Rettke who was chasing him all the time. Finally Jacques Libar brought home the win to become the third winner of this nail-biting A-mains while a second place was enough for 20 year old Jan Rettke, a regular touring car racer, to celebrate a great success by winning the 1/12th German Nats in the 10.5T Standard class – not to forget, with a rented Xray X11. Jacques Libar became a well-deserved vice-champion to make it a 1-2 for Xray, the podium was completed by Kai Altmann on third.
The fasted lap was recorded for Rettke with 9.870 seconds. Philipp Lischke (Kyosho) was crowned as German Junior Champion (under 14) and Sven Heinen (Xray) as German Youth Champion (under 18). The 40+ title in the standard class went to Bernd Wiesenberger.
10.5T Standard top 8 result:
1. Jan Rettke – Xray
2. Jacques Libar – Xray
3. Kai Altmann – Self-designed
4. Joey Sorber – On-Point
5. Sascha Freitag – Xray
6. Bernd Wiesenberger – Yokomo
7. Dai Sakaguchi – Square
8. Thomas Krause – Xray
This international German Championship was full of atmosphere and saw exciting and fair races which didn't gave a hard time to race directors Uwe Baldes and Heinz Kroezemann. Following the race weekend at Mol in Belgium five weeks ago, when Sieber was able to beat Mobers, this German Nats meant another proof for the booming 1/12th LeMans prototypes and it was a good test for the European Championship at the Hudy Arena in Slovakia.
Source: MAC Adenau/Uwe Baldes [mac-adenau.de]
---