April 1, 2015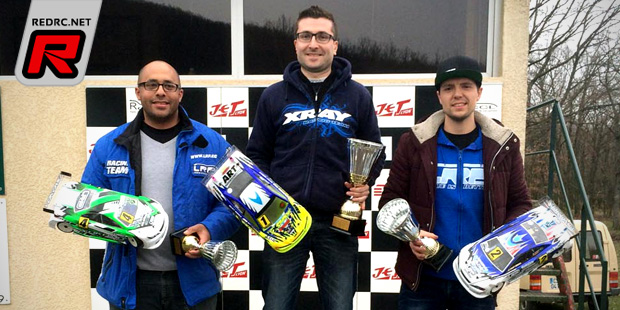 The opening round of the French Electric On-Road Nationals was held at the Lentilly club close to Lyon. In the Touring Car Modified class Alexandre Laurent grabbed the pole position for the finals by winning two out of the five qualifying rounds. In time for the finals rain began to fall, mixing things up a bit. The opening A-main was won by Loic Jasmin (Yokomo) from TQ Alexandre while in a half dry, half wet A2 Cyril N'Diaye (Yokomo) came out successful in front of the TQ holder. In the 3rd and decisive main the track was all dry and Alexandre Laurent came in 1st from Loic Jasmin in 2nd. Overall Alexandre took the day's win from Loic and Cyril.
Touring Car Modified result:
1. Alexandre Laurent – Xray
2. Loic Jasmin – Yokomo
3. Cyril N'Diaye – Yokomo
4. Jeremy Limoges – Xray
5. Luca Urbain – VBC
6. Maxime Favrelle – ARC
7. Hugo Ragaut – Yokomo
8. Nicolas Schwendimann – Team Magic
9. Manuel Wagner – Xray
10.Mathieu Briere – Xray
In the Stock class it was Pierre Delorme who took advantage of the tricky conditions in A1 by winning the leg coming from 7th on the grid. Alex Kunkler (Xray) came in 2nd in the opening A-main. At the start of A2 disaster stroke for Pierre his car had to be pushed into the race by a marshall due to a motor sensor problem. The Xray driver was able to recover though and while being behind his brother in the final minute he was let by for the win and the overall victory.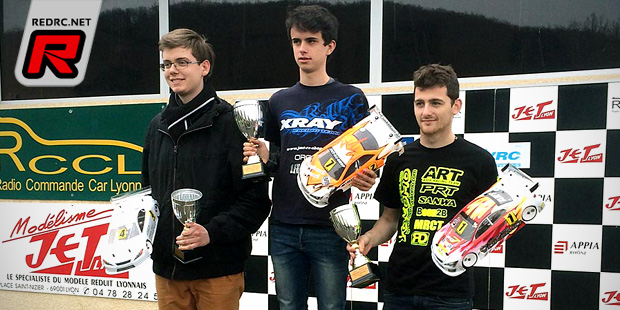 Touring Car Stock result:
1. P. Delorme – Xray
2. Soulignac – Yokomo
3. Kunkler – Xray
4. J. Delorme- Xray
5. Delalondre – Yokomo
6. Lemoine – Yokomo
7. Favrelle – ARC
8. Nicol – Xray
9. Picaude – Xray
10.Delaunay – Xray
Source: Xray [teamxray.com]
---