April 29, 2015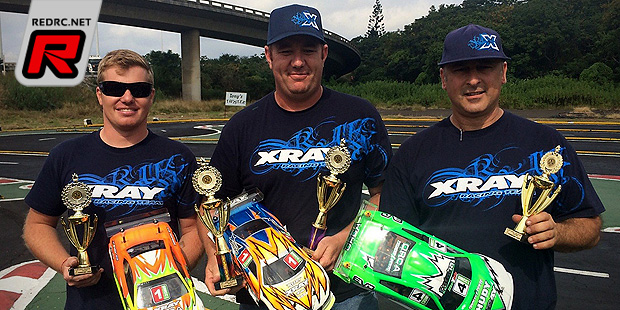 The second round of the 2015 South-African ORE National Championship was held at Durban RC Club with a new track surface where the traction and humidity challenged all drivers to get a stable and fast setup. With another open and fast layout the boosted classes showed good high-speed racing between the top drivers. The 2014 champion and current championship leader Jason Hillcoat continued his good form by taking the TQ and win after a dominating performance in the Touring Car Modified class. The battle for the rest of the podium saw some great racing in all three mains with team mates Deon Gove and Antonio Caroli managing to take 2nd and 3rd.

Modified Touring A-Main result:
1. Jason Hillcoat
2. Deon Gove
3. Antonio Caroli
4. Alex Ribeiro
5. André Greeff
6. Darren Duggan
7. Shaun Schutte
8. Anderton Smith
9. Andrew Plint
10.Ashley Hurley
The fast 13.5T Boosted Touring class provided some great racing between the top drivers. Team mates Deon Gove, Shaun Schutte and Antonio Caroli had good battles from the qualifying rounds and Deon managed to take TQ. Deon and Shaun both won a main with Deon eventually taking the winning honours.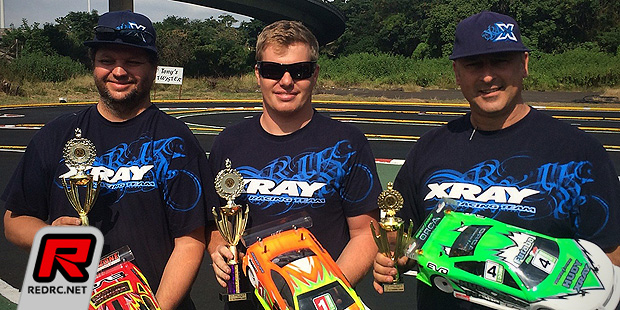 13.5T Touring A-Main result:
1. Deon Gove
2. Shaun Schutte
3. Antonio Caroli
4. Anderton Smith
5. Willem Janse van Rensburg
6. Alex Ribeiro
7. Willie du Plooy
8. Ashley Hurley
9. Darren Duggan
10.Sean Vollmer
In 17.5T Boosted Touring the youngsters are really showing good pace in this class and there was close racing throughout the weekend between Willem Janse Van Rensburg, Jacques Myburgh and Jonathan Wilken. Willem managed to take the TQ and both he and Jacques each won one final with Willem taking the overall win with a faster time.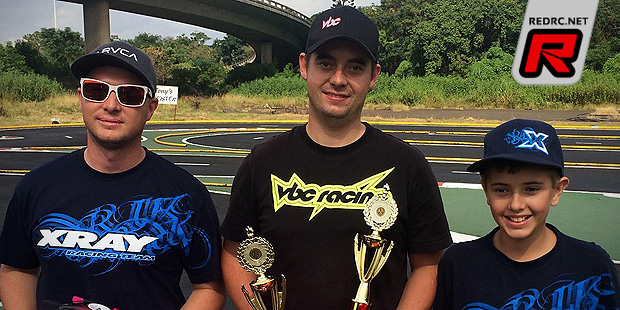 17.5T Touring A-Main result:
1. Willem Janse van Rensburg
2. Jacques Myburgh
3. Jonathan Wilken
4. Claudio Vieira
5. Karl Joubert
6. Diederik Kruger
7. Shane Kok
8. Ashley Long
9. Henk Fourie
10.Juan Landman
Youngster Claudio Vieira was fast throughout the weekend in the 21.5T Touring Blinky class and had a great battle with Tyronne Wilken on Sunday. Claudio managed to get the TQ and win in both the A Main finals. He was followed closely by Tyronne Wilken, and Paul van der Westhuizen completed the podium.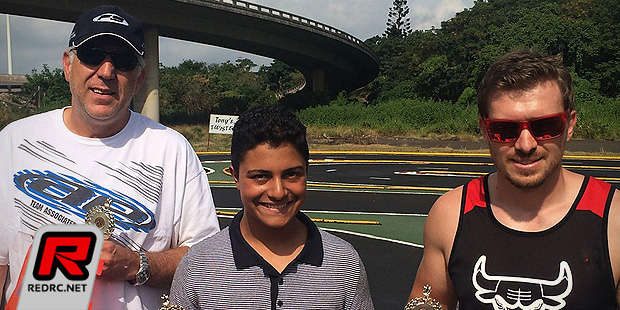 21.5T Touring A-Main result:
1. Claudio Vieira
2. Tyronne Wilken
3. Paul van der Westhuizen
4. Francois Erasmus
5. Quintin Robertson
6. Sarel Pretorius
7. Marco Vieira
8. Fanie Viljoen Jnr
9. Justin Robertson
10.Gordon Neal
The young talent Jacques Myburgh again dominated the 13.5T FWD Touring class from the start by taking TQ and both wins in the A-mains.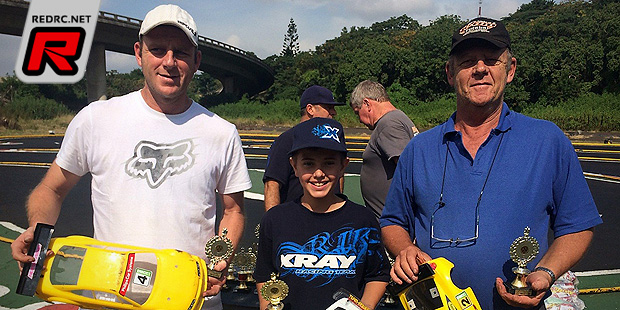 13.5 FWD Touring A-Main result:
1. Jacques Myburgh
2. Fanie Viljoen snr
3. Fanie Viljoen jnr
4. Chris Reilly
5. Paul van der Westhuizen
6. Gordon Neal
In 1/12th scale 10.5T Blinky championship leader Wayne Joelson again dominated the event by taking the TQ and sweeping the A-main. André Greeff and local man Dave Wiseman kept fighting for the remaining two podium spots with André eventually taking the 2nd place after Dave ran the second main without a transponder.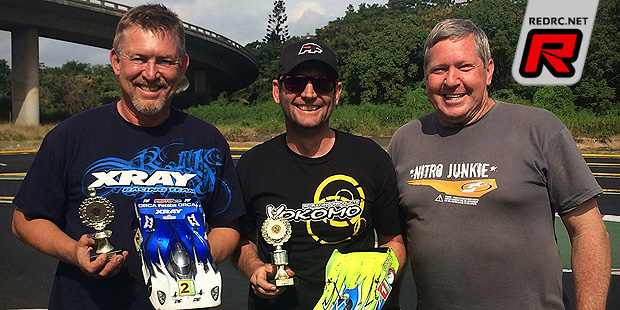 1/12th 10.5T Blinky A-Main result:
1. Wayne Joelson
2. André Greeff
3. Dave Wiseman
4. Shane Kok
5. Shaun Schutte
6. Peter Plint
7. Willie du Plooy
Source: Xray [teamxray.com]
---