May 4, 2015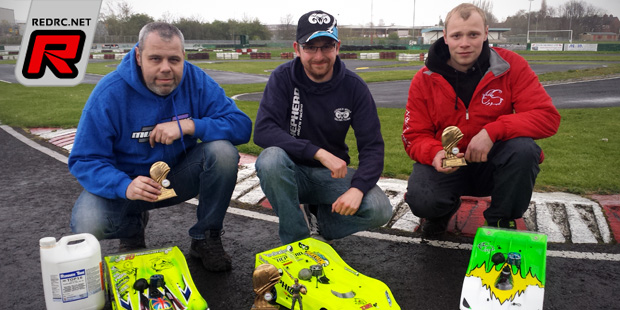 The second round of this year's BRCA 1/8th Circuit National Championship was hosted by the Wombwell circuit in South Yorkshire. This track is part of a big national karting circuit of which we use the last corner and half of the long main straight. The infield is tight in configuration with a series of 180 degree hairpins followed by flowing mid speed curves. What makes this circuit unique is various elevation changes which tests even the best drivers in maintaining a consistent average lap time.

The meeting was on the same weekend of the first ENS race and therefore the major contenders of Green and Branson were not available to compete. Also Tim Wood was absent on Holiday and with no Daniel Bancroft, the opportunity become a real possibility for one of the chasing pack to gain a much needed win. Therefore going into the weekend, the main protagonists in current form order would be Andy Hastings, Neal King, Andy North, Jason Frost and John Carr. On Saturday, the weather conditions were great and allowed the cars to clean up the driving line as the lap times reduced throughout the day. The base lap time was a 18 second dead but by close of play the top 5 drivers were into the 17 second bracket with King and North extracting times within 0.1 second of each other based on a bench mark of 17.5 seconds.
So, into Sunday and the weather was slightly overcast with the threat of rain but this passed without any issue. No practice was scheduled since the club have a planning restriction for excessive noise levels to the surrounding community, so the meeting add to run according to schedule to meet the 5pm cut off time.
In round 1, it was Neal King who set the initial pace with a time of 17 laps in 305 seconds with Andy Hastings in second and Jason Frost in third. However the man on a mission was John Carr but his engine was on the rich side and struggled to change gear down the main straight but his infield speed was exceptional to keep North under pressure until he eventually run out of fuel but his time was still fast enough to finish position 5. Therefore with the top 5 all recording steady runs, the remaining qualifying runs would sort out the actual grid positions and potentially allow for some long run setup testing to aid with the 30 minute main final.
In Round 2, Andy Hastings recorded a TQ run from Jason Frost and Neal King. Carr also managed to get a better engine tune and jump above North who made a driver error onto the main straight and lost a lot of time. In the previous heat, the quickest time was a full lap slower than the TQ time but an error free race would clearly put them in the top 10.
Into Round 3 and the main looser was Neal King who had a major crash onto the main straight caused by the transmitter steering stick coming loose. This broke the car and required a rebuild which would put him out of the following round. The main mover in this round was Andy North who reduced his best time by 5 seconds. The top 5 were separated by 3 seconds at this stage which would make for a very good final.
The final round witnessed improvements at the top for Andy Hastings who reduced his TQ time and just missed out on an 18 lapper. Jason Frost had a slight improvement but the top 5 remained the same. The previous heat had no major improvements with the key being reliability and consistency. The main looser was Wayne Briggs who's individual lap times were on a top 6 pace but ultimately it was reliability that prevented a comfortable top 10 position. The remaining places were taken by Steve Scott, Michael Walton, Sam Snell, Chris Simons and RC Legend and multiple British Champion, Baj Panasar.
Qualifying top 10:
1. Andrew Hastings – Shepherd/Sonic – 17 laps 300 secs
2. Jason Frost – Capricorn/XRD – 17 laps 303 secs
3. Neal King – Capricorn/Tesla – 17 laps 305 secs
4. John Carr – Serpent/OS – 17 laps 306 secs
5. Andrew North – Mugen/Sirio – 17 laps 306 secs
6. Steve Scott – Serpent/RB – 17 laps 317 secs
7. Michael Walton – Mugen/Sirio – 16 laps 301 secs
8. Sam Snell – Motonica/Sonic – 16 laps 303 secs
9. Chris Simons – Serpent/Novarossi – 16 laps 307 secs
10.Baj Panasar – Serpent/Novarossi – 16 laps 307 secs
The A-final started in formation order but by the end of lap 1, it was John Carr who was in the lead followed by Hastings and King  with the first looser being Frost who ended the first lap in last place. Andy North also had to fight back from the rear but by lap 5 he was chasing down 4th placed Walton with Frost close behind. Up front it was Carr in the lead following the first fuel stop but an error on lap 24 gave the lead to Andy Hastings and another error on lap 27 allowed Neal to move up to second. After further issues for Frost putting him out of contention for a top 3, it was a clear fight between North and Carr for 3rd position of which North grabbed on lap 50. The race then settled down with Hastings pulling out a lap lead at the front. A mistake by King and having handling issues due to small tires allowed North to catch up but in the end ran out of time to make a meaningful attempt to pass. Mike Walton with 6 minutes remaining stripped both front and rear belts which allowed Frost and Carr to bump up a place.
Final result:
1. Andrew Hastings – Shepherd/Sonic – 98 laps
2. Neal King – Capricorn/Tesla – 97 laps
3. Andrew North – Mugen/Sirio – 97 laps
4. Jason Frost – Capricorn/XRD – 96 laps
5. John Carr – Serpent/OS – 92 laps
6. Baj Panasar – Serpent/Novarossi – 88 laps
7. Michael Walton – Mugen/Sirio – 65 laps
8. Steve Scott – Serpent/RB – 56 laps
9. Sam Snell – Motonica/Sonic – 56 laps
10.Chris Simons – Serpent/Novarossi – 25 laps
Next meeting will be at Mendip over the weekend of 9/10th May 2015.
Thanks to Andrew North for the report.
---