May 25, 2015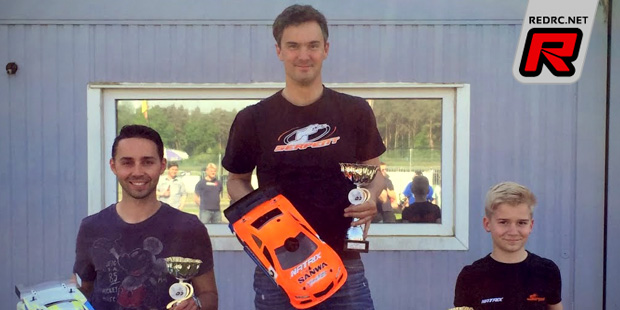 Round 2 of this year's Dutch Nitro On-road Championship was held at the Genk track in Belgium. The track of the hosting club, the Model Racing Genk, is situated between the famous Genk karting circuit where the youngest Formula 1 driver ever, Max Verstappen, started his racing career and a Motocross circuit where Belgium ace Stefan Everts started out. As most drivers opted to stay a full weekend in Belgium the MRG organised a nice BBQ following Saturday's practice. Sunday morning then started under a perfect blue sky with the qualifying sessions and it was Daan Jacobs who took the pole followed by former European Champion Julius Kolff and the two electric aces of John Bruins and Glenn Hoogervorst, all doing 18 laps runs. With a very competitive field the remainder of the top 10 drivers where then all pulling 17 laps on the demanding track.

The main final started with pole-sitter Daan Jacobs being somewhat hesitant on the start and this allowed Julius Kolff to take over the lead and from that moment on he never looked back. John Bruins settled for 2nd place with Daan Jacobs in 3rd in the first part of the race, but he had to retire with a broken steering servo. Climbing up from the semifinal youngster Milan Holthuis made his way up to 3rd place at the end. For a moment Milan was in 2nd place after a bad pitstop of John but Milan let him by as he was unaware that he was racing him for the 2nd spot. The winner of the first round, Glenn Hogervorst, had crashed at the start and he had to recover from the lower part of the field but he was slowly and steadily climbing up and in the final stages he was challenging Milan for the 3rd place but he could not get close enough to pass him. So after 30 minutes of racing it was Julius Kolff who took the win.
1/10th 200mm final result:
1. Julius Kolff
2. John Bruins
3. Milan Holthuis
4. Glenn Hogervorst
5. Raymond Tempelaars
6. Roy Bakker
7. Pieter Bottema
8. Robert Krens
9. Ricardo Hofmeijer
10.Daan Jacobs
The Kyosho drivers were also present and due to several reasons they were still without trophies. Luckily the team of Model Racing Genk handed them a bottle of Cava to celebrate their podium finish.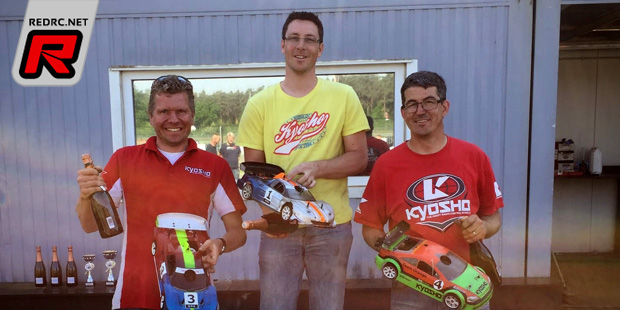 Kyosho Cup top 3 result:
1. Mathieu van der Hoeven
2. Bas Bakker
3. John Weytboer
Thanks to Gaston van Kleef for the report.
---