May 26, 2015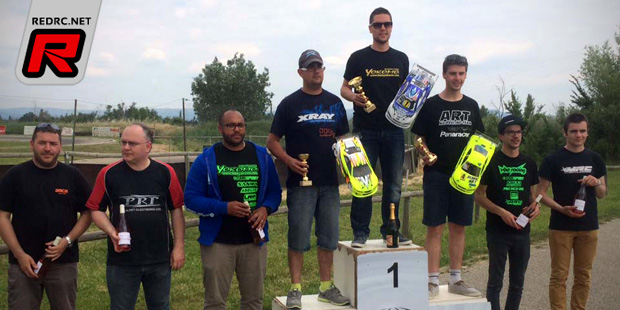 The 3rd round of the French Electric On-road Nationals was held in Monteux last weekend on a fast yet technical track. In the Touring Car Modified class Yokomo's Loic Jasim came out successful from Jeremy Limoges (Xray) who came from the 3 spot on the grid. Maxime Favrelle (ARC) rounded out the podium by grabbing the 3rd place after some nice battles in the finals.
Touring Car Modified top 10 result:
1. Loic Jasmin – Yokomo
2. Jeremy Limoges – Xray
3. Maxime Favrelle – ARC
4. Lucas Urbain – VBC
5. Cyril N'Diaye – Yokomo
6. Valentin Lehmann – Team Magic
7. Hugo Ragaut – Yokomo
8. Walter Pollet-Villard – Tamiya
9. Jean-Michel Varinard – Xray
10.Sebastien Fender – Associated
The Touring Car Stock class had Pierre Delorme (Xray) taking the TQ after the qualifiers and thanks to a clever tyre strategy he was able to win the first two A-mains to take the overall win early. Behind Pierre, Jeremy Delalondre (Yokomo) and Fabien Valentin (Tamiya) came in 2nd and 3rd respectively.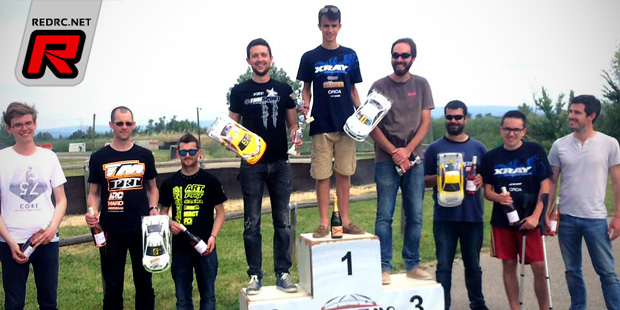 Touring Car Stock top 10 result:
1. Pierre Delorme – Xray
2. Jeremy Delalondre – Yokomo
3. Fabien Valentin – Tamiya
4. Arnaud Soulignac – Yokomo
5. Yohann Bukowski – Team Magic
6. Julien Nicol – Xray
7. Steeve Favrelle – ARC
8. Alexandre Kunkler – Xray
9. Jean Delorme – Xray
10.Julien Jost – Yokomo
In the Formula class Cyril N'Diaye (Yokomo) came out successful in the finals in front of the Xray duo of Georges Saux And Jeremy Limoges.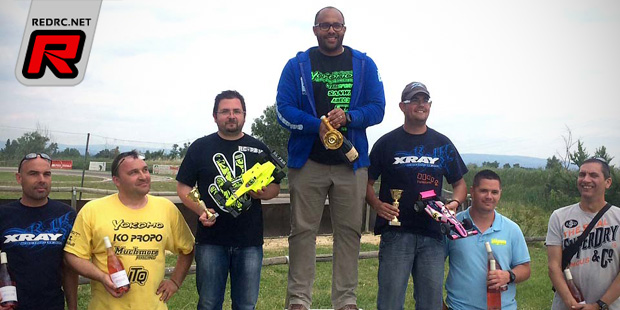 Formula top 10 result:
1. Cyril N'Diaye –Yokomo
2. Georges Saux –Xray
3. Jeremy Limoges –Xray
4. Sebastien Felix –Xray
5. Nicolas Cardoso –Xray
6. Gregory Esteve – na
7. Denis Vincente – na
8. Frederic Daumas –Xray
9. Ghislain Mantrand –Yokomo
10.Olivier Jourdan –Serpent
Source: Xray [teamxray.com]
---