May 28, 2015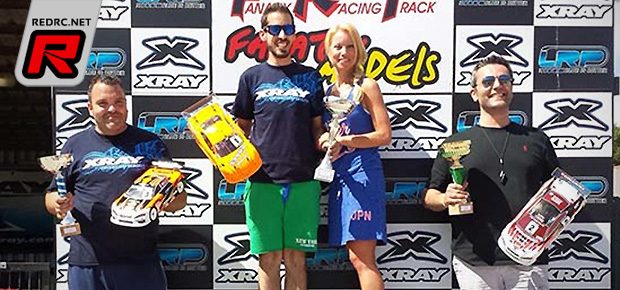 The fourth round of the Greek Touring Series was held at the FRT track in Athens. The race was a good opportunity for many drivers to test their cars and skills for the upcoming second round of the National Championship that will be held on the same track in June and at the end of the qualifying it was Xray's Georgiadis who took the TQ position from Yokomo driver Mitropoulos and Papachristos (Xray).
Qualifying top 10:
1. Georgiadis – Xray
2. Mitropoulos – Yokomo
3. Papachristos – Xray
4. Konstantopoulos – Xray
5. Amaksas – Yokomo
6. Doucakis – Awesomatix
7. Delbederis – Xray
8. Papagianakopoulos – Kyosho
9. Nikolakopoulos – TOP
10.Niotis – Xray
In the finals Georgiadis took full advantage of his pole position by winning the first and second A-main to take the day's win early. Papachristos moved up one spot to snatch the runner-up spot from Mitropoulos in 3rd.
Final results:
1. Georgiadis – Xray
2. Papachristos – Xray
3. Mitropoulos – Yokomo
4. Ntelbederis – Xray
5. Niotis – Xray
6. Papagianakopoulos – Kyosho
7. Nikolakopoulos – TOP
8. Konstantopoulos – Xray
9. Amaksas – Yokomo
10.Doucakis – Awesomatix
Source: Xray [teamxray.com]
---