May 4, 2015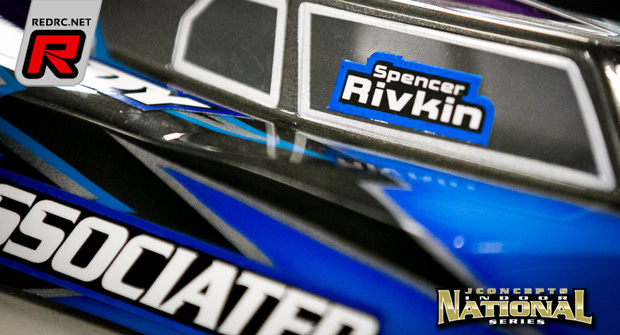 Saturday came to a close with an exciting, action packed round 3 of qualifying. The track is becoming tricky abrasive and the tire choice is now more crucial than ever. Making all the right moves, round 3 saw the rise of Rivkin as he has found speed in truck and 4WD and letting the locals know why he's one of the nation's elite drivers. Unfortunately, most of the audience and perhaps some racers were all gathered around the TV to watch a little boxing history.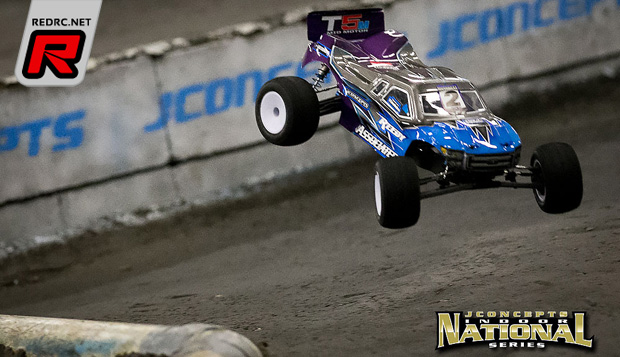 First up was Modified Truck with AE/JConcepts' Spencer Rivkin running away with the fastest lap and fastest 5 minute time by over 5 seconds. Improving on his 2nd round of qualifying and previous best finish of 2nd, the young talent stepped up his game and laid down a near flawless run to come out on top. Kyosho/JConcepts' Ryan Matesa, who has 2 TQ's already would finished 2nd and again AE/JConcepts' Harley Yoshii would finish 3rd in round 3.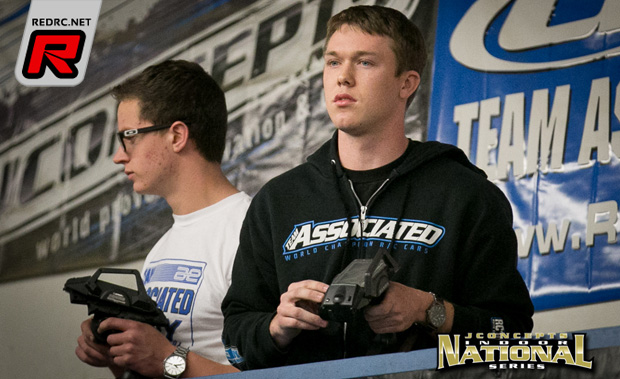 Building on his momentum from his Modified Truck run, Rivkin again had the fastest 4WD on the track taking fastest lap and fastest time with a 19 lap 5:03.06. With an intense battle that saw the lead change many times over the course of 5 minutes, AE/JConcepts' Michael Schoettler would make a few late mistakes that would cost him the lead over his out of town competitors. Schoettler would end up with a 19 lap 5:03.62. With two TQ's so far in qualifying, TLR/JConcepts' Ryan Maifield would choose to use round 3 to break in tires for Sunday's mains. Driving controlled and collected, Maifield would still finish 3rd for the round and post a 19 lap 5:06.70.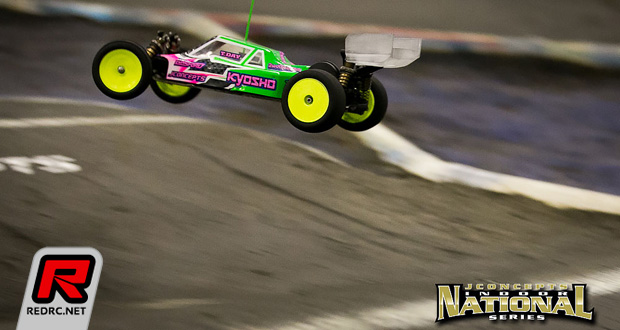 The most exciting race of the evening happened in the 2WD Modified class with Kyosho/JConcepts' Tanner Day starting behind Ryan Maifield. Concentrated and focused, the young gun would actually start to pull Maifield in and pressure him into a mistake in the chicane section and get around! Ahead on the clock and driving like a man possessed, Day would start to leave the field. However, with a minute left, Day's car would start to get loose in the sweeper and was too much for him to handle and traction rolled. With a quick recovery, Day was able to get going again, but lost the lead and was unable to drive at the pace he previously had. Moving from 4th to 1st in the last minute, Michael Schoettler's "never give up" attitude got him to the front and TQ'd the round with a 19 lap 5:12.68. Almost going a perfect 3 for 3, Rivkin who was in the B-qualifier posted a time that would net him 2nd for the round. Day managed to finish 3rd by getting that extra lap. Ryan Maifield opted for the same tire strategy as his 4WD to set himself up for Sunday's mains.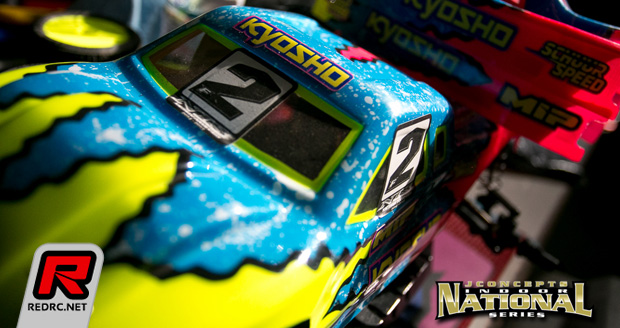 Kyosho/JConcepts' Shane Borden would take another TQ in stock truck with David McLean finishing 2nd for round 3. Both drivers were able to turn 17 laps while Travis Harker finished 3rd, ran a16 lap 5:00.98.
Stock Buggy has been close every round and the battle actually starting to heat up as different drivers are fighting for the top 3 stops. TLR's Casey Vitale would repeat his TQ run in round 2 with another 18 lap run in stock buggy. Making his first top 3 finish in qualifying, Kyosho's Evan Overmars takes a much needed 2 for the round while round 1 TQ, Shane Borden would finish 3rd.
Thanks to Thomas Tran for the report.
---