May 28, 2015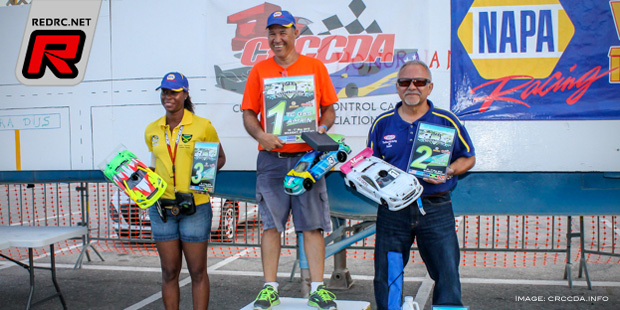 The Napa Auto Parts Open Invitational 2015 was held on Curacao with racers from Jamaica, Trinidad and Tobago, Aruba and also Florida in attendance. In the 1/8th LMP category there would be a three way battle for the pole position and it would be Giordano Pieternella (Serpent) who would take the TQ from Hazel Dossantos (Capricorn) and Mugen racer Dinyor Antonia. In the 1/10 Touring class Maxy Velasco (Xray) would come out fastest from the Serpent duo of Paolo Inocencia in 2nd and Giordano Pieternella in 3rd.

The 30 minute Touring Car final then would see Paolo Inocencia encountering some technical issues midway through the race. Up front the race for the win was on between Maxy Velasco and Giordano Pieternella. Giordano's crew made the tactical decision to not pit in the final stages and to stretch the stint to put some pressure on Maxy which forced him into an error and this handed Giordano the win although he had to be very careful in the final minutes so safe fuel. The final spot on the podium then went to up and coming lady Denise Burton Clarke.
The 1/8th class final would see an unusual jump start by the polesitter Giordano Pieternella and he would soon build a gap on the field but as he had to pit to get the jumpstart penalty it wasn't for long. After getting back on the track Giordano would battle with Hazel Dossantos for more than half of the race, exchanging the lead various times, with a battle of the pit crews to refuel and release the cars as fast they could. Around halfway into the race Giordano would make what appeared to be a driver's error and he would see his car flying out of the track and thereby see his hopes of defending last year's win go up in smoke. Afterwards a steering servo issue would be detected as the reason for his car's behaviour. Giordano's problems handed the win to Hazel Dossantos with Ferdinand Jansen (Mugen) and Eric Spong (Serpent) a few laps down in 2nd and 3rd place respectfully.
Source: Serpent [serpent.com]
---