May 29, 2015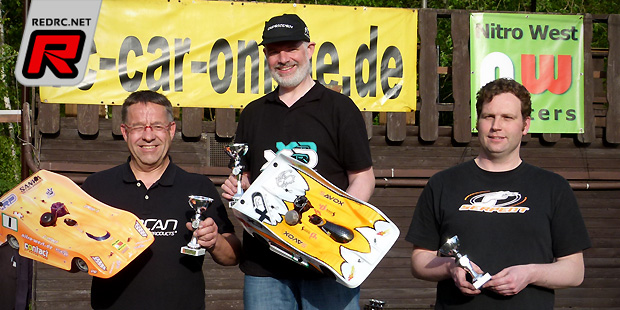 A record of 71 entries had been received for the season opener of the 2015 Nitro-West-Masters (NWM). The seventh season of this growing championship for 1/8th and 1/10th nitro on-road cars in Western Germany and the Netherlands kicked-off at the legendary 234-meter track in downtown Oberhausen. Following an intensive practice on Saturday and exciting racing on a sunny Sunday, finally Christian Wurst in the 1/8th Open class, René Puepke in 1/10th Open, Christian Roenicke in the 1/8th Stock class and Florian Trapp in 1/10th Stock were awarded as the first winners of the 2015 season with Capricorn taking away three of four victories with Shepherd grabbing the last one.

In the 1/8th Open class Karl-Heinz Meister captured the pole-position with his Picco-powered Serpent from Christian Wurst (Capricorn), Ralf Vahrenkamp (Serpent) and Uwe Baldes (Mugen). But in the main race Meister lost all his chances early because of engine issues while Vahrenkamp dropped back after the exhaust pipe on his car went off and he had to pit for a repair. Wurst took the lead already in lap twelve and brought home the victory with a two lap advantage over Baldes. Another five laps down, Christoph Loose (Serpent) completed the podium in third. Serpent had four cars in the finale, Capricorn and Mugen two each, Shepherd and Motonica one each.
1/8th Open final result:
1. Christian Wurst – Capricorn/XRD – 90 laps
2. Uwe Baldes – Mugen/Novarossi – 88
3. Christoph Loose – Serpent/O.S. – 83
4. Matthias Guenther – Shepherd/Picco – 82
5. Thomas Kroeger – Serpent/Novarossi – 80
6. Reinhard Zick – Mugen/RB – 80
7. Michael Woeste – Capricorn/Novarossi – 79
8. Martin Figge – Motonica/Sonic – 77
9. Ralf Vahrenkamp – Serpent/Novarossi – 73
10.Karl-Heinz Meister – Serpent/Picco – 64
In 1/10th Open, the strongest class at this event, René Puepke was dominant all day, taking the TQ in front of Daniel Toennessen (Mugen) and the two Shepherd racers of Bernd Rausch and Benjamin Lehmann. René then was also leading the main race with his Orcan-powered Shepherd from start to finish. Toennessen ended the main two laps down, Arndt Bernhardt (Shepherd), another two laps down, completed the top 3 while Rausch was hampered by engine troubles. Shepherd had five cars in the finale, Mugen two, Capricorn, Serpent and Xray one each.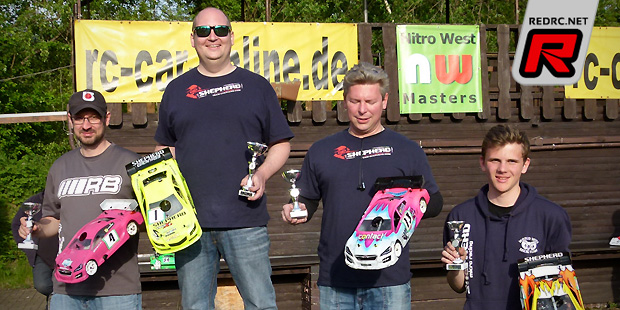 1/10th Open final result:
1. Rene Puepke – Shepherd/Orcan – 86 laps
2. Daniel Toennessen – Mugen/RB – 84
3. Arndt Bernhardt – Shepherd/RB – 82
4. Ingo Braun – Capricorn/Orcan – 82
5. Andreas Weyhoven – Serpent/Max – 81
6. Benjamin Lehmann – Shepherd/Orcan – 80
7. Melvin Diekmann – Shepherd/Orcan – 78
8. Thorsten Lewandowski – Mugen/Reds – 74
9. Bernd Rausch – Shepherd/Picco – 71
10.Faehd Labik – Xray/Orcan – 56
The Nitro-West-Masters is also well-known for its cost-effective racing with low-budget standard engines from Sonic and Novarossi in both so called Hobby-Cup classes. These two stock classes are becoming more and more popular and especially the 1/10th class, which had been introduced only one year ago, has made a huge step forward.
In 1/8th Stock the pole position went to Mugen veteran Waldemar Liedke followed by Detlef Spiess (Xray), young Christian Roenicke (Capricorn) and Matthias Guenther (Shepherd). In his first race with Capricorn Roenicke jumped to the lead already on the opening lap and he did never lose it until the checkered flag. Winning his semi final, Ralf Wacker (Mugen) step-by-step made his way to second place. Pole setter Liedke was back to seventh position in the first lap but fought back to fourth leaving the third place on the podium to Guenther. Spiess had to retire right after half-time of the race. Shepherd was leading the chassis statistics with four cars, followed by Mugen with three, Capricorn, KM and Xray with one each.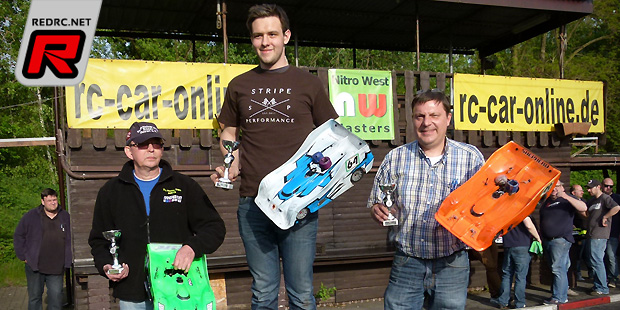 1/8th Stock final result:
1. Christian Roenicke – Capricorn/Novarossi – 86 laps
2. Ralf Wacker – Mugen/Novarossi – 84
3. Matthias Guenther – Shepherd/Novarossi – 83
4. Waldemar Liedke – Mugen/Novarossi – 81
5. Holger Hinnendahl – Shepherd/Sonic – 80
6. Arno Puepke – Shepherd/Sonic – 80
7. Heinz Faigle – KM/Novarossi – 78
8. Gunnar Blumendah – Mugen/Novarossi – 76
9. Detlef Spiess – Xray/Novarossi – 42
10.Joachim Kuehn – Shepherd/Novarossi – 32
In 1/10th Stock Florian Trapp took the TQ and the victory with his Sonic-powered Capricorn. Second in qualifying was Stefan Schumann (Shepherd) followed by Timo Niedling (Xray) and nitro on-road rookie Majuran Tharmalingam (KM). Behind Trapp it was Philipp Wiesniewski (Mugen) coming in second in the main race after second position in his semi final. This was won by Sebastian Barlak (Serpent) who retired in the main after only six laps as did Niedling after 16 laps. Hans-Werner Dietz (Xray), winner of the second semi final, made it to third place while newbie Tharmalingam unfortunately lost the second spot in the very last lap after some engines issues, to miss the podium in fourth. Xray had three cars in the finale, Shepherd two and Capricorn, Serpent, Mugen, KM and Kyosho one each.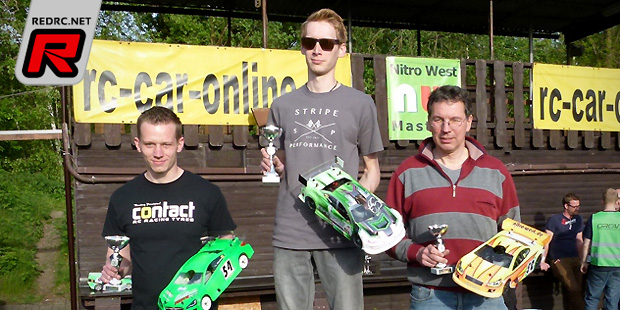 1/10th Stock final result:
1. Florian Trapp – Capricorn/Sonic – 77 laps
2. Philipp Wisniewski – Mugen/Sonic – 75
3. Hans-Werner Dietz – Xray/Novarossi – 74
4. Majuran Tharmalingam – KM/Novarossi – 74
5. Marcel Beekman – Xray/Novarossi – 71
6. Werner Vogel – Kyosho/Novarossi – 66
7. Stefan Schumann – Shepherd/Sonic – 65
8. Guido Burghartz – Shepherd/Sonic – 19
9. Timo Niedling – Xray/Sonic – 16
10.Sebastian Barlak – Serpent/Sonic – 6
Source: Nitro-West [nitro-west.de]
---