May 29, 2015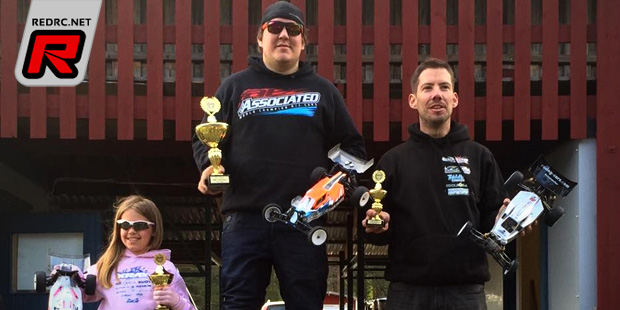 The opening round of the Swedish 1/10th Off-road Nationals was held in Söderhamn on a challenging and pretty low-grip astroturf track. The 2WD class saw some nice battles for the win between Niclas Maansson and young Malin Karlsen with Niclas coming out successful in the opening A-main while Malin was able to strike back in A2 following some small errors of Niclas. For the third and decisive A-main Malin was in a better position as she had scored a 1st and 2nd place while Niclas had a 1st and 3rd place to count. After the start both were running like a freight train until Niclas made a small mistake allowing Malin to get past and open up a small gap. But after having a few small bobbles of her own Niclas was able to catch up on Malin in the very last lap, taking a chance and jumping long on the table top in the winds to just barely put his front end ahead of Malin. Crossing the line both were just 1/10th of a second apart with Niclas coming in 1st.
2WD A-final result:
1. Niclas Maansson
2. Malin Karlsen
3. Kenneth Malkusson
4. Hugo Bjurman
5. Christer Forslund
6. Jörgen Eriksson
7. Elias Johansson
8. Alexander Landén
9. Mattias Fransson
10.Daniel Kobbevik
The 4WD class, run on Sunday, had again Malin chasing the TQ driver and this time she held everything together to score wins in A1 and A2 to take the overall victory early. Hugo Bjurman grabbed the runner-up spot while Niclas Maansson rounded out the 4WD podium in 3rd.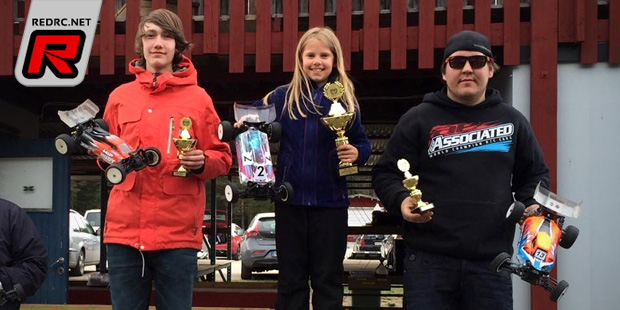 4WD A-final result:
1. Malin Karlsen
2. Hugo Bjurman
3. Niclas Maansson
4. Erik Andersson
5. Alexander Landén
6. Wilhelm Skjöldebrand
7. Lars Jonsson
8. Kenneth Malkusson
9. Martin Johansson Nielsen
10.Robert Ullman
Source: Xray [teamxray.com]
---