June 16, 2015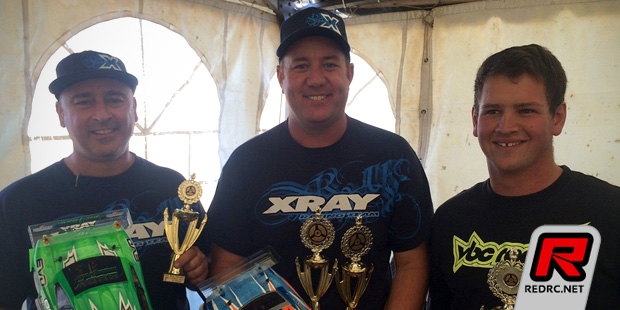 The third round of the 2015 South-African ORE national championship were held at the Krugersdorp Model Racers track, home of the 2002 World Championships. Free practise started on Thursday with a little bit of early Winter rain and the technical but fast track challenged all driving skills. The current Touring Modified championship leader Jason Hillcoat continued his good form by taking the TQ and win. Jason did not have it all his way after a 6th place in the first of the triple mains due to a technical failure. He was also challenged by the young and fast Alex Ribeiro and Antonio Caroli. The win for Jason Hillcoat also hands him the Modified National Championship title this year, making it three in a row.
Modified Touring A-main result:
1. Jason Hillcoat
2. Alex Ribeiro
3. Antonio Caroli
4. Deon Gove
5. Shaun Schutte
6. Anderton Smith
7. Willie du Plooy
8. Colin Amis
9. André Greeff
10.Gerry Esterhuizen
The 13.5T Touring Boosted class was very competitive with some of fastest laps of the day recorded by these cars. It was Darren Duggan and young Alex Ribeiro who set the early pace with Darren taking the TQ for the A-mains. The finals were very competitive and Anderton Smith showed his skills to eventually take the win form 3rd on the grid.
In the fast and popular 17.5T Touring Boosted class the young drivers were showing great pace and the weekend saw some close racing between Dillon du Plooy, Jacques Myburgh and Jonathan Wilken. Jacques managed to take the TQ but Dillon eventually took the overall win in the last A-final.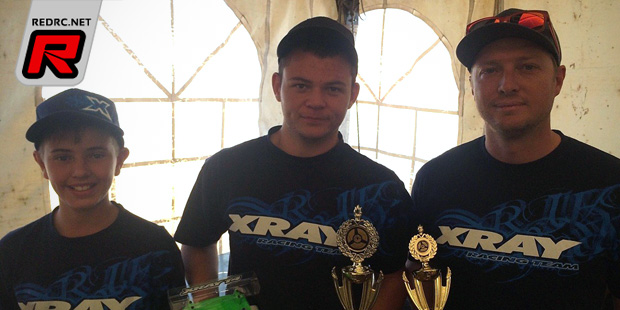 17.5T Touring A-main result:
1. Dillon du Plooy
2. Jacques Myburgh
3. Jonathan Wilken
4. Juan Landman
5. Farhaan Basha
6. Pieter de Villiers
7. Hannes Kruger
8. Claudio Vieira
9. Eugene Wessels
10.John Fitzsimmons
Young Claudio Vieira had a great weekend in the 21.5T Touring Blinky class with a good battle with Juan Wessels on Sunday. Claudio managed to get the TQ and win in both A-finals. He was followed closely by Juan Wessels and Adrian Botha who completed the podium.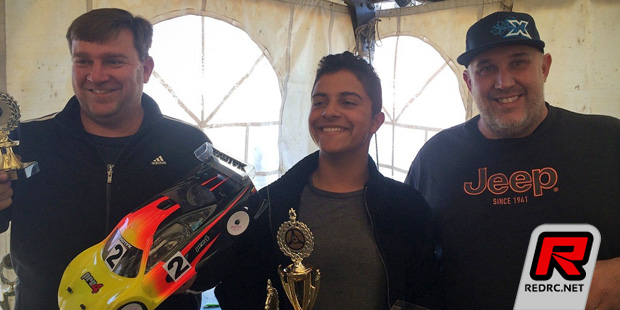 21.5T Touring A-main result:
1. Claudio Vieira
2. Juan Wessels
3. Adrian Botha
4. Andrew Richter
5. Fanie Viljoen Jr.
6. Irshad Khan
7. Fanie Viljoen Snr
8. John Steyn
9. Marco Vieira
10.Amanda Barnard
The 13.5T FWD class was dominated by the two youngsters Eugene Wessels and Jacques Myburgh with Eugene eventually taking TQ. Both achieved a win in the two A-mains with Eugene Wessels taking the overall win.
In 1/12th scale 10.5T Blinky Wayne Joelson had a strong Saturday by taking the pole position. Shaun Schutte challenged Wayne during the weekend but Wayne stayed in front to take two wins in the A-finals to grab the overall victory. André Greeff managed come in 3rd. The 3rd win in a row also handed Wayne Joelson the 1/12th Scale National Championship title.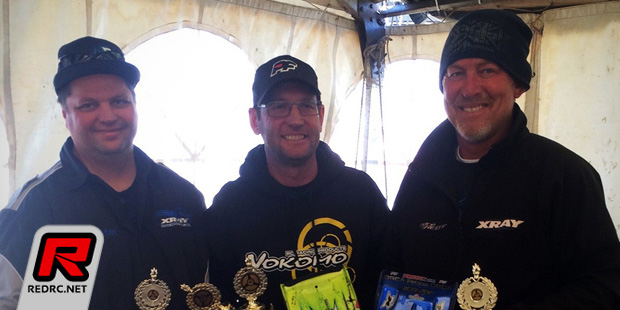 1/12th A-main result:
1. Wayne Joelson
2. Shaun Schutte
3. André Greeff
4. Willie du Plooy
5. Daryl Neal
6. Willie du Plooy
The popularity of the Formula class is gaining in Europe and there is a proposal to reintroduce this class at a national level in South Africa in 2016. After many years of absence Formula was ran as an exhibition class. With 12 entries for the weekend it was great to see the F1's on the track again. The normal 4-round qualification was held with a single 15 minute A-main on Sunday. Antonio Caroli showed his good pace from the start of the qualification on and he managed to take the TQ. He was closely followed by youngsters Farhaan Basha and Jonathan Wilken. The 15 minute A-final was enjoyable and showed good racing with Antonio managing to take the win with 61 laps. Jonathan finished 2nd also on 61 laps with Farhaan 3rd with 60 laps.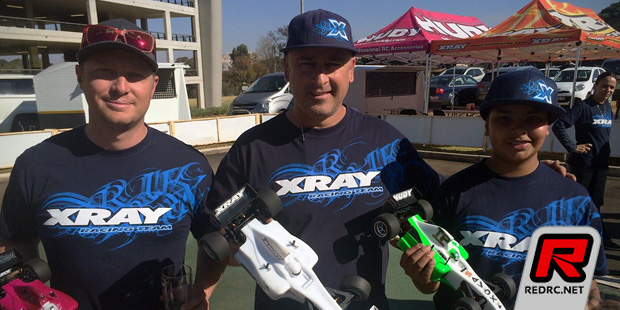 Formula A-main result:
1. Antonio Caroli
2. Jonathan Wilken
3. Farhaan Basha
4. Deon Gove
5. André Greeff
6. Heine Herholdt
7. Daryl Neal
8. Gordon Neal
9. Gerry Esterhuizen
10.André Esterhuizen
Source: Xray [teamxray.com]
---