June 9, 2015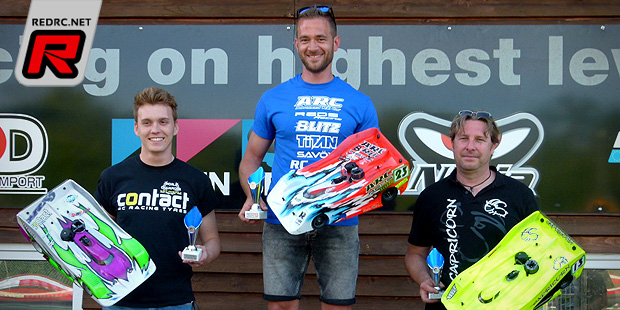 Round 3 of the Western German Nitro On-road Championships were recently held at the fast Hamm track with a total of 53 drivers in attendance. John Ermen captured his second win in 1/8th Nitro On-road class 1 while his ARC team mate and fellow countryman Benny Ciere celebrated his first victory in 1/8th class 2. In 1/10th scale it was guest driver Dirk Wischnewski (Shepherd) who took the victory from 2nd placed Marc Fischer (Serpent). In 1/8th scale class 1 John Ermen already took his third pole position of his 2015 campaign with his Reds-powered ARC. Only Ermen, Tobias Hepp (Mugen) and Michael Salven (Serpent) were able to complete 20 laps with a superb six seconds advantage for Ermen. But the Dutch racer was lucky to escape some technical troubles during his semifinal to finish third behind Salven and Christian Wurst (Capricorn). The second semifinal went to Hepp followed by Karl-Heinz Meister (Serpent) and Frank Schewiola (Capricorn).

In the 30 minutes finale Ermen did not have the best start, dropping back to seventh but recovering step by step while Hepp was leading from the tone. In lap 28 Ermen made the pass into the lead but he went into some trouble again around lap 55. Following three pit stops for adjustments he was in first again soon and with a blistering driving performance he pulled away to finish first with a three lap advantage. Hepp, who performed an engine change to a used Reds power unit of Ermen only a few minutes before the start, survived a crash with a damaged rear end but brought his Mugen home on the runner-up spot seven seconds ahead of Schewiola. Young Philipp Roemer (Mugen) finished on fourth and old-timer Rainer Rosskothen (Mugen) came in fifth place. Among those five drivers which retired early were Meister, Wurst and Salven. Racing on third position "Mr. Serpent" had to pit after 15 laps for a minute but his race came to an end with a broken Picco engine shortly before halftime.
1/8th class 1 final result:
1. John Ermen – ARC/Reds – 112 laps
2. Tobias Hepp – Mugen/Reds – 109
3. Frank Schewiola – Capricorn/Rex – 109
4. Philipp Roemer – Mugen/RB – 101
5. Rainer Rosskothen – Mugen/Novarossi – 93
6. Christian Wurst – Capricorn/XRD – 48
7. Michael Salven – Serpent/Picco – 46
8. Alexy Yaramishian – Capricorn/O.S. – 45
9. Karl-Heinz Meister – Serpent/Picco – 17
10.Ingo Odenthal – Serpent/Novarossi – 5
After three of the four rounds of the championship Frank Schewiola leads the point standings with 352 points ahead of Ermen (351), Meister (343), Uwe Baldes (340) and Roemer (340).
In 1/8th scale class 2 Marco Muscara was the unlucky fellow of the day. Having taken the pole position in the heats at his comeback with Shepherd ahead of Benny Ciere (ARC), Christoph Loose (Serpent) and Andreas Goebel (ARC), he was the victim of a bad first starting position which offered only limited visibility for him, causing him to crash in the first corner of his semifinal to leave him crestfallen on the last position of the overall result. The starting position was revised after this avoidable accident and Loose and Reinhard Zick (Mugen) were the winners of their semifinals. In the 30 minutes finale Loose was the first leader but in the following the lead changed a couple of times before Ciere took over the first position around half time to achieve his first win with more than a lap ahead of Loose. Goebel was back to ninth at the beginning but made his way to third spot on the podium in his second race with ARC. Serpent racer Thomas Reiche came on fourth with Mugen driver Waldemar Liedke on fifth. Different to class 1 eight racers made it to the finish line.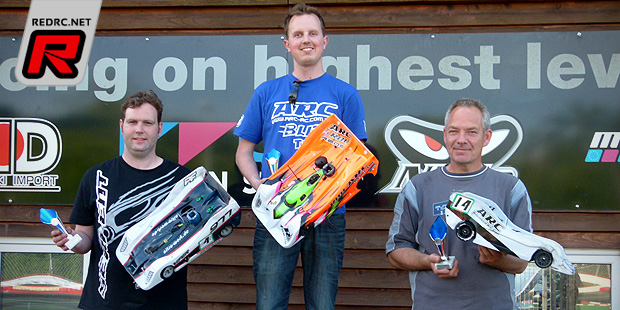 1/8th class 2 final result:
1. Benny Ciere – ARC/Team Orion – 104 laps
2. Christoph Loose – Serpent/Rex – 103
3. Andreas Goebel – ARC/O.S. – 98
4. Thomas Reiche – Serpent/Orcan – 97
5. Waldemar Liedke – Mugen/RB – 97
6. Holger Hinnendahl – Shepherd/Sonic – 92
7. Heinz Kroezemann – Mugen/RB – 91
8. Thomas Kremer – Serpent/Novarossi – 85
9. Reinhard Zick – Mugen/Rex – 24
10.Martin Figge – Motionica/Sonic – 13
Benny Ciere is currently leading the championship ranking with 358 points followed by Loose (350), Zick (343), Matthias Guenther (339) and Joachim Kuehn (338).
In 1/10th scale Dirk Wischnewski showed his class by taking the pole position with a three second advantage over Serpent racer Marc Fischer while Benny Lehmann came on third in front his Shepherd fellows René Puepke and Bernd Rausch. Wischnewski then won his semifinal in front of Rausch and German Champion Daniel Thiele (Serpent), the second semi went to Puepke who left Fischer and young Melvin Diekmann (Shepherd) behind. Among those who did not make it into the main race was Andy Weyhoven (Serpent) as a victim of a first corner mess.
Shepherd/Orcan racer Wischnewski continued his domination in the 30 minute finale leading from tone to tone and winning with a four lap advantage over Fischer. The Serpent team driver was involved a battle for second with Lehmann and Thiele, both finally made it to third and fourth with a ten seconds gap among those three. Also Rausch and Pupke were charging for the podium but Rausch crashed before the eight minutes mark and Puepke early lost more than a minute for repairs. Meqlvin Diekmann did not even make it into the race after crashing in the warm-up time.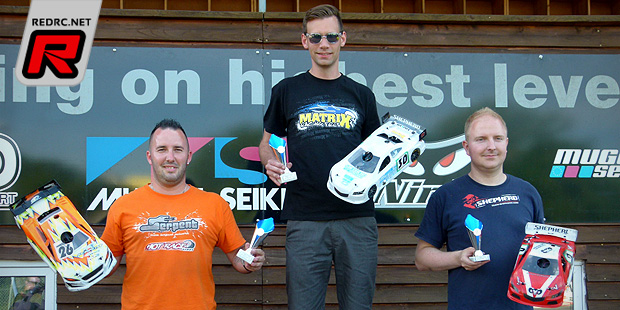 1/10th final result:
1. Dirk Wischnewski – Shepherd/Orcan – 104 laps
2. Marc Fischer – Serpent/Max – 100
3. Benny Lehmann – Shepherd/Orcan – 100
4. Daniel Thiele – Serpent/O.S. – 99
5. Arndt Bernhardt – Shepherd/RB – 98
6. Daniel Toennessen – Mugen/RB – 97
7. Rene Puepke – Shepherd/Orcan – 97
8. Faehd Labik – Xray/Orcan – 50
9. Bernd Rausch – Shepherd/Picco – 26
10.Melvin Diekmann – Shepherd/Orcan – 0
With 354 points Benny Lehmann has taken over the lead from Bernd Rausch (351) in the 200mm Touring class. Toennessen (343) is ranked third in front of Thiele (341) and Bernhardt (341). The fourth and final round of the Western German Championship will take place at Oberhausen on the 4tha nd 5th of July. Nitro racing in Western German continues with round three of the Nitro-West-Masters at the Dueren track on the 20th to 21st of June.
Source: Nitro-West [nitro-west.de]
---