July 2, 2015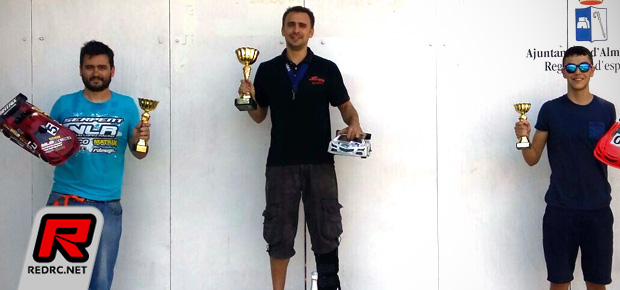 The third round of the Spanish 200mm Nitro On-road Nationals was hosted by the Autet Club track in Almussafes, home of last year's EC-A 1/10th 200mm European Championship A. The qualifying was dominated by young talent Ruben Olivares with his Novarossi-powered Shepherd as won four of the five qualifying rounds to take the TQ. The 2nd spot went to former Spanish Champion Jonnhy Pastor (Mugen/Novarossi) followed by Victor Pelaez (Serpent/Tesla) and Sergi Franch (KM/Novarossi). Nacho Lopez, who made the ENS final in Aigen and who grabbed the TQs at the two previous National rounds, struggled in qualifying due to a broken pipe and thus a lack of power.

The A-final went off with two of the direct qualifiers having to start from the pits, TQ Ruben and 3rd placed after the qualifiers, Victor Pelaez. This allowed Jonnhy Pastor to take the lead in the opening stages while Sergi Fanch and Nacho Lopez were following close behind. However three minutes into the race Jonnhy's car had a flame out while Sergi Frach suffered from an outdrive failure. Also during the first fuel stop Nacho Lopez had a flame out, losing about 20 seconds to restart the car. He re-entered the race in 8th place. Up front Victor Pelaez had grabbed the lead following a great recovery after starting dead last. Jose Luis Sanchez, with a really good pace, was in 2nd while Nacho Lopez, with the fastest lap times of the final, was moving up the ranking despite some bad pitstops. With three minutes to go Victor Pelaez and Nacho Lopez were in a really amazing and fair fight for the victory, with some passes of Nacho over Victor followed by some mistakes of Nacho that Victor used to regain the lead. After a dramatic final minute Victor Pelaez took a deserved win just 0.2 seconds in front of Nacho Lopez. Carlos Ferrando, runner up at the season opener, grabbed the final podium spot after a great and very clean race.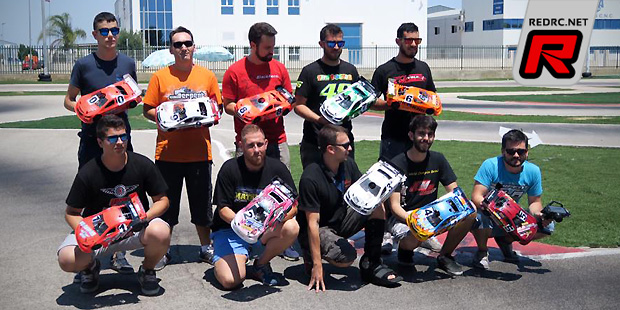 Final result:
1. Victor Pelaez – Serpent/Tesla/Contact
2. Nacho Lopez – Serpent/Picco/Matrix
3. Carlos Ferrando – Serpent/Novarossi/Matrix
4. Jose Luis Sanchez – Serpent/Novarossi/Matrix
5. Joaquin Signes – Xray/Novarossi/Matrix
6. Ruben Olivares – Shepherd/Novarossi/APC
7. Jonnhy Pastor – Mugen/Novarossi/Matrix
8. Adrian Ortiz – Shepherd/Picco/APC
9. David Cuesta – Mugen/Novarossi/Matrix
10.Sergi Franch – KM/Novarossi/Matrix
The final round will be held in September at the Elche track with four drivers fighting for the overall championship, Nacho Lopez, Victor Pelaez, Carlos Ferrando and Jonnhy Pastor.
Thanks to Nacho Lopez for the report.
---