August 27, 2015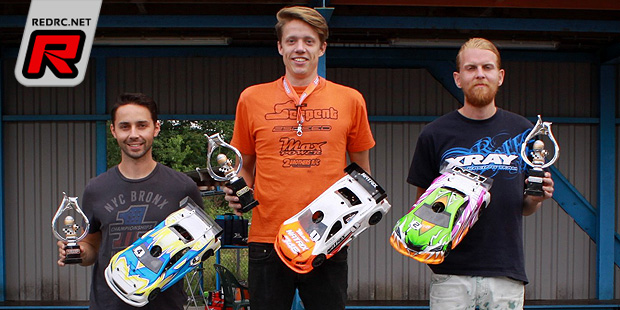 Round five of the 2015 Dutch 200mm Nitro On-road Championship was held in Utrecht in the centre of the Netherlands. The Utrecht track is the oldest permanent track in the country and was constructed in the early 1980's from a line flying circle which also forms the track's characteristic main straight bend. Good weather and temperatures of close to 30 degree Celsius made for perfect racing conditions but it would also make for increased tyre wear of the Capricorn control tyre which would be a factor in the main final. After the triple qualifiers it was again Daan Jacobs who took the TQ as he was the only driver to score a 20-lap run. Pedro Rombouts, Julius Kolff and John Bruins followed with 19-lap runs to complete the direct qualifying top 4.

Between the semifinals and the main final the hosting club would run a B-main for all drivers who did not proceed to the A-main in order to give them some additional 20 minutes of track time. Written in the Dutch regulations, but not mandatory for the clubs to host the B-main does not count for the standings. However the additional main was well received by the drivers as it gave them the opportunity to have a final in a close matched field. In this B-final it was Dave de Ruiter who took the win after a fierce battle with Gaston van Kleef with Bert the Kruijf in second and third place respectively.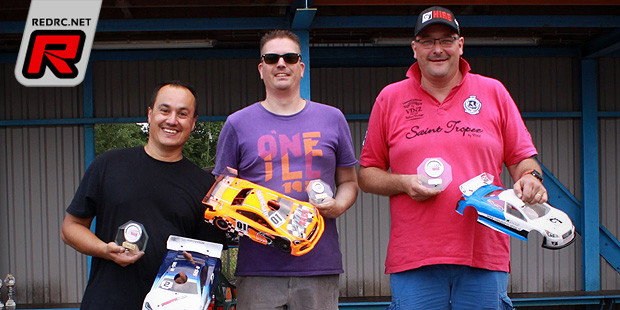 The main final started with pole sitter Daan Jacobs taking off with Julius and Pedro just on his tail. The three of them had a very close race at the beginning and it was Julius who took the lead. Unfortunately for him he overshoot the first corner coming from the pits and flamed out. It then became a very close race between Daan and Pedro for the remainder of the race. After the 20-minute mark it became clear that Pedro had used the best of his tyres, even pulling a beautiful 360 on the main straight, and so it was Daan who took the win. Pedro just managed to stay in second followed by John Bruins in third.
A-final result:
1. Daan Jacobs
2. Pedro Rombouts
3. John Bruins
4. Glenn Hoogervorst
5. Milan Holthuis
6. Julius Kolff
7. Roy Bakker
8. Raymond Tempelaars
9. Pieter Bottema
10.Jarno Holtman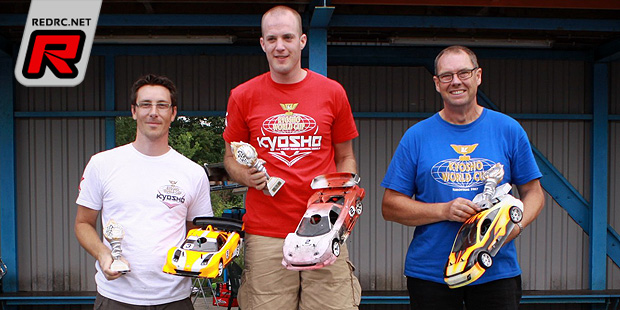 In the Kyosho class Arjan Versteeg ended the day on the top spot while Hans Westerveld in second and Mathieu van der Hoeven in third rounded out the podium.
Thanks to Gaston van Kleef for the report.
---