August 5, 2015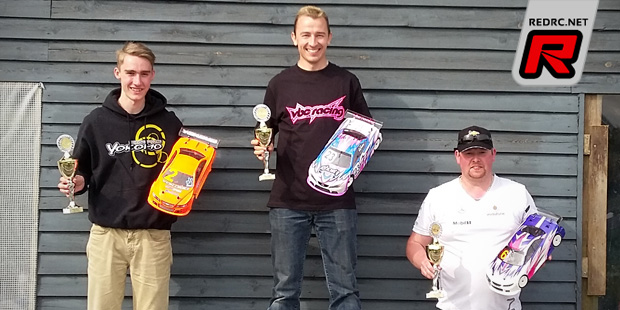 Round 3 of the Danish Touring Car Championships was held at the challenging track in Vejle. The track offers a huge main straight with a banked corner at the end and a technical and challenging infield. After the practice in the SuperStock class it became clear that the race for the win would be on between at least four drivers. The opening qualifier saw a close battle between Frederik Broloes and Soeren Boy Holst with the latter taking the TQ by 0.03 seconds despite a spin in lap 7. The second round was just as close and this time Steven Olsen joined the fun but he made a mistake in lap 8 and also Soeren decided to visit the grass and he opted to end the qualifiers in order to save the tyres for the final round. The round was then won by Frederik. The third qualifier then saw a 3-way battle for the TQ and at the end it was Soeren who grabbed the pole position for the A-mains from Frederik and Steven.
SuperStock qualifying top 5:
1. Soeren Boy Holst – VBC
2. Frederik Broloes – Yokomo
3. Steven Olsen – Schumacher
4. Kevin Nielsen – Xray
5. Nicolai Nielsen – Serpent
The opening A-main saw a very close battle between Frederik and Steven while Soeren was able to open a gap up front. Later Steven had to retire, making way for Soeren Slot who came from the 7 spot on the grid. The final stages of leg 1 then held some drama for the leader as Sören passed a backmarker who then made a mistake which lead to the body of Soeren's car getting tucked. Frederik was able to close the gap but fortunately for Soeren he was able to retain the lead.
For the second A-main Nicolai Nielsen found some more speed and this allowed him to snatch the 3rd place from Steven on the opening lap. Up front Soeren was able to control the gap to the remainder of the field and to take a commanding win from Frederik.
After securing the overall win early Soeren decided to use the final A-main for some tyre treatment tests. He would be in the lead for the first half of the final and was able to watch the battle behind. Soeren Slot, Carsten Madsen, Frederik and Nicolai were in a close fight. Up front Soeren was too relaxed and send the car to the grass, handing the lead to Carsten, who took the win in front of Frederik and Sören.
SuperStock A-main top 5:
1. Soeren Boy Holst – VBC
2. Frederik Broloes – Yokomo
3. Carsten Madsen – Gizmo
4. Soeren Slot – T.O.P.
5. Nicolai Nielsen – Serpent
Source: VBC Racing [vbcracing.com]
---