September 7, 2015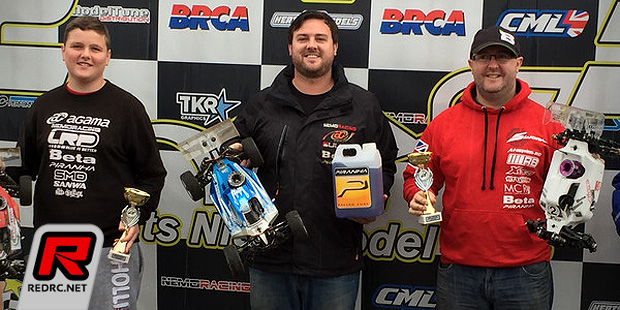 August Bank Holiday usually has a 3-day race of one form or another over it, and this year was no different. However the Herts club tried something different and rather than have a race dedicated to one tyre manufacture, they created an event where the three most prominent tyre brands in the UK, Beta, Proline and AKA were able to nominate one of their patterns to be eligible to race in whatever compound the competitor liked, thus not alienating drivers with allegiances to one particular brand. The track as ever was in immaculate condition and everyone was looking forward to a great weekends racing, with the hope that the weather would hold off and not come and spoil the proceedings.

The Saturday schedule featured a late start to allow everyone to travel and get set up in plenty of time before practice started, with the intention of running four rounds of practice in the afternoon. Beta drivers Darren Bloomfield and Kevin Brunsden were looking the most competitive and were posting very quick times as the track started to groove in, until a small rain shower put a bit of a halt to proceedings and meant dropping the 4th round of practice off the schedule. Still everyone went away happy and ready for qualifying the following day.
Sunday started straight into round 1, and in the Truggy class it was Jon Hazlewood who was out there dominating and having lots of fun driving his truggy. Jon was pushing himself to go faster and faster each run as he tried to break into the 8 lap club, finally a small tangle with another truck in round 5 would prevent him achieving that goal. Jon would comfortably take the overall TQ in the class with the fastest time in each of the 5 rounds.
The buggy class saw a bit of a masterclass from Darren Bloomfield in on the limit driving. Darren was in fantastic form and his car was working exceptionally well, allowing him to take liberties with it and produce some truly amazing lap times. He would TQ the first 4 rounds and was on course for the 5th when a few incidents with some slower cars allowed young team mate Callum Niblett to take the round win. Callum was also a bit of a revelation on Sunday, producing a series a fast and clean qualifying runs culminating in his round 5 TQ which would see him qualify a splendid second overall. Kevin Brunsden has been a man in form of late and he too was running well with his package to round out the top 3 qualifying.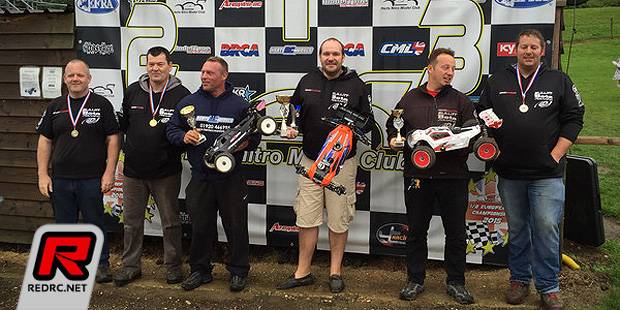 Sadly as predicted, the weather gods were against the drivers once again and the rain was heavy and persistent upon arrival at the track in the morning on Monday, and with no sign of any improvement until well into the afternoon, the decision was taken to cancel and declare the results on qualifying. A real shame as the Herts club in recent times have had it bad with the weather and they deserve a break.
Source: Nemo Racing [nemoracing.com]
---