September 15, 2015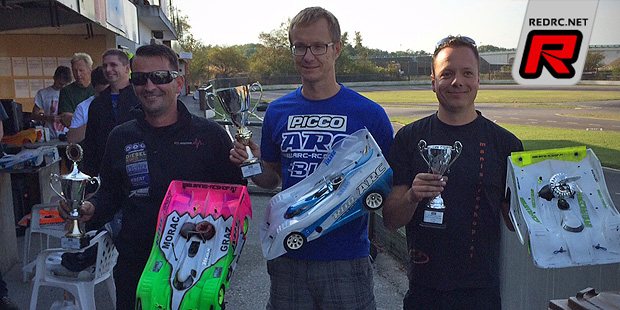 The second and final round of HNS Austria series was held at the MRC-Fruehwirth track in Sollenau, located 20 kilometres south of Vienna. The track layout chosen was the super fast 1980's original with a long straight, big sweeper and long back straight with around five to seven seconds of full throttle. On this track, with an overall length of 345 metres, Christoph Pietsch set a new track record of 15.8 seconds, with an average speed of 78.6 km/h. The premier class of 1/8th Nitro saw an entertaining fight of Herfried Pucher (ARC/Picco) and Michael Klausner (Mugen/Picco) for the TQ with both winning two rounds each and the TQ being taken by Herfried as Michael made too many mistakes. In third Rene Pflanzl (ARC/Max) grabbed the 3 spot after the qualifiers.

The 45 minute long main final saw a runaway from Klausner and Pucher right from the start but some 10 minutes into the race a mistake of Klausner gave Pucher a small gap for the lead which Klausner tried to close again, only to run into engine problems a few minutes later. A broken glow plug ended the fight for the win but with a new glow plug fitted Klausner was still in 2nd position and still pushing with 16.7 lap times but at the 27 minute mark the front belt broke on his car, slowing his pace. But this wasn't the end of Michael's problems who sat in third place behind Pucher and Planzl with some five minutes to go. A flame out after the last pit stop again cost Klausner many laps and finally the podium. Up front Herfried cruised to the win in front of Rene. Worth a mention is the overall 8th place of 78-year old track owner and club president Ferdinand Frühwirth.
1/8th Nitro top 3:
1. Herfried Pucher – ARC/Picco
2. Rene Pflanzl – ARC/Picco
3. Rene Doktor – Capricon/Reds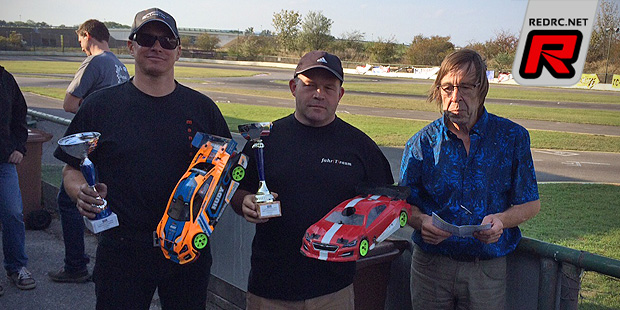 The 1/10th Nitro Touring class unfortunately suffered from a low number of entries. After qualifying Markus Reiser (Serpent/Novarossi) took the TQ ahead of Christian Hubert (Xray/Novarossi). The 45 minute final saw a close fight of these two drivers until Christian's car suffered from a broken servo, ending his race which handed Markus Reiser an easy win.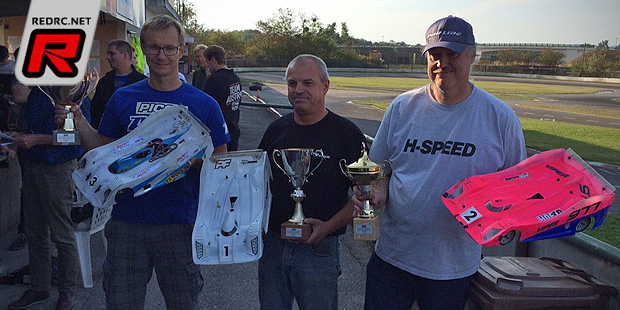 The 1/8th Electric class was the strongest of the weekend and the event also attracted many "Buri" racers to use the newly developed low budget 4WD on-road kit. After qualifying Christoph Pietsch (Mugen/TTB) was in front with Michael Selner (Serpent/TTB) and Herfried Pucher (Buri/Hobbywing) in tow. While Pietsch and Selner were running 6S batteries, Pucher only used a 4S battery in his Buri racer with the three car showing a pretty similar pace thanks to the low weight of only 2200g of the Buri car. Only in the long sweeper the slightly less powerful low budget car had some disadvantages over the high-performance 6S machinery. Pietsch and Selner both ran in the high 15s and low 16s laps while Pucher was able to pull 16.5s laps, still 0.1 seconds faster than with his nitro car. The triple A-mains then saw a clean sweep of Christoph, with Pucher ending the day in second while Michael had to settle for third.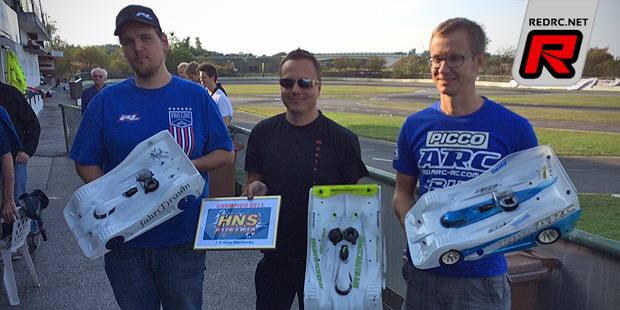 Overall in the 2-race championship Rene Doktor (Capricorn/Reds) grabbed the title in the 1/8th Nitro class from Michael Klausner (Serpent,Mugen/Picco) in second and Herfried Pucher (ARC/Picco) in third.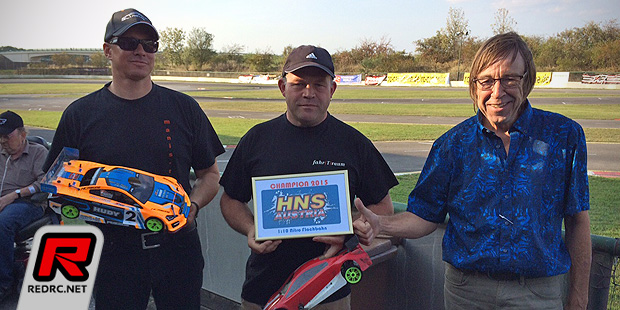 The 1/10th Nitro class had Markus Reiser (Serpent/Novarossi) taking the overall win from Ralph Winkler (Xray/Novarossi) in second. Christian Wuntschek (Serpent/Novarossi) and Christian Hubert (Xrax/Novarossi) ended tie on points in third.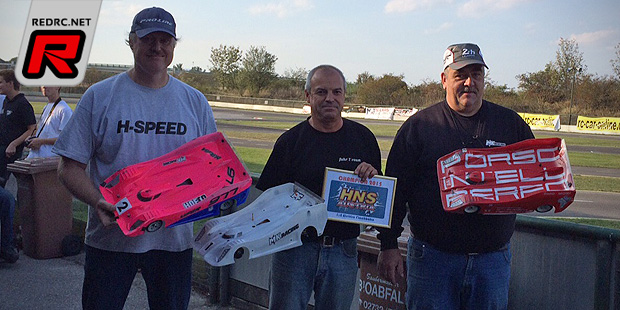 Finally in the 1/8th Electric class Christoph Pietsch (Mugen/TTB) came out successful from Michael Selner (Serpent/TTB) and Michael Klausner sen (Serpent/HW) in second and third respectively.
Source: Hoeco [hoeco.at]
---