September 21, 2015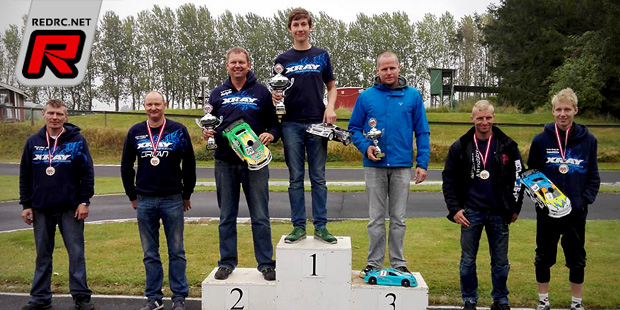 A round of the Danish On-road Nationals was recently held at the Hillerod RC Racing club. In the 200mm Nitro class Rasmus B. Nielsen showed some good speed during Saturday's dry practice. Sunday started out wet but this did not kept the driver from fighting for valuable points in the championship. Rasmus already had a 9 point lead over runner-up Claus Ryeskov in the championship and there was no reason for him to start but other drivers wanted to tackle the wet track to keep their positions in the championship so at the end the drivers decided to do one qualifier followed by the finals.
Qualifying results:
1. Rasmus B. Nielsen
2. Claus Ryeskov
3. Tom Limkilde
4. Rene Kjellerup
5. Martin N O Hansen
6. Bo Morten Larsen
7. Claus Jensen
8. Jack Holger Sorensen
9. Johan Larsen
10.Rhys Jenkins
The final start positions would see Jack Holger Sorensen starting from the 1 spot with Tom Limkilde and Rhys Jenkins rounding out the top 3. At the start of the 30 minute main final Jack Holger jumped into the lead with Tom right behind. The challenging conditions meant only a couple of drivers would see the checkered flag and at the end it was Jack Holger Soerensen (Xray) who took the win from Claus Ryeskov (Xray). Rhys Jenkins (Capricorn) came in third while Tom Limkilde (Xray) rounded out the top 4 result.
Final result:
1. Jack Holger Sørensen
2. Claus Ryeskov
3. Rhys Jenkins
4. Tom Limkilde
5. Claus Jensen
6. Martin N O Hansen
7. Bo Morten Larsen
8. Johan Larsen
9. Rasmus B. Nielsen
10.Rene Kjellerup
Source: Xray [teamxray.com]
---