September 30, 2015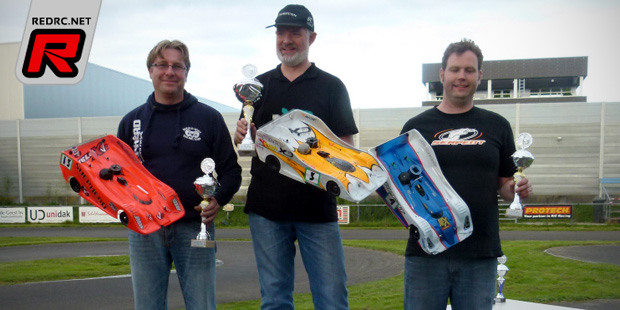 Round five of this year's Nitro-West-Masters was held at the Velp track in the Netherlands. With a margin of less than a second Christian Wurst won an exciting battle in the 1/8 scale nitro on-road Open class ahead of Frank Schewiola, but not only in the 1/8 class great racing was shown on the popular track. Also in the three other classes with René Puepke (1/10 Open), Matthias Guenther (1/8 Stock) and Majuran Tharmalingam (1/10 Stock) taking the winners trophies great racing was on display. A total of 65 entries were received for the Dutch round of the seventh edition of the Nitro-West-Masters. Following an intensive day of practice on Saturday also on race day the weather made for perfect conditions.

In the 1/8 Open class Christian Wurst was the man to beat. He had a one second advantage over Shepherd racer Frank Schewiola in the three-laps-qualifying with Christoph Loose (Serpent) and Uwe Baldes (Shepherd) on three and four to qualify directly for the main finale. Reinhard Zick (Mugen) crossed the finish line first in the semi final but he was the only one who had to retire in the 30 minutes main race with just two and a half minute to go. Wurst led the race from start to finish but following a late tire change in lap 83, he received enormous pressure from Schewiola who opted to use a single set. Altough Schewiola pulled his fastest lap in the closing stages, it was not enough to beat Wurst after the 123 lap race. Ralf Vahrenkamp, at his maiden outing with Mugen, was aiming for the third spot on the podium but dropped back to fifth following a damaged exhaust connection, so the third place went to Christoph Loose (Serpent).
1/8 Open final result:
1. Christian Wurst – Capricorn/XRD – 123 laps
2. Frank Schewiola – Shepherd/Picco – 123
3. Christoph Loose – Serpent/Rex – 120
4. Uwe Baldes – Shepherd/Rex – 116
5. Ralf Vahrenkamp – Mugen/Novarossi – 116
6. Matthias Guenther – Shepherd/Novarossi – 114
7. Ingo Odenthal – Mugen/Novarossi – 111
8. Joerg Deckers – Xray/Rex – 108
9. Martin Baumann – Mugen/Novarossi – 104
10.Reinhard Zick – Mugen/Rex – 101
The 1/10 Open class saw Capricorn racer Thilo Toedtmann grabbing the pole position in front of the Shepherd trio of René Puepke, Benjamin Lehmann and Bernd Rausch. Close racing was already shown in the 15 minutes semi finale with Daniel Toennessen (Mugen), Marco Nenner (Shepherd), Melvin Diekmann (Shepherd) and Arndt Bernhardt (Shepherd) completing 58 laps within 3.5 seconds. Toedtmann was the early leader in the 30 minutes main race but he lost the position to Rausch after three laps. Also Rausch could enjoy the leading position for only two laps with Puepke taking over the first spot in lap seven. The Shepherd driver pulled away step by step to celebrate another victory. Rausch on second was two laps down with young Melvin Diekmann on third coming from sixth spot on the grid to make it a 1-2-3 for Shepherd while Toedtmann and Lehmann did not make it to the finish line.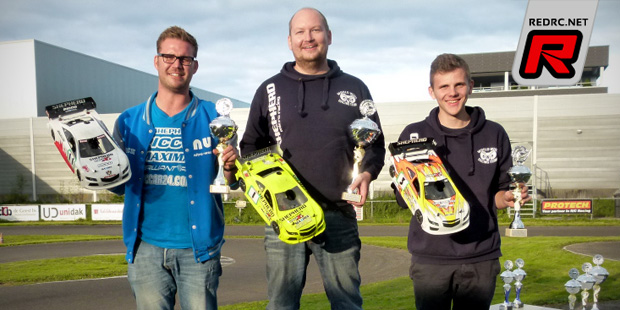 1/10 Open final result:
1. Rene Puepke – Shepherd/Orcan – 118 laps
2. Bernd Rausch – Shepherd/Picco – 116
3. Melvin Diekmann – Shepherd/Orcan – 115
4. Daniel Toennessen – Mugen/RB – 114
5. Arndt Bernhardt – Shepherd/RB – 114
6. Marco Nenner – Shepherd/Orcan – 113
7. Dieter Fleischer – Mugen/RB – 107
8. Faehd Labik – Xray/Orcan – 199
9. Benjamin Lehmann – Shepherd/Orcan – 97
10.Thilo Toedtmann – Capricon/Tesla – 64
The 1/8 Stock class, run with standard engines from Novarossi and Sonic, was again the strongest class of the day. The TQ went to local hero Dick Jansen (Shepherd) ahead of Waldemar Liedke (Mugen), Joachim Kuehn (ARC) and Matthias Guenther (Shepherd). The semi final B was won by 1/8 rookie Ingo Braun (Shepherd) ahead of Richard Engbersen (Serpent) and Gerhard Bemelmans (KM) while Christian Roenicke (Capricorn) won the semi final A in front of Detlef Spiess (Xray) and Ralf Wacker (Mugen). Early in the 30 minutes finale Matthias Guenther dropped back to ninth position but he was able to recover steadily. In lap 58 at around halftime in the race he was back in the lead again. Finally Guetnther, who competed in both 1/8 scale classes, managed to keep Liedke behind and to finish with an margin of 2.5 seconds over the Mugen racer. Braun managed to finished third with 116 laps after being in the lead at some stages and also dropping back to 7th at some point. Roenicke and Wacker did not complete the race distance.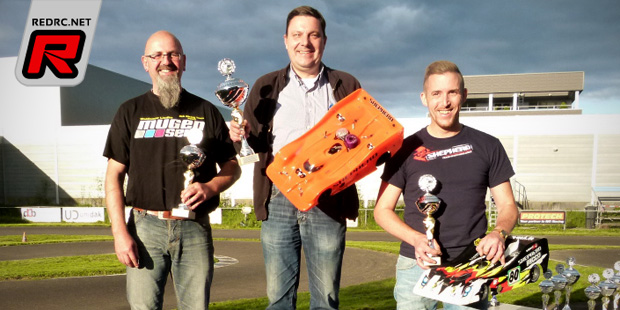 1/8 Stock final result:
1. Matthias Guenther – Shepherd/Novarossi – 118 laps
2. Waldemar Liedke – Mugen/Novarossi – 118
3. Ingo Braun – Shepherd/Sonic – 116
4. Richard Engbersen – Serpent/Sonic – 112
5. Detlef Spiess – Xray/Novarossi – 111
6. Dick Jansen – Shepherd/Novarossi – 102
7. Gerhard Bemelmans – KM/Novarossi – 99
8. Joachim Kuehn – ARC/Novarossi – 92
9. Ralf Wacker – Mugen/Novarossi – 84
10.Christian Roenicke – Capricorn/Novarossi – 19
In 1/10 Stock Majuran Tharmalingam pushed his Novarossi-powered KM to pole position and the overall victory. Second in the heats was KM fellow Arnon Laopreda ahead of Timo Niedling (Xray) and Stefan Schumann (Shepherd). Altough Tharmalingam dropped back to ninth right after the start he recovered quickly to grab the lead on lap 19 and he never looked back from that moment on. The second place went to Hans-Werner Dietz (Xray) while Marcel Beekmann (Xray) managed to take third spot on the podium on home soil. An unlucky Werner Vogel, winner of the semi final, was settled to end up on third when he had to retire with his Kyosho just 25 seconds before the end to finish only fifth behind Niedling. Stefan Schumann and Ursus Lieder (KM) hat to retire early.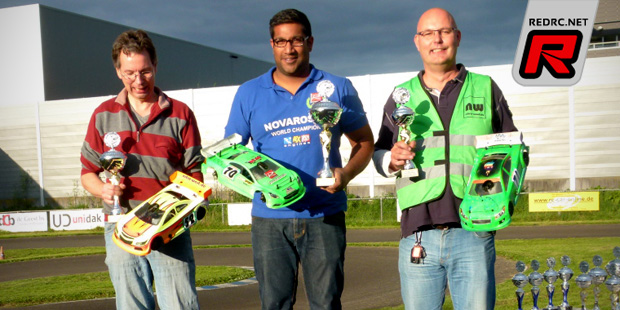 1/10 Stock final result:
1. Majuran Tharmalingam – KM/Novarossi – 110 laps
2. Hans-Werner Dietz – Xray/Novarossi – 104
3. Marcel Beekman – Xray/Novarossi – 103
4. Timo Niedling – Xray/Sonic – 102
5. Werner Vogel – Kyosho/Novarossi – 101
6. Philipp Wisniewski – Mugen/Sonic – 97
7. Guido Burghartz – Shepherd/Sonic – 92
8. Arnon Laopreday – Shepherd/Novarossi – 85
9. Stefan Schumann – Shepherd/Sonic – 51
10.Ursus Lieder – KM/Novarossi – 16
The titles decisions in all four classes will be made at the final round of the Nitro-West-Masters on the 10th and 11th of October at the Dormagen track in the North of Cologne.
Source: Nitro-West [nitro-west.de]
---