September 8, 2015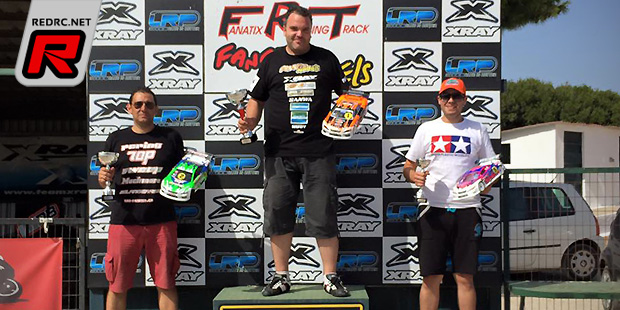 The Greek National Cup was held at the Fanatix Racing Track and this time a different qualifying format was used that saw three 20-minute qualifying rounds of which the sum of the six best consecutive laps counted. Based on this format Papachristos took the TQ from Nikolakopoulos and Mpakirtzis.
Qualifying top 10:
1. Papachristos – Xray
2. Nikolakopoulos – TOP
3. Mpakirtzis – Tamiya
4. Doucakis – Awesomatix
5. Isaakidis – Tamiya
6. Batas – Yokomo
7. Amaxas – Yokomo
8. Eleftheriou – Tamiya
9. Vovlas – Yokomo
10.Kordas – Xray
In the first final Papachristos made a mistake that cost him the first place but in the other two legs he kept his cool to take the day's win from Nikolakopoulos and Isaakidis.
Final standings:
1. Papachristos – Xray
2. Nikolakopoulos – TOP
3. Isaakidis – Tamiya
4. Mpakirtzis – Tamiya
5. Amaxas – Yokomo
6. Eleftheriou – Tamiya
7. Batas – Yokomo
8. Doucakis – Awesomatix
9. Vovlas – Yokomo
10.Kordas – Xray
Source: Xray [teamxray.com]
---