September 14, 2015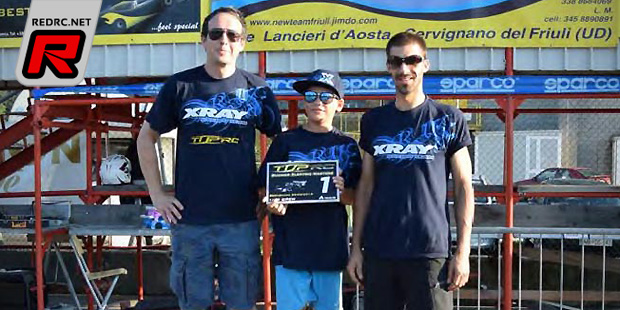 This year's TopRC Summer Electric Masters was again held at the Newteamfriuli track in Cervignano, Italy in the four classes of Touring Modified, Touring 13.5T, Formula 21.5 and 1/8th Electric GT. Preparation with sugar water and high ambient temperatures made for high grip and demanding racing conditions for both the drivers and the cars. As hand-out tyres for the 1/10th Touring and 1/8th GT class would be used many drivers joined Saturday's practice to get used to the SP Racing tyres. Sunday started off with a round of controlled practice followed by three rounds of qualifying. In Touring Modified Alojzij Osvald (Xray) snatched the TQ from Andrea Ghilotti (Xray), who gave Alojzij a hard time during the qualifiers. The top 3 was completed by a very fast Matej Miklavec (Xray).

In 1/10 Touring Stock Rok Rudl grabbed the TQ from Massimo Gratton and Gašper Ravbar in second and third respectively while in the Formula class it was again Alojzij Osvald who dominated the qualifiers. Borut Svoljšak came in second,  Roberto De Vecchi completed the top 3. Finally in the very popular 1/8th Electric GT class Goran Vignjevič came out fastest in front of Rok Pongrac and Jan Pernarčič.
The finals of the Touring Modified class held some drama for the TQ holder as he encountered technical issues so Alojzij would only finish on the runner-up spot as he was not able to fend off eventual winner Andrea Ghilotti. In third Matej Miklavec would round out the podium with a better result for him being spoiled due to a last lap error while being in the lead. Fourth place in the Modified class went to Vladimir Knehtl (Serpent) in front of Luca Bosa.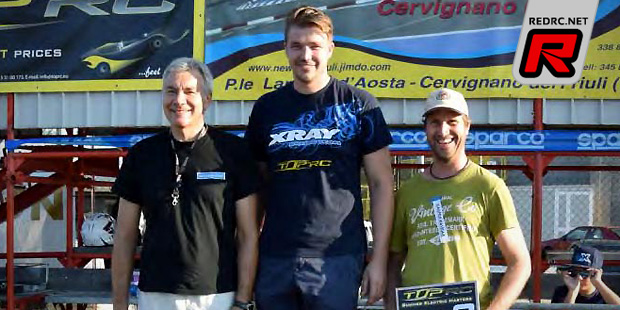 In the Touring Stock class it was a dominant Rok Rudl (Xray) who took an early overall win by coming first in the first and second A-main. Massimo Gratton (Serpent) came in second, Gasper Ravbar rounded out the top 3 while Stanislav Kokol and Nunzio Pollio (both Xray) completed the top 5 result.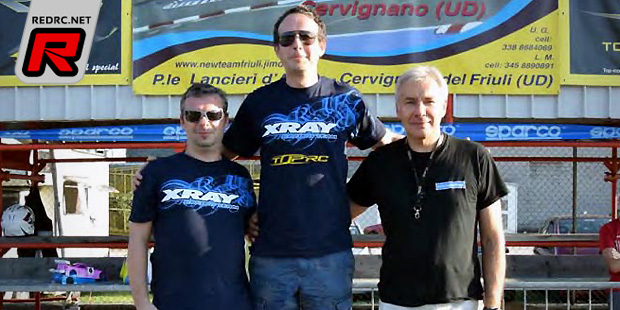 In the Formula class Alojzij Osvald transformed his TQ into wins in A1 and A2 to grab the overall win early. For the runner-up spot the fight was on between Borut Svoljšak and De Vecchi, with the better end for Borut while Roberto finished in third overall.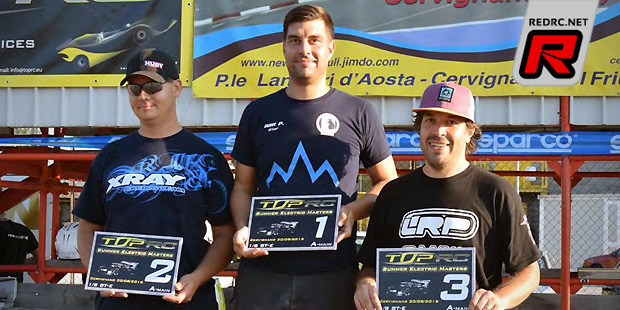 The 1/8th Electric GT class provided the most thrilling finals of the weekend. Because of the hot conditions the cars and equipment were put under extreme stress and with the 10 minute finals drivers had to make sure they would be able to finish the race. At the end Rok Pongrac (Mugen) came out fastest from Jan Pernarčič (Xray) and Sašo Kramljak (Serpent).
Source: Xray [teamxray.com]
---