October 7, 2015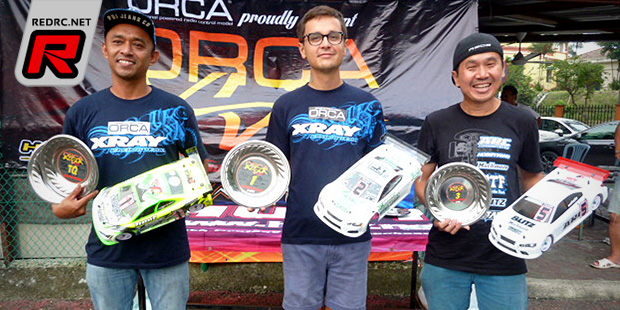 The ORCA Cup Malaysia was recently held at the Kota Raja track in Klang, just outside of Kuala Lumpur, Malaysia. The 2-day event saw the running of four different classes and the attendance of Sweden's Alexander Hagberg as a special guest. The current EFRA Touring Car European Champion would attend in the Modified Touring class and he was facing some difficulties at first as the bumpy and low-grip track took the better of him, allowing local Azri Amri to take the TQ. In the finals Alex was then able to fight for the win after some drastic setup changes. A1 though didn't went to plan but the Swede was fighting back in A2 after a mid-race mistake of Azri allowed Alexander to take the win. In the third and decisive final leg Alex was again able to profit of a mistake by Azri, allowing Alexander to take the overall win in the Modified class.
Modified A-final result:
1. Alexander Hagberg
2. Azri Amri
3. Ong Chee Yong
4. Adik Haikal
5. Norazam
6. Michael Lo
7. Asmad
8. Michael Lim
9. Wong Kok Wai
10.Shahrin
In the Super Stock class, local driver Amir KR was fighting for the win until the last moment but it was Kris Slawinski who took the overall victory from Amir who held Eric Ang behind in third place.
Super Stock A-final result:
1. Kris Slawinski
2. Amir KR
3. Eric Ang
4. Leonard Kee
5. Marcus Tan
6. CK Loo
7. Dixon
8. Bob Fitrie
9. Ismail
10.Jeff Saw
In the Stock class, young Ryan Tan took a convincing win from Toby Lee and BH Lim.
Stock A-final result:
1. Ryan Tan
2. Toby Lee
3. BH Lim
4. Zahari
5. Hazriq
Source: Xray [teamxray.com]
---