November 3, 2015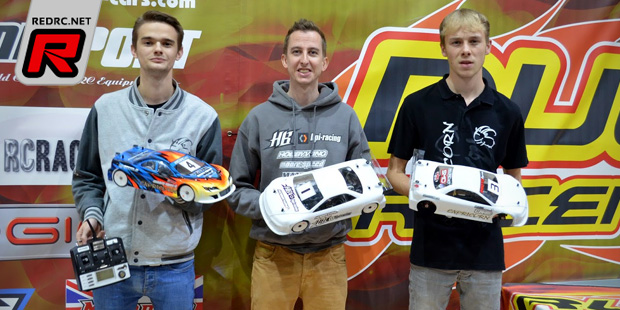 On a very foggy morning Wodson Park welcomed back all racers for Rug Racers round 1 at the home of HRCC. After the recent success of Rug Racers Reloaded more changes were seen this time around that made for an even better experience and one that the organisers want to continue to build on. With a record number of people booking in and some of the best drivers in all classes on display this promises to be a very fun and exciting series. Open Modiied Q1 was a war of attrition with only two cars of the first heat finishing the run, the rest were swept up in carrier bags and handed back to their bemused owners. Once the ponies had been tamed Richard Barton pumped in 26 laps to lead the time sheets. Heat 10 Open Modified, Richard Thorpe and Aaron Rose shared two each with 3rd being contested closely. In heat 11 of Open Modified, Kyle Branson took the opening round from Elliott Harper, with Andy taking R2, Elliott R3 and Andy blasting into 28 Laps for R4.

Heat 4 of 17.5 saw Daniel Chilvers and Keith Tucker on top for two rounds each with Ben Powles 3rd. Heat 5 was a mix between Alex Mortimer, Soteris Liasi and Andy Lees fighting for top spot with less than a few seconds between them. Heat 6 and David Usher broke into the 25 laps to lead home Matthew Prigmore, Prigmore taking the next two rounds ahead of Lisa for R4. Heat 7 of 17.5 had Jimmy Maddison taking all four rounds ahead of Colin Jackson and Malc Hall. Heat 8 was WGT and this year's guest class was popular for RRR so it was retained for the series. Graham Eldridge lead around Chris Wilkinson and Tom Hampo for the day with the very close attention of young Owen Smith more from him later.
First up for the day though and a great sight to see was the GT12 heat filled with the kids who despite their age show great promise and the same competitive attitude as their adult counterparts. The cream of the field was young Darcie Smith who set about her business for the day early doors by setting FTQ in all four rounds, Jake Vincent and Shane Chipolina would continue to squabble over 2nd and 3rd as the day progressed to try and get closer to Darcie. Heat 2 of GT12 and Greg Parmenter headed home 1st ahead of Wayne Palmer before fortune would be reversed over the next two runs with 3rd being shared around. Heat 3 GT12 and Ben Vincent got on with the job in hand to keep Chris "Mr Mardave" Wilkinson at arm's length although the competition was close with top 3 changing each round.
In the Open Modified A-final leg 1, Andy Moore lead them all on a clean start to leave the racing open an honest through the field. Andy took the win from Kyle Branson and a superb drive from Harley Eldridge upto 3rd to keep the family bragging rights. Leg 2 and Andy and Elliott broke from the pack early but a mistake on lap 9 allowed Elliott through to take a lead he would keep until the end ahead of Andy and Stefan Chodzynski in 3rd. Ultimately the podium would be Andy Moore, Kyle Branson and Stefan Chodzynski.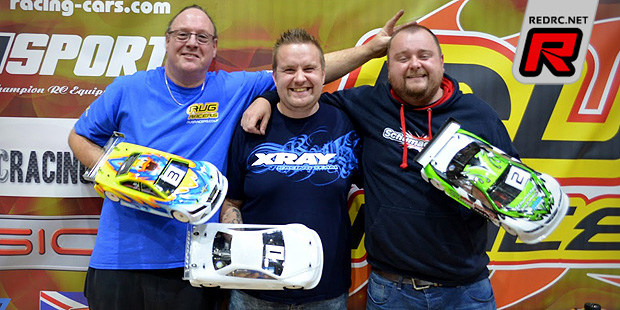 The opening 17.5 A-final had Jimmy Maddison lead them off from pole, an accident with a lapped car dropped him down to 4th but he was able to battle back to 2nd behind 1st leg winner Colin Jackson who took advantage of the battle behind to open up a small gap, Malc Hall finished 3rd just behind Jimmy after a great fight for 2nd that was resolved with a few laps to spare. Leg 2 and Jimmy didn't seem to fancy hanging about and scampered early doors, the battle for 2nd between Colin and Malc allowing 1st to get away, a roll across the track for Colin allowed Malc upto 2nd with Mason Weston driving superbly upto 3rd from 6th to finish 1sed behind so Jimmy Maddison took the day's win from Malc Hall and Colin Jackson in 2nd and 3rd respectively.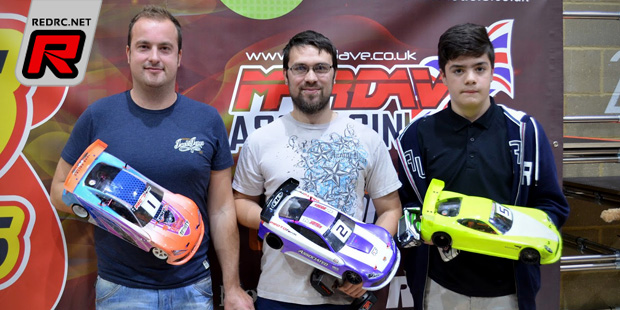 WGT Leg 1, pole man Tom Hampson lead them around for half the 1st lap before an incident with 2nd placed Graham Eldridge, but good racing etiquette was adhered to with Graham waiting but putting them both far down the field. Graham was able to battle back to steal the lead from Martin Southall and Owen Smith who were fighting at the front and who would come home 2nd and 3rd. Leg 2 and Graham got the job done on lap 1 and scampered off into the distance to lead home Tom Hampo and another fine drive from young Owen Smith. The podium was Graham Eldridge in first from Tom Hampson and Owen Smith.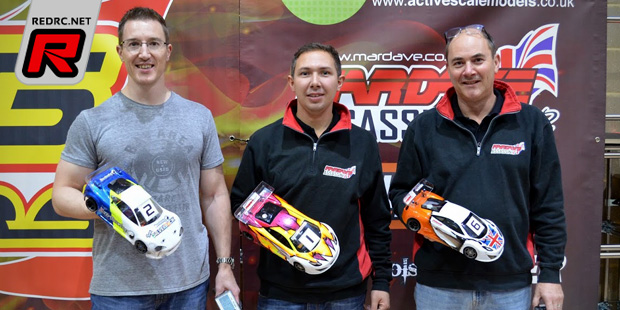 GT12 had Ben Vincent leading home a lights to flag run from 2nd placed Tim Hancock ahead of Niall Cochran, with the two swapping places for a few laps with no one making too many places up. Owen Smith, another young protégé of HRCC and the Smith household brought his car home 6th from 8th. Leg 2 and Ben did his best to mimic Houdini and scampered off to hide, Tim gave chase with the biggest loser being Niall from 3rd after crashing in the 1st corner found himself down the order. Chris Wilkinson needed no second invite and grabbed 3rd place which would be held onto until the end. The podium then was Ben Vincent, Tim Hancock, and Chris Wilkinson.
Source: The RC Racer [thercracer.com]
---