November 5, 2015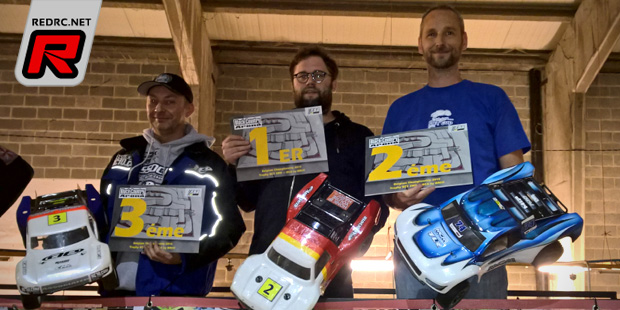 The final round of the Belgian SCT Cup was hosted by the BRCC, the only indoor clay track of the country. Once again the club provided a flawless organisation with a great track, large pits and nice catering. The event attracted a good amount of racers, keeping the yearly trend high. In Pro2 the qualification, Martin Vierin (Team Associated) TQ'd the opening qualifier while Nicolas Evens (TLR) came out fastest in rounds 2 and 3 to take the overall TQ. Philippe Hautecoeur (Team Associated) completed the top 3 ahead of Laurent Halluin (Team Associated) and Patrick Tytgat (Team Associated). In Pro4, Nicolas Evens (TLR) swept all qualification rounds to take the TQ to leave Frank Devos (Tekno) and Frédéric Fontaine (TeamC) battling for the places behind him.

In the opening Pro2 A-final, Nicolas Evens got it all wrong on the first lap, allowing Martin Vierin to fly past. Nicolas was able to recover and reach Martin at the end of the race, and with only one mistake from Martin, Nicolas would take back the lead and with it the win. Behind Martin, a pack of four drivers finished in a 3 seconds interval. Philippe Hautecoeur was the first of the pack, followed by Laurent Halluin, Régis Lelarge (Team Associated) and Tom Piérard (TLR). In the second leg, Nicolas again made mistakes in the early laps, handing Martin the lead with a good gap on the field. Nicolas was able to recover to second but he was under pressure from Tom until the end. In the last and decisive main Martin was again putting a large gap on everyone with Nicolas cruising in second with a large gap on Philippe and Laurent who were in a good fight. At the end Martin would take the overall win from Nicolas and Philippe.
In A1 of the Pro4 class TQ Nicolas Evens got a good start and he would lead in front of Frédéric Fontaine with both having a good fight until close to the end when some traffic incidents allowed Frank Devos to sneak through and to take the win from Frédéric with less than a second. Leg 2 and again Frank got the win with Frédéric and Nicolas in tow. A3 and Nicolas would take the win with a clean run, ahead of Frank and Sam Puttevils (TLR). Overall Frank would take a maiden victory in the Belgian SCT Cup in front of Nicolas and Frédéric.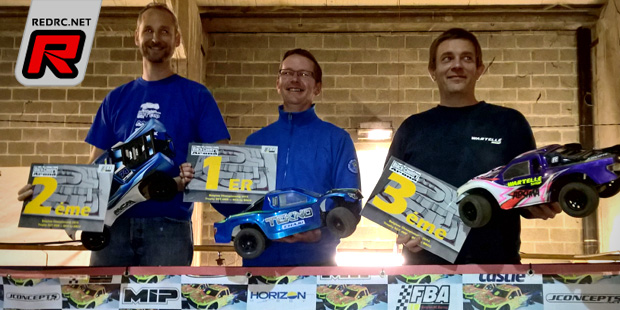 Overall in the championship Nicolas Evens would score a double victory by taking both the Pro2 and Pro4 titles. Laurent Halluin took the vice title in Pro2 while in Pro4 Sam Puttevils ended the year on the runner-up spot.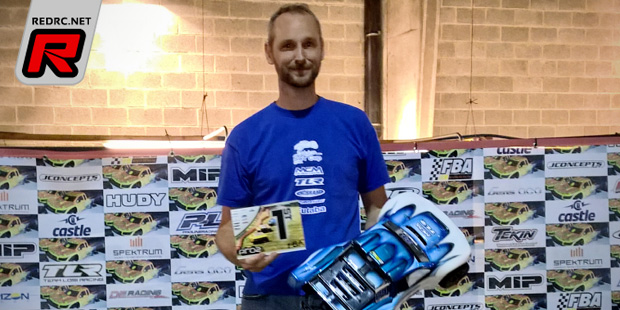 Pro2 top 5 overall:
1. Nicolas Evens – 604 points
2. Laurent Halluin – 593 points
3. Julian Andr'é – 577 points
4. Philippe Gustin – 565 points
5. Emilie Halluin – 554 points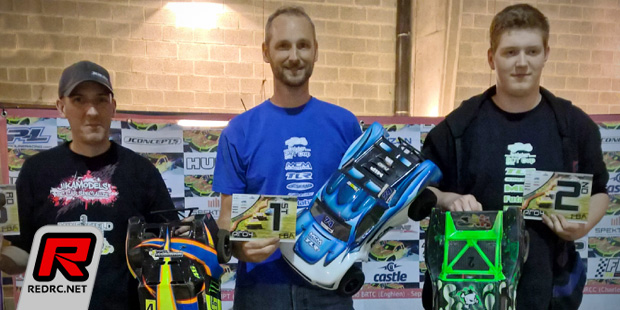 Pro4 top 5 overall:
1. Nicolas Evens – 602 points
2. Sam Puttevils – 594 points
3. Philip De Keersmaecker – 580 points
4. Serge Sermon – 556 points
5. Michel Baudoux – 457 points
Source: Belgian SCT Cup [belgiansctcup.be]
---