November 16, 2015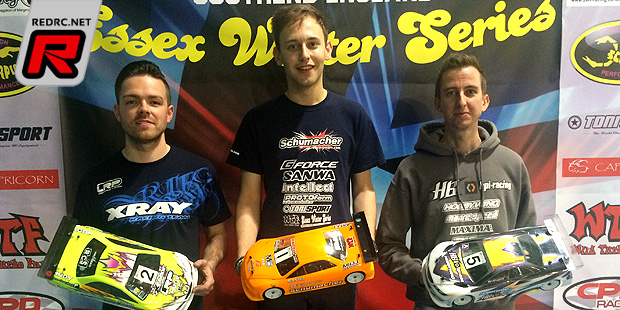 The second round of the popular Essex Winter Series championship took place this weekend in the south-east of the UK. The event was once again almost at capacity and, as well as all the usual top UK drivers, current EFRA Touring Car Champion Alexander Hagberg joined the race after completing his move to live in the UK. In the Zen Racing Modified class, the battle for top qualifier was between EWS round one winner, Olly Jefferies, and current BRCA champion Elliott Harper. Elliott took his Schumacher to the fastest time in the first qualifying round, with Olly second ahead of Kyle Branson, Andy Moore and Alexander Hagberg. Elliott again set the pace in round two, with Olly again placing his Xray second quickest in front of Kyle, Andy and Alexander once again. Elliott secured the pole position with the fastest time in round three, as Capricorn's Kyle Branson took second in front of Olly and his Xray team-mate Alexander, with defending EWS champion Stefan Chodzynski rounding out the top five for Capricorn. Elliott made it a clean sweep by taking the fourth qualifier. Alexander was getting to grips with the EWS track and surface to take second in the round, ahead of Olly, Andy and Kyle.

Elliott led the A-final off and quickly began to build a lead. Olly initially looked comfortable in second, as the battle raged between Andy, Alexander and Kyle. However, Olly was slowly caught by the chasing pack and, after a number of changes of position, Andy was into third place and closing in on Olly. Elliott was in cruise control and took a very comfortable lights to flag victory, whilst behind him Olly held his composure to fend off the 2006 IFMAR champion to hold second place and maintain his place at the top of the championship standings. Andy claimed the final step on the podium in front of Kyle and Alexander.
Modified A-final result:
1. Elliott Harper – Schumacher/G Force – 22L 303.89
2. Olly Jefferies – Xray/LRP – 22L 308.37
3. Andy Moore – HB/Hobbywing – 22L 308.61
4. Kyle Branson – Capricorn/LRP – 22L 310.58
5. Alexander Hagberg – Xray/ORCA – 22L 310.77
6. Stefan Chodzynski – Capricorn/G Force – 22L 314.22
7. Jon Bowden – Xray/Hobbywing – 21L 300.14
8. Mark Gilliland – Xray/LRP – 21L 302.60
9. Phil Chambers – Capricorn/LRP – 21L 305.39
10.Paul Pinkney – Schumacher/Hobbywing – 21L 313.02
The Super Stock class saw Jimmy Maddison as the class of the field, taking a clean sweep of all four qualifying rounds with his Xray. His closest challenger was Tony Broad (Xray), who finished runner-up to Jimmy in the opening three qualifiers. The action was all about the fight for third place on the grid:  Jamie Hickin took third in the first qualifier with his Xray, ahead of Darren Tickner (HB). Matt Chandler, at his first major meeting with the Capricorn car, was third in the second round ahead of Mason Weston (Xray). Jamie secured third place on the grid in the final qualifier with a second place finish, ahead of Tony and last year's EWS Junior Champ, Will Vertigan and his ARC.
Jimmy's dominance continued in the A-final, with him building a lead quickly over the first few laps. An early coming together between Tony and Jamie relegated them down the field, moving Matt and Will up into second and third. Tony had the bit between his teeth and as the race ran on, slowly caught and picked off his competitors one by one, finally moving back up to third after passing Will on the very last lap of the race. Out in front, Jimmy was never troubled and took home the win, with Matt having a fairly lonely drive to take a well-deserved second place.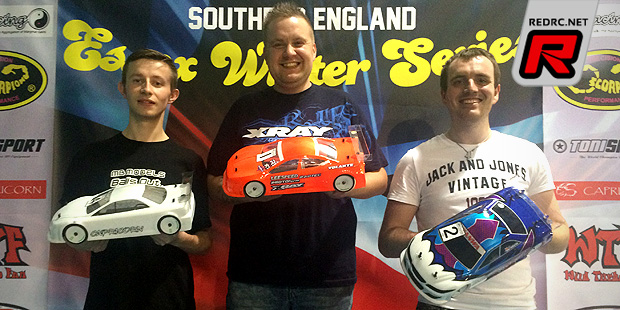 Super Stock A-final result:
1. Jimmy Maddison – Xray – 21L 307.19
2. Matt Chandler – Capricorn – 20L 300.34
3. Tony Broad – Xray – 20L 303.18
4. Will Vertigan – ARC – 20L 304.55
5. Jamie Hickin – Xray – 20L 304.55
6. Mason Weston – Xray – 20L 306.19
7. Rich White – Xray – 20L 306.42
8. Darren Tickner – HB – 20L 308.05
9. Matthew Prigmore – Yokomo – 20L 314.40
10. Liam Hendy – HB – 19L 300.96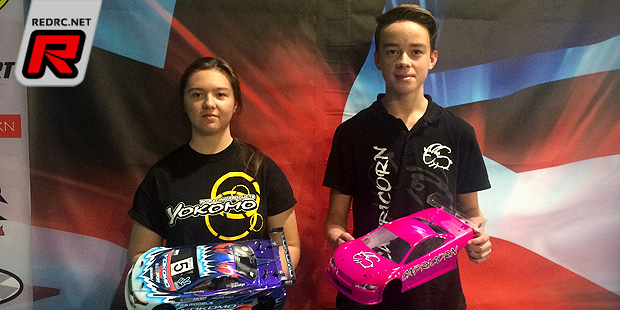 In the Junior class, Harley Eldridge took home the spoils as the top junior in the Modified class with her B-final position, whilst Bradley Coaker was the fastest junior in the Super Stock class again. The Essex Winter Series continues in December with round 3 of the Championship.
Thanks to Oli Meggitt for the report.
---