November 23, 2015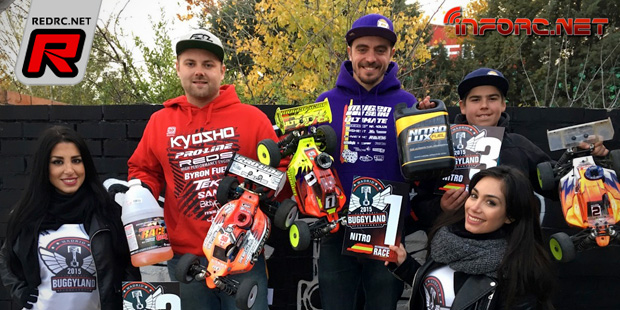 This past weekend the Buggyland 2.0 race was hosted by Madrid's CARTT club with some of the fastest Spanish drivers and guests from abroad in attendance. In the Nitro Buggy class Mugen's Robert Batlle would take the overall TQ from Cody King and Elliott Boots while Davide Ongaro rounded out the top 4 qualifying result. In the 45 minute Nitro Buggy A-main former World Champion Robert Batlle (Mugen/Ultimate) would then grab the title from reigning European Champion Elliott Boots (Kyosho/Reds Racing) who ended the race one lap down. Only 5 seconds short on Elliott, Davide Ongaro (Mugen/LRP) came in third.
Nitro Buggy A-final result:
1. Robert Batlle – Mugen/Ultimate
2. Elliott Boots – Kyosho/Reds Racing
3. Davide Ongaro – Mugen/LRP
4. Cody King – Kyosho/Reds Racing
5. Oscar Baldo – Mugen/Ultimate
6. Jerome Sartel – TLR/TOP
7. Dani Batlle – Mugen/Ultimate
8. Bryan Baldo – Mugen/Ultimate
9. Jose A I Priego – -/-
10.Alberto Garcia – SWorkz/SPower
11.Ignacio Candel – Xray/TOP
12.Pablo Fernandez – -/-
13.Dani Vega – Agama/Reds Racing
14.Javi Pombo – Mugen/Ultimate
In the 1/8th E-Buggy class it was again Robert Batlle (Mugen/LRP) who came out successful after grabbing the pole position from teammate Davide Ongaro (Mugen/LRP) and Dani Vega (Agama/Reds Racing). Cody King (Kyosho/Team Orion) would round out the top 4 after the qualifiers. In the triple A-finals Robert brought home the win from a storming Jerome Sartel (TLR/Team Orion) who came from the 7 spot on the grid. Dani Vega would round out the podium in third.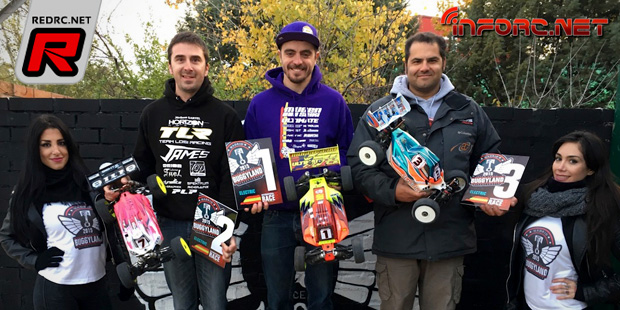 Source: InfoRC [inforc.net]
---