November 20, 2015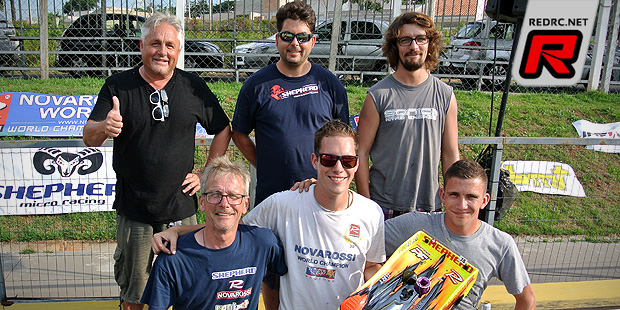 The 2015 IFMAR 1/8th Nitro On-road World Championships are taking place this week in Americana City, Brazil, around 160 kilometres away from Sao Paulo. The event attracted around 75 drivers, most of which are from Brazil and Argentina, to compete at the Zeca Elias high-speed track whose concrete barriers are not allowing for many mistakes to be made. So far the temperatures were hot all week, varying between 27 and 32 degrees Celsius but up until now the rain has passed the track daily, with only a small shower that caused a delay of round 5. Racing wise Swiss ace Simon Kurzbuch has pretty much dominated the qualifying which is run using the points system. On Wednesday Simon made a clean sweep by winning three of the three qualifiers and another round TQ in the fourth qualifier on Thursday as well as a second place in the final round, following a DNF in round five, cemented Simon's overall TQ with Takaaki Shimo on the 2 spot and Dario Balestri rounding out the top 3. The lower finals are set for Friday with the quarter, semi and main final to be held on Saturday.
Qualifying top 10:
1. Simon Kurzbuch – Swiss – 0 points
2. Takaaki Shimo – Japan – 3 points
3. Dario Balestri – Italy – 7 points
4. Tadahiko Sahashi – Japan – 10 points
5. Yuya Sahashi – Japan – 11 points
6. Robert Pietsch – Germany – 11 points
7. Robin D'Hondt – Belgium – 13 points
8. Jesse Davis – Australia – 14 points
9. Flavio Elias – Brazil – 19 points
10.Daniele Ieliasi – Italy – 22 points
Full results can be found here.
Thanks to Sander de Graaf for the report.
---